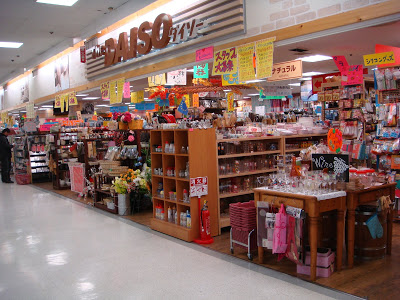 My favorite thing when it comes to shopping in Japan: 100円 stores!! (that's another sign for Japanese yen). Would I be able to find one within walking distance of my house? We've lived at this address for a month and a half and I haven't seen anything resembling one, but a lot of times they're only labeled in Japanese characters so how would I know?
A week or so ago Chris and I explored the other train station near our house. Walking home, I saw a block-sized, three-story Jusco. This week I walked over to find the building contains: Flowers (three stems covered in orchids for just over 300
円)
, a bakery/coffee bar, coffee beans and loose-leaf tea stand, groceries, a McDonald's (all on the first floor); clothes, shoes, jewelry and electronics, plus the 100 YEN STORE!!! (second floor); an arcade, coffee shop and more shops (third floor).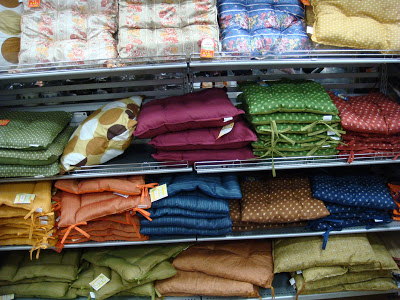 OF COURSE I was most interested in the 100円 store, called Daiso. These are like dollar stores, except…you know…it's yen. My friend Kelly and I went to a five-story hundred yen store in Machita last week, but that's several train stops from here and it is very convenient to have a smaller one nearby.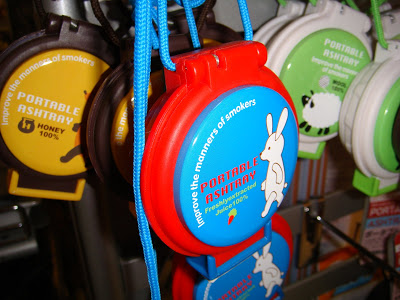 Look at these nice portable ashtrays (100% Honey…??). Other things at the hundred yen store: shelves and shelves of dishes, fancy chopsticks, obscene-looking plastic "Banana Keeper" cases, gloves and socks, organic dirt, gardening and kitchen tools, nail pens and decals, toys, sponges, toilet seat sleeves, packs of dried seaweed, curtains…and tons handy stuff you didn't know existed!
Careful here though—don't let children lick this potholder!
Recently, I bought cushions so we can sit on the floor at our traditional Japanese table, a foam helicopter, hooks, Japanese teacups painted with a (Japanese) sailboat and mountains, a stuffed brontosaurus that squeaks and blueberry cookies. Ok, full disclosure: the squeaking dinosaur was 200円. Stuff that's more than 100 is clearly labeled.