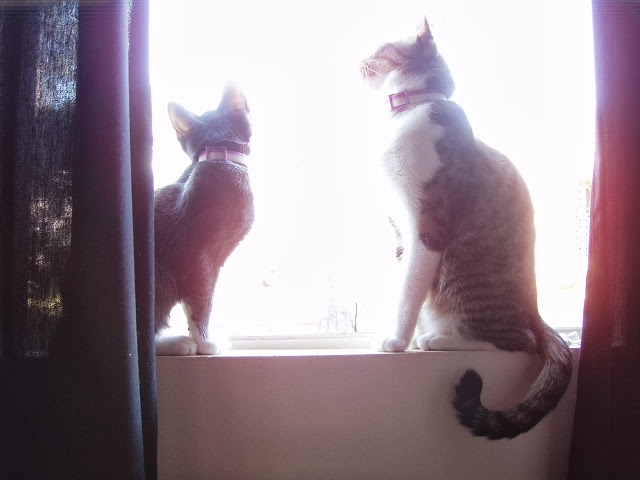 New pals, 2006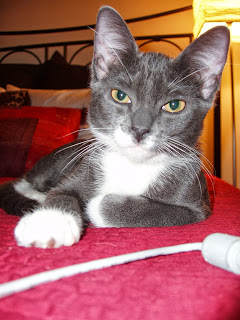 First day home—Labor Day Tuesday, 2006
Chris and I had been married a few months. I was concerned Pounce would be lonely when I found a job. We passed the Escambia County Pet Animal Shelter in Pensacola and I said, "Let's just see if they have any kittens."
"I don't want to get a cat today," Chris said.
"Me neither, let's just see if they even have any kittens, or when they might get kittens," I said.
Half an hour later Chris had a sweet, gray kitten snuggled up in the crook of his arm, purring. I didn't argue when Chris suggested taking him home. We brought him to the front desk and discovered he'd just been brought in that morning. But the lady at the desk pointed the eraser end of a pencil at the clock. It was 4:45pm on the Friday before Labor Day, 2006.
"It's too late to fill out the paperwork before we close," she said dispassionately. "And we're closed Monday."
We asked her to save him for us. She said she couldn't. So we arrived first thing in the morning on Tuesday. The kitten was still there, but not for long! They gave him to us in a cardboard box. Tomcat squeaked the whole way home and began pestering Pounce immediately. He kept squeaking whenever he wanted something. Squeak squeak squeak! Squeak!
"He's not a Tomcat! He's a MOUSE!" I said. And so he was.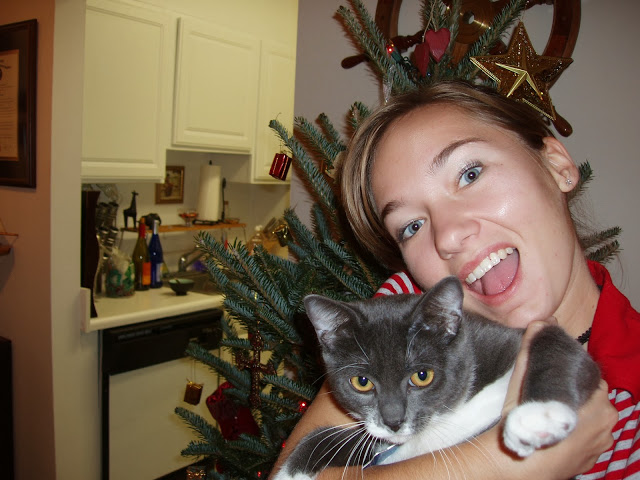 Christmas 2006
Our first apartment was tiny. The litter box was in our bedroom. We got fined for having two cats instead of one. My elderly neighbor (the one who used to come over when she heard Chris' car pull up and say, 'when's our man getting home?') tattled on me for letting Mouse play outside. We soon realized Mouse loved EVERYONE. And licked a lot.
Chris and I were browsing books and having a coffee date one evening about that time. I flipped through a silly book of reasons Florida is great. Number 60-something, right after Disneyworld, read, "One Very Important Mouse." That became Mouse's special moniker.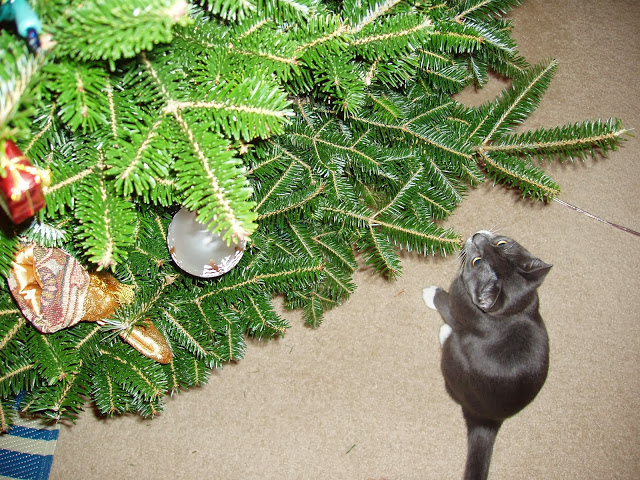 2006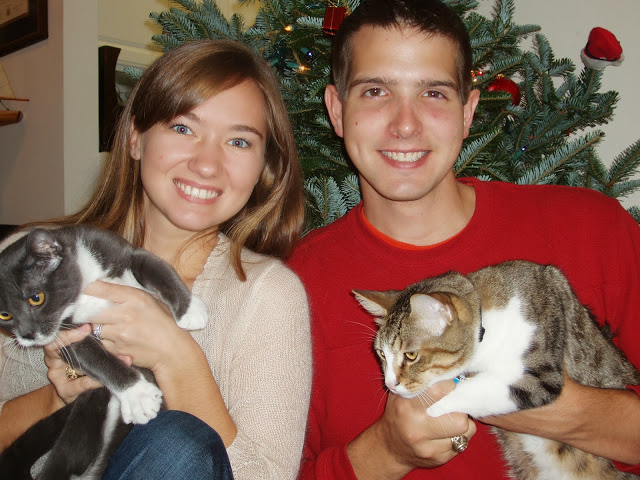 Christmas 2006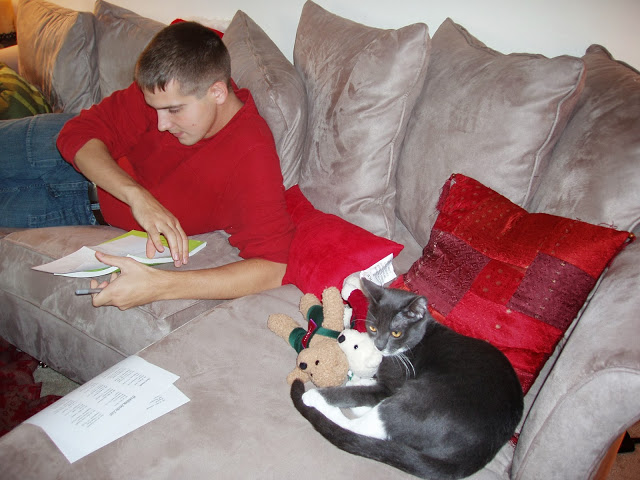 2006
September 2007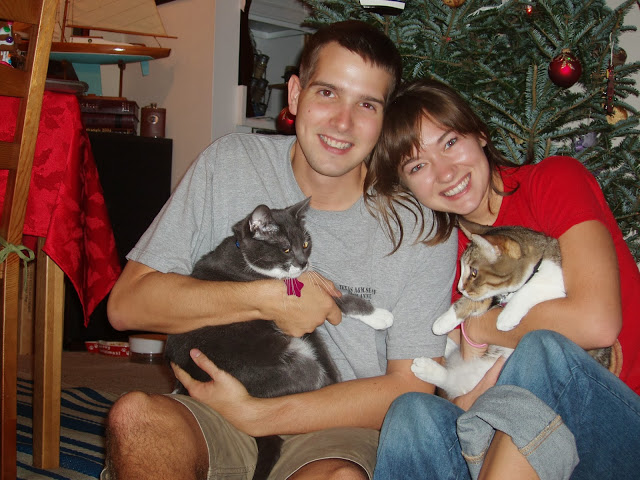 Christmas 2007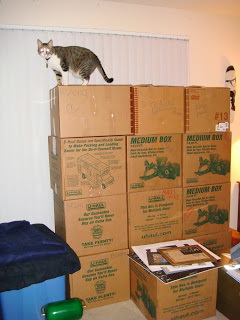 Pounce, moving boxes out of Pensacola
A year later, he got a funny dark spot in his eye. It grew and swirled until, six months later, his entire left eye was dark. We saw tons of veterinarians as we moved through the extended process of getting the cats ready to go to Japan.
"Well, I've never seen anything like that!" said a vet who said he had experience with eye stuff. "It looks like he can see fine out of it, but if it ever starts to bulge, it will need to be removed and might be cancerous. But he looks great! What a pretty cat."
Microchips, FAVN test, shots, airplane tickets so expensive you would not believe—we went through a great deal of trouble to get our cats travel-worthy!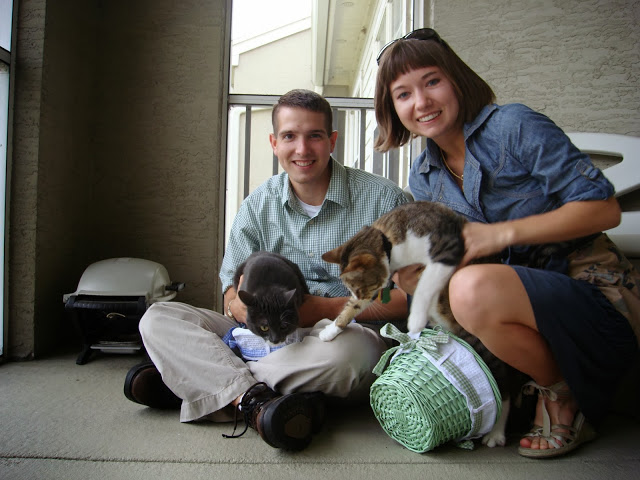 The cats knew a family Easter picture was a dumb idea, even if I didn't. I'd just had my wisdom teeth out.
I dropped Chris off at the airport for SERE school, picked up the cats, and drove from Jacksonville to Texas in October 2008. Chris' three guns were on my backseat. I don't have any gun licenses and I was crossing state lines. I don't know if that's frowned upon or anything, but I started to wonder when I got pulled over in Louisiana.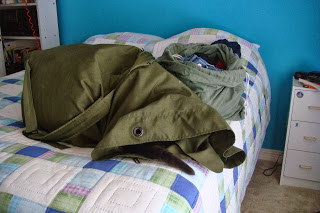 Where's Mouse?!
"ME-ow! ME-ow! ME-ow!!!" Mouse crawled from the trunk into the backseat (the armrest was down in the back) periodically to remind me he was grouchy. The policeman thought this was funny, told me to slow down, and wished us well in Japan.
The cats drove my parents crazy throughout our three-week visit. They barfed on the carpet for no reason, plucked the carpet, and sneaked into their room in the middle of the night. The day Chris arrived, Mouse disappeared. I searched the entire house for him, but he seemed to have vanished! Chris was several pounds thinner from SERE school and looking forward to seeing all of us, but where was Mouse?
It took a while, but I finally found him!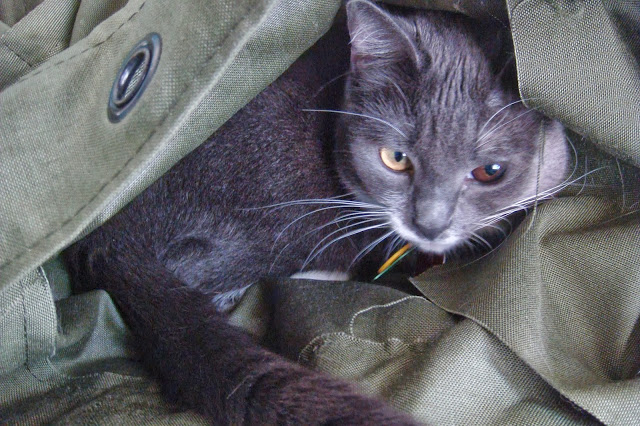 SERE-iously, I thought you knew I was here. Guess the cat's out of the bag on that one.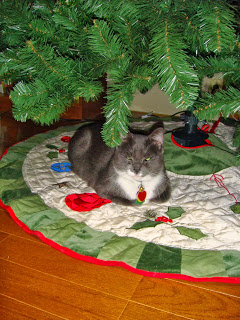 Christmas 2008
The cats did not love the flight. Continental Airlines told me I had to ship them as cargo. That was not true, but I didn't know, so that's what we did. We flew 14 hours, then spent six more ferrying their paperwork from desk to desk in the cargo wing of Narita Airport. Then two more hours of meowing to the kennel. We found a house the next day, and visited them again the day after. Neither cat was happy. Not one bit.
My friend Kelly rescued them and kept them at her house until ours was available. The cats had mellowed out a little by then, thanks to her sweet attentions to them. Then, finally, we got to bring them to our new Japanese home, just in time for Christmas. We were afraid Christmas away from our families would be sad, but it was cozy—our own adventure!
Christmas morning, 2008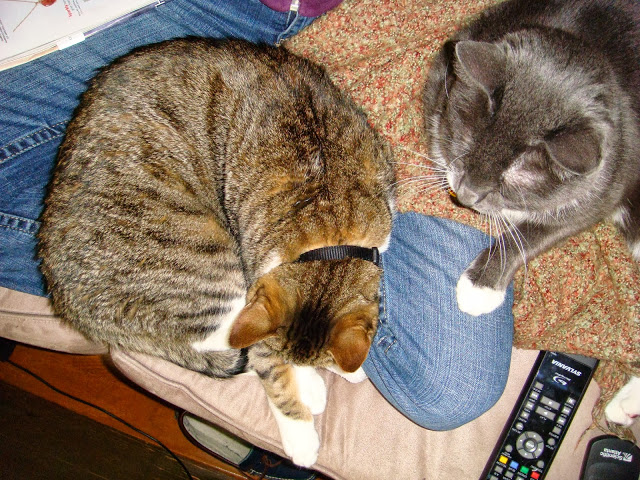 Let's watch some AFN (armed forces network)!
bye, Chris!
Then it was time for Chris' first deployment. What would I do alone in a foreign country for who knows how long and, at the time, unemployed?! I snuggled the cats. I held them through earthquakes, while reading emails from my husband that went, "my boss told me not to tell you until I got back, but we almost died last night…", after sad news from far away, when I got the call about Grannie Annie, when I missed Chris.
I left them with my friend Erin when I met Chris in Sasebo on our first port call. I dragged a suitcase for miles coming home. I hadn't figured out the shortcuts yet, I guess. I got home, so much more tired than I expected, and wished my cats were home to great me instead of returning to a cold, empty house with a broken hot water heater. They were there at the door—Erin had dropped them off! I was too tired to do anything but fall on the couch. Too tired to turn on the tv. Both cats descended and purred and purred. They wouldn't leave my side for days.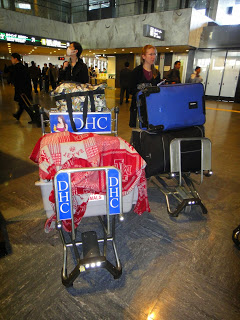 live animals, Narita Airport, March 2011
When I found out I was pregnant with Isaac, we were so happy—and I felt like crap. Mouse, lover of kids and strangers, pushed out Pounce to become my personal hot water bottle cat. He sat right on my tummy and purred until the crampiness went away. Eventually Pounce came around, too.
The cats could always tell when an earthquake was coming—we saw a lot of weird cat behavior a few hours beforehand. I was in Thailand on business during the 2011 earthquake north of our house, but the cats were there. I got back the next day and we 'sheltered in place' as per our instructions. Chris asked me to leave the country.
I was going to leave the cats with him, but two days before I left, he said, "Um, our whole squadron is getting relocated north."
"What are you going to do with the cats?"
"Actually now it's what are YOU going to do with the cats…."
I zipped to the Army base and got their exit paperwork. Nicole's husband dropped Nicole, the cats and me at the bus stop and convinced them to take the cats on the bus to the airport (strictly not allowed…but just this once…). At the airport, Nicole waited with the cats while I bowed a lot and assured the lady that the guy on the phone said it was ok to have both cats in one carrier. They were letting a lot of things slide that week. The cats and I said goodbye to Nicole, and made it to Minneapolis, where we missed our flight. We were quickly rebooked to Austin or somewhere, where my sister and her husband would pick us up.
I ran onto the plane, and waved down a flight attendant.
"We just evacuated from Japan and missed our flight. Can you tell me if my cats made it onboard?"
"I don't think we have any pets onboard this plane. Just a minute."
I cried a little.
"Are you Mari?"
"Yes?"
"Your cats are safely onboard." She handed me a confirmation ticket.