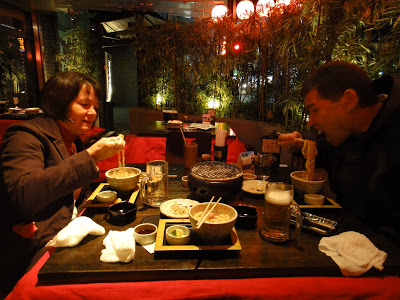 First, a disclaimer: My parents and I shared many DELICIOUS meals…just not at Japanese restaurants. Next, a confession: I don't really like Japanese food in Japan. "What?!" said my dad, surprised. "From reading your blog I would never know you didn't like Japanese food!" Of course I like many tasty Japanese dishes: yakisoba (fried noodles), Japanese curry rice, udon (noodles in soup), soba (buckwheat noodles), sashimi (raw fish), yakitori (grilled meat kabobs). I took my folks to my and Chris' new favorite restaurant, The Bamboo Place, which probably has a real name but I can't figure out what it is. There, we had yummy grilled chicken in Japanese sauce, onions with spices, udon, beer and tuna and salmon sashimi. All my favorites!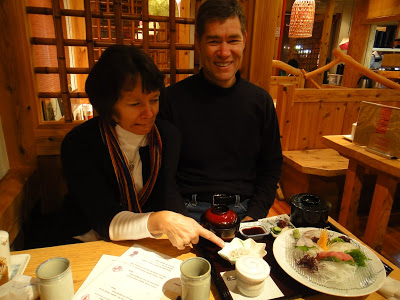 But for every place that knocks it out of the park, there are many, many places that fail to do so. Take for example, this place we ate in Kamakura after a long day of sightseeing. We found the Soba House restaurant I'd planned to take them, but it was closed. Mutinously hungry, we quickly located a fishy-looking alternative. Here's my problem in Japan. I'll be really hungry, see some plastic food across the street, beeline over to it with high hopes, then—despite my great hunger—fail to find anything even remotely appetizing. Mmmm, squishy-looking tentacles mixed with seaweed and topped with sesame seeds….Mmmm, raw shellfish….Mmmm, whole octopus flattened into a huge square cracker but still distinctly showing each tentacle (that place had at least 20 people waiting in line for this delicacy). Yet we were so hungry we ventured into a place just because it was open—even though it was clear that every dish had those tiny white whole fish Enoshima and Kamakura are famous for. We were that desperate for food.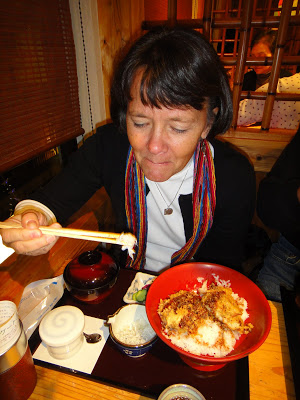 We looked over the menu and managed to make our selections. Daddy got sashimi; Mama and I both ordered the fried ligaments (I was hoping that was lost in translation; it was. We actually got fried whole tiny fish. Mmmmm). Each set came with pickles (yum! really!), rice, a sort-of omelet with a shrimp and a mushroom, plus a tiny dish of 'young of sardine.' Chomp chomp chomp. When you're hungry, everything tastes good! Our fried ligaments, or fried young of sardine or whatever came on rice with a shiso leaf (yum! really!). I was amazed by how delicious it was! Yum yum yum, Daddy ate his tuna and squid (oops) while we filled our bellies with fried fishes. But after I stopped being SO hungry and started eating a little slower I felt something small sticking to the back of my throat. I tried not to think about it, but I couldn't not see it. It was staring me in the face. No, I mean literally.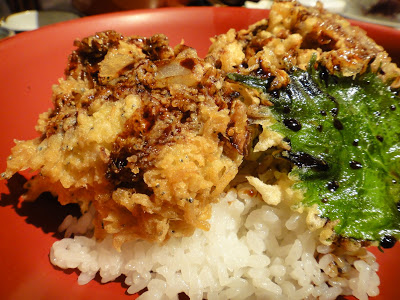 My fried young of sardine was full of tiny eyes, glinting in the light, staring up at me. I tried to persevere. I had been picking the fritter up with my chopsticks, taking a bite, eating some rice, taking another bite. Now I broke off a piece of fritter with my chopsticks and watched as the breading separated while the young of sardine did not, leaving me with fritter fringed with tails and heads of young of sardine. I was not saying anything out loud because Mama and Daddy were still heroically munching away and I didn't want to make anyone else's stomach turn the way mine was. Ick. So, while the location was good and the atmosphere was nice and Japanesey, dinner at this restaurant stands as a prime example of the reasons behind the shameful fact that I do not love Japanese food. Yuk.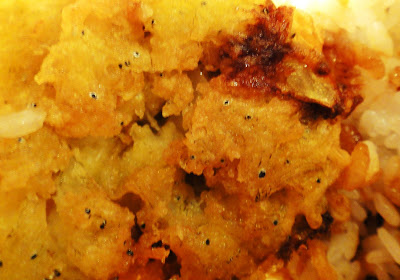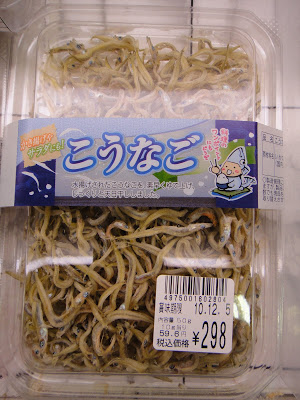 In further food adventures, I like to visit grocery stores when I travel. Guess where I learned that!? So of course my parents and I had lots of fun giggling silently over the bizarre selection of seafood available in the supermarkets near my house!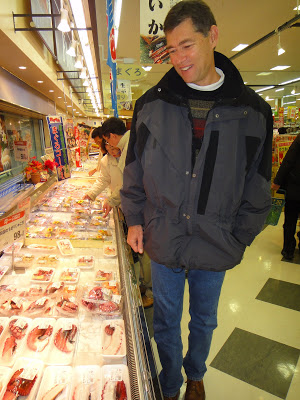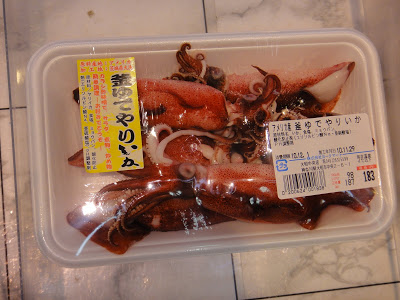 My dad could not believe the sheer volume of octopus tentacles neatly packaged in a refrigerated case. Mmmmm, tentacles! Someone must have been really hungry to originally eat those. To the market's credit, the squid were all amazingly fresh; you can tell because they are black. Squid slowly lose their natural dark coloring after they're caught and packaged.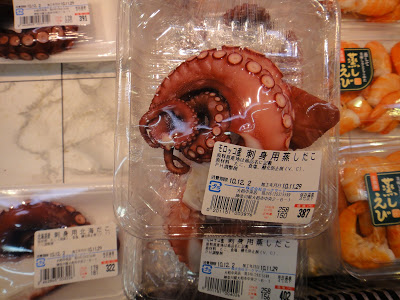 And of course no visit to Mari and Chris' would be complete without a visit to the Sushi Go Round!! Everyone tried something new. We had yummy shrimp and avocado with horseradish on rice (my favorite), crab, tuna rolls, prawn, corn rolls, salmon and tuna sashimi, and Mama and Daddy both tried tamago—Japanese sweet-ish omelet on rice with seaweed. That was brave because their first night in Japan we all had some nato rolls—fermented soybeans (no one's favorite). At the go-round we did not eat squid, tentacles with seaweed, sea urchin, or raw scallops. Enough is enough!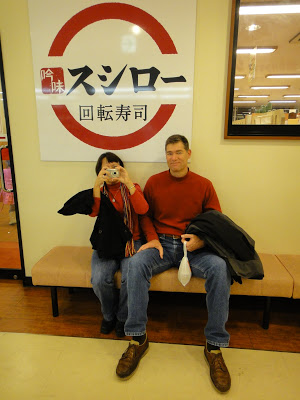 All in all, that nicely sums up our trip: trying new things, enjoying old favorites, laughing about everything and most importantly: spending tons of time together! Thanks for visiting, Mama and Daddy! I miss you! ….let me know if you need me to send you any delicious Japanese food for Christmas!!