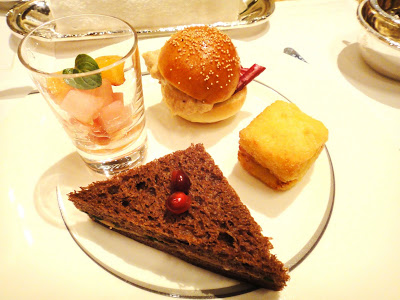 "Ooo, nice planner," said Nicole back in September. Together we went shopping to find her a date book. She ended up liking mine best, so anytime we make plans we pull out identical black, hardbound calendars and a round of compliments ensues. The first time this happened we decided to get the most out of our new 2011 agendas by planning something ridiculously far in advance. So we both penciled in, "Afternoon tea at The Peninsula" for March 4, a full six months away. In the meantime, we would travel to Thailand together and several other countries individually, but by golly, when March 4th rolled around we indeed found ourselves smack in the middle of Tokyo, next to the Imperial Palace, enjoying the special Fruity Afternoon Tea Set.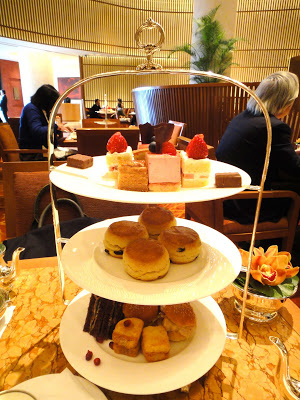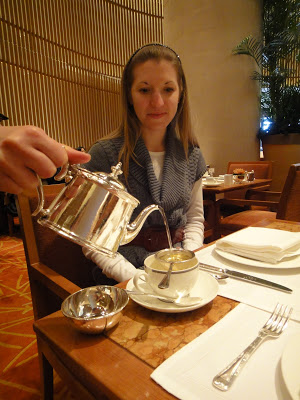 Nicole enjoyed mint tea; I sampled the Peninsula Tokyo Afternoon Tea. Our tea included a selection of savories: pomegranate, prosciutto and arugula sandwiches on cocoa bread; honey caramelized apple and tuna salad in a mini bun; fried croque monsieur with pineapple, ham and Gorgonzola cheese; orange and daikon radish cocktail with raspberry vinaigrette. The fried croque monsieur was my favorite; I could have done without the radish cocktail.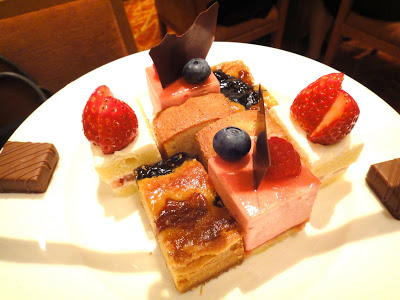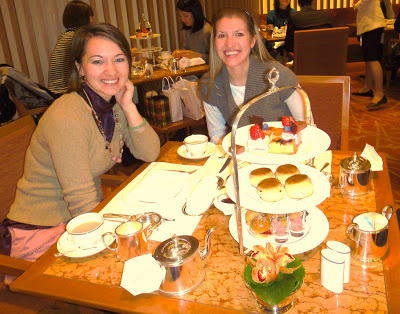 Of course there were scones with cream and raspberry jam—yum! The selection of sweets comprised: raspberry mousse; rhubarb and plum tart; coconut and apricot pound cake; strawberry and rose shortcake; The Peninsula Chocolate 'Honey.' We saved the eponymous chocolate for last. What could be more delightful than afternoon tea? That's easy—a great friend to share the fun!