Every shrine and temple is decorating and gearing up for New Year's festivities! This is a great time to visit Japan! …although lots of non-temple things are closed between Dec 28 and Jan 3, but for seeing temples and shrines, this is a GREAT time to visit Japan!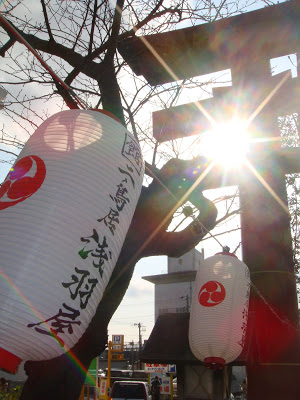 Chris and I wanted to show Hannie and Justin our favorite places in Kamakura, the ancient Shogun capital of Japan. We started by walking up Dankazura, the tree-lined approach to my favorite shrine: Tsurugaoka Hachimangu. This laughing lady was having her picture taken in this rickshaw.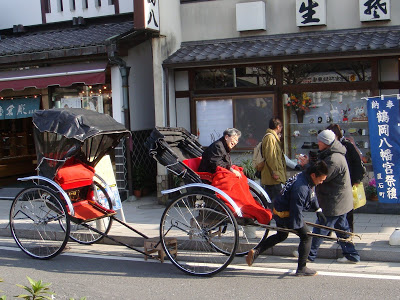 When you cross the arched bridges into the shrine grounds, you can turn right or left to visit some tiny islands that represent different founding families of the city. I always thought they were outer buildings of Tsurugaoka, but Chris found a book about Kamakura's temples and shrines and it says this one is for good luck in business.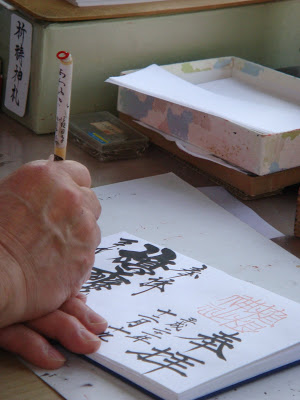 It was at this temple I took some of my last steps toward accomplishing a little goal I've had this year: to fill up a whole temple calligraphy book. Today I did it!! While the monk signed it we watched an old man and a little girl take a facefull of pigeon.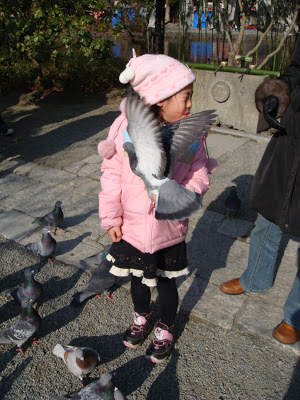 There's a little cafe looking over one of the shrine ponds, so we stopped for Japanese curry rice. The lady came back and said sorry, all out. So we ordered croissant sandwiches. Ok, no problem. Then she returned again. Sorry, three are ok, but then…we're out. Regular sandwich ok? Ok no problem. So if the only thing on the menu was sandwiches, it would have been more helpful to sit down and hear, "So, how about I get you some sandwiches?"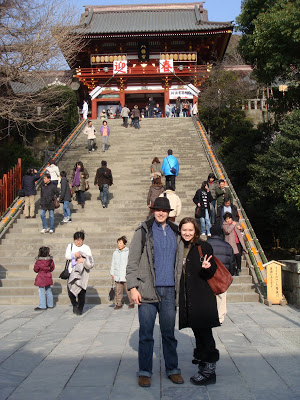 We walked back toward Kamakura Station via a shopping street where Justin braved Japanese samples, trying all kinds of bizarre tidbits. Hannie and Chris watched, noses a-wrinkle, as Justin and I tried whole mini shrimp. What would you do with a bag of these? Justin was a trooper. Nice work, Justin!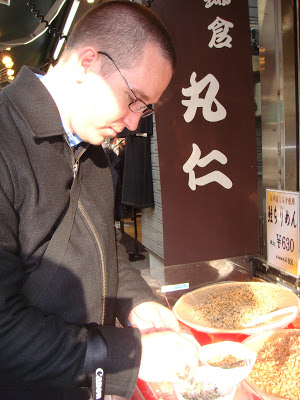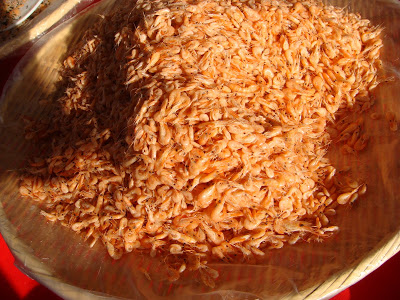 Then we walked a mile or so to Zeniarai Benten Shrine. This is the first shrine Chris and I ever visited in Japan, so it was cool to come here for my last temple/shrine book signing. I got the book last January 3 and wasn't sure if I'd ever be back here to get a page drawn, so it had a nice symmetry to return with our first visitors.
This time I knew to wash lucky five yen coins in the spring for financial luck. I'll take some of that!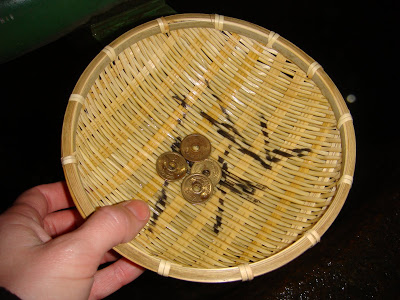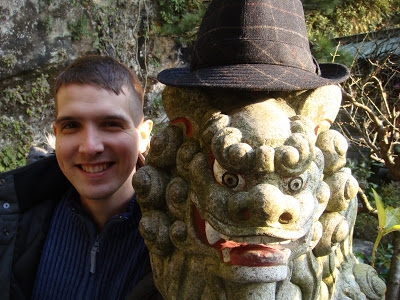 The shrine was exactly like I remembered it…smoky with incense, the thick air rattled with the jangling of the alter bell at the conclusion of a wish (that's what Japanese people call praying at shrines), and the trickle of water echoing through the caverns, lingering in the shrine long after we climbed back out through the rock tunnel exit.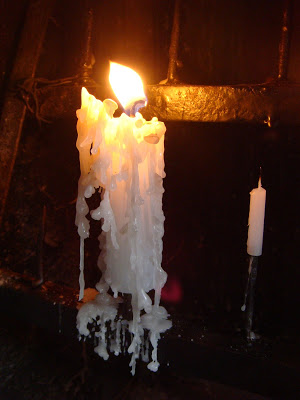 Walking around Kamakura is like a picturebook of Japanese architecture. And art. And signs. It's my favorite place in Japan!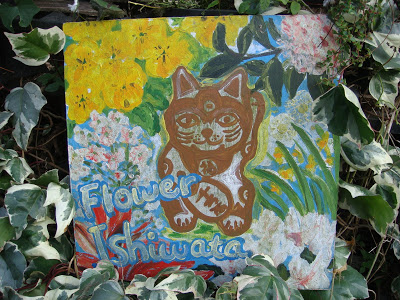 We stopped for some ice cream right outside Daibutsu, or the Great Buddha. This is the statue that was visited by Chinese monks, inspiring the Lantau Island Bigger Buddha.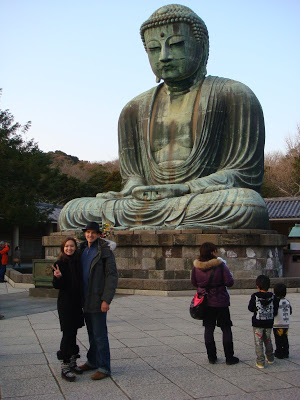 This Buddha had a hard life. It was cast in 1252 and housed in a temple at the same spot until 1498, when a huge wave swept away the building surrounding it. The people rebuilt the temple, only to have it again shattered in the earthquake of 1923. This time they decided that Buddha wanted to sit outside. Now this is the largest outdoor Buddha in Japan.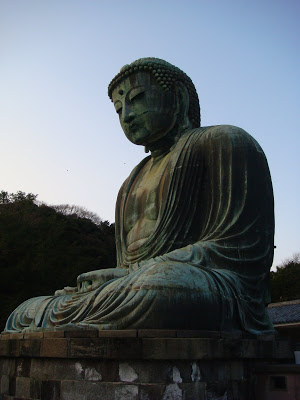 We came home and I made Japanese Curry Rice for dinner! Day One: The End.