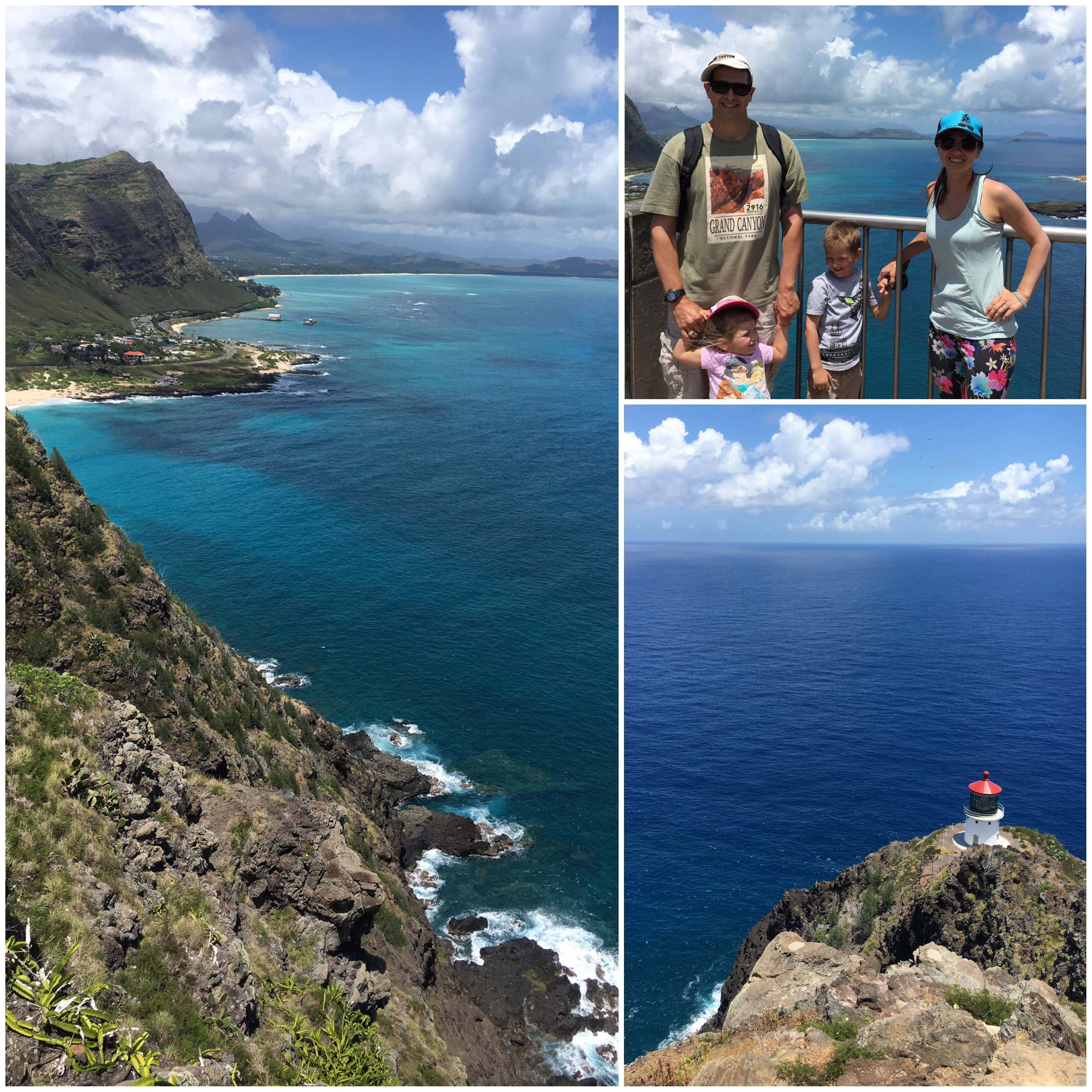 The Makapu'u Point Lighthouse Trail is one of the vistas that kept me obsessing over moving here for years and years. Tom and Bonnie—our previously mentioned patron saints of Hawaii—brought me here on our 2010 whirlwind tour of the island. The (paved) trail displays glorious views as it leisurely winds its way up the rocks.
My precious kids, who are amazing hikers and love running around, were hell bent on not enjoying themselves today.
It was clear and breezy, and the island Molokai was visible across the Kaiwi channel on the horizon. And look! A pod of whales blowing and flapping flippers!
NO. WE WILL WHINE ABOUT JUICE AND COMPLAIN ABOUT HATS AND NOT WANT TO WALK OR BE HELD. WE WILL RUIN IT FOR ALL AND SUNDRY. FOREIGNERS WILL STARE AND I DON'T CARE. WE ARE DOING THE HIKE WE KIDS REQUESTED AND WE HAD JUICE AND APPLESAUCE FIVE MINUTES AGO AND WE LIVE IN HAWAII AND NOTHING COULD BE WORSE BECAUSE MOM WON'T CARRY ME WHILE I LEAN BACK AS FAR AS I CAN AND YELL.
At the top of the trail we looked down sea birds gliding above the cliff-side waves. A hang glider swung past. Whales splashed out at sea. Far below, the sandy beaches began to fill.
Chris' phone rang—it was good news. After spending all our spare time going to open houses, touring homes, researching the (two year!) wait for base housing, and three different formal offers, our most recent offer was accepted this week and today we officially enter escrow on a house in Kailua. We even have a closing date. I've struggled to find my place this year. Now there's a point on the horizon when we will hopefully have somewhere to call HOME.
This, however, did little to cheer up my sweet children, whose chocolate-smeared faces squeezed into little grouchy pouts.
IS THIS THE END? CAN WE GO HOME?
Yes. Soon, yes!