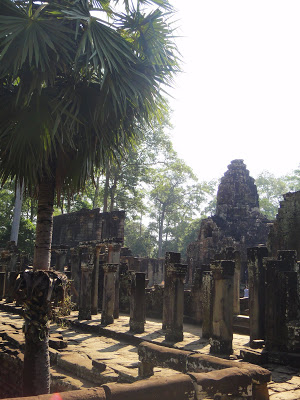 What follows is a short and probably biased history of Cambodia. The Khmer Empire began around 800 when Khmer King Jayavarman II declared independence from Java, marrying well and raising enough military support to form Kambujadesa. He drew new boundaries: China to the north, Champa (Central Vietnam) to the east, the Gulf of Thailand to the south, and the Land of Cardamoms and Mangoes to the west. Jayavarman conveniently announced himself god and king, ushering Cambodia into its golden era.
A later king who built Cambodia's first reservoir is described as, "a lion-man; he tore the enemy with the claws of his grandeur; his teeth were his policies; his eyes were the Veda." Someone needs to put that on their business cards. Cambodia became rich and prosperous under a succession of rulers who built up the Angkor complex, concentrating the main temples and buildings within a 15-by-5-mile rectangle.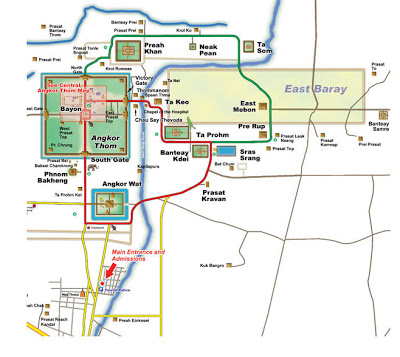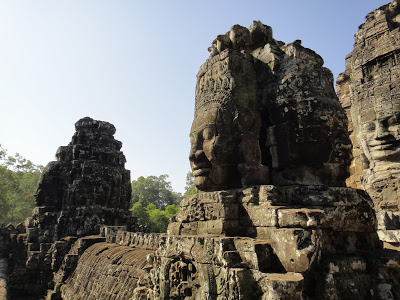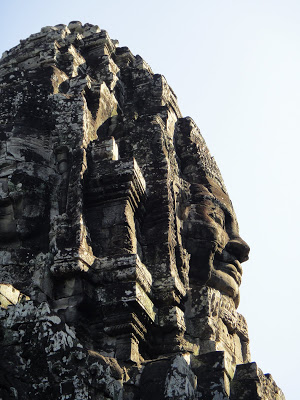 Cham—Southern Vietnam—waited until one of the Cambodia kings died and then attacked the Khmer Empire in 1177 by sailing up the Mekong River and across the great lake Tonle Sap. They killed the king and sacked the capital of Yasodharapura! But then a prince of Cambodia rallied the people and soundly defeated the Vietnamese. He took the name Jayavarman VII and ascended the throne to become Angkor's greatest king, building the many faces of Angkor Thom over the site of the sacked capital. He also constructed the elaborate Terrace of Elephants whose base remains with many elephant carvings. The king would sit here to watch his victorious armies returning, receive dignitaries or watch elephant fights. When J-VII converted to Buddhism, he installed Buddhas in many of Angkor's temples and scratched countless stone Hindu spirits out of the temple walls. Some temples still show this process half-completed, but upon his death the nation experienced a brief Hindu revival before finally giving in to Buddhism over the next century.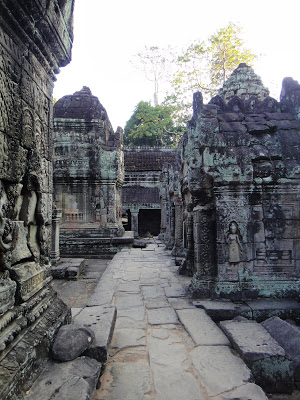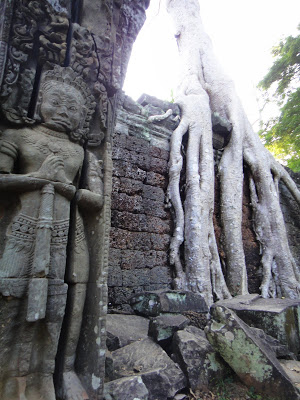 "The wall of the city is some five miles in circumference. It has five gates, each with double portals. Two gates pierce the eastern side; the other sides have one gate only. Outside the wall stretches a great moat, across which access to the city is given by massive causeways. Flanking the causeways on each side are 54 divinities resembling warlords in stone, huge and terrifying. …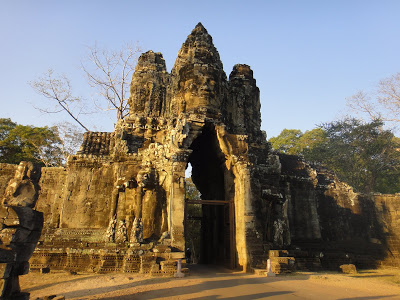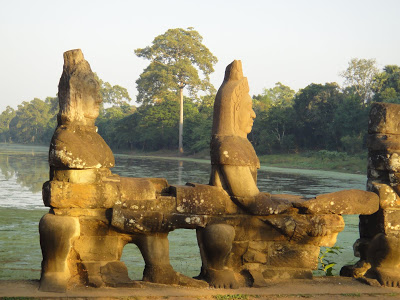 "In Cambodia it is the women who take charge of trade. For this reason a Chinese, arriving in the country, loses no time in getting himself a mate, for he finds her commercial instincts a great asset. Market is held every day from 6 o'clock til noon. There are no shops in which the merchants live; instead, they display their goods on a matting spread on the ground. Each has his allotted place. I have heard it said that the authorities collect rental for each space. …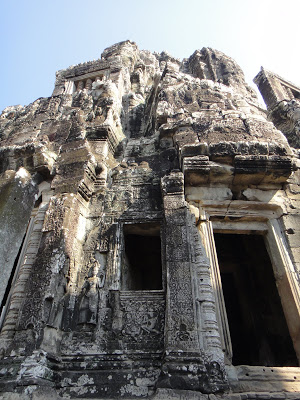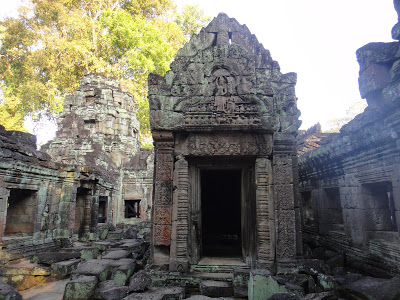 "Chinese sailors coming to the country note with pleasure that it is not necessary to wear clothes, and, since rice is easily had, women easily persuaded, houses easily run, furniture easily come by, and trade easily carried on, a great many sailors desert to take up permanent residence." So are the observations of Angkor according to Chinese traveler Zhou Daguan in 1296 when he visited the city toward the end of its golden days. Zhou was shocked that the Angkorians did not know how to make soy sauce and that they were so casual about sex—even the slaves were allowed to have relations! He observed the socioeconomic stratosphere of fabrics in dress as well as the happy, easy lifestyle of the city. However, he also observed: "The customs common to all the southern barbarians are found throughout Cambodia, whose inhabitants are coarse people, ugly and deeply sunburned." That I will have to disagree with.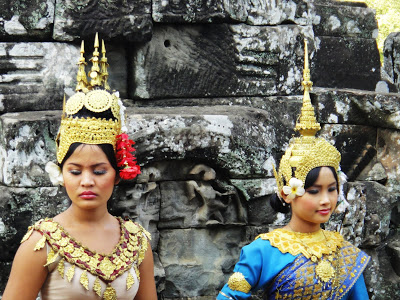 Take our soft-spoken tour guide for instance. He experienced firsthand the genocide that plagued his country during the Khmer Rouge and killed a third of his countrymen, many of them Chinese or Thai minorities, women, children, intellectuals, Buddhist monks. Entire villages were slaughtered in paranoia. Our guide received food and education because someone adopted him. Not a physical adoption—his parents are still alive—but one of those monetary 'adopt a kid' programs like
Compassion
. Someone he has never met supported him, and he studied as a Buddhist monk for 14 years. He has a masters degree in Buddhist philosophy. He also learned English, so when his aging parents became unable to care for themselves, he left the monastery and took a job in the difficult but lucrative realm of tourism so he can support his parents in Phnom Phen and hopefully someday earn enough to get married.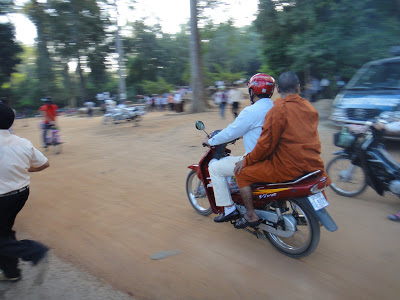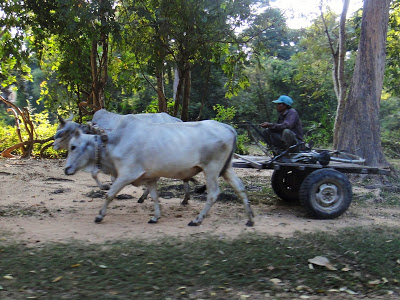 Here I have to add an unfortunate side note: shortly before dinner on New Year's Day I started to feel uncomfortably rumbly. By the time dinner was over things had taken a down-turn. I spent part of the night and all of the morning cursing airline food and/or bottled water and running to the toilet. When our guide came to collect us I was still feeling decidedly green and gurgly. Chris wandered around taking pictures while I shuffled from shaded resting place to shaded resting place, enjoying the scenery but not my insides. After a little while of this, our kind guide said, "If you want, I can pray to Buddha for your health." I wasn't really tracking with anything at this point, so I murmured noncommittally without really registering what he'd said. Chris said, "We're fine, thanks," but if I'd been feeling at all coherent I would have liked to have told him we pray to Jesus for spiritual healing and physical healing as well, and told him about my
deliverance in Australia
. But instead, my foggy, feverish brain grunted and retreated into the shady silence of the copse where I sat exhausted on huge chunks of stone from ruined temples.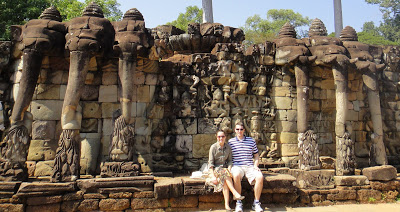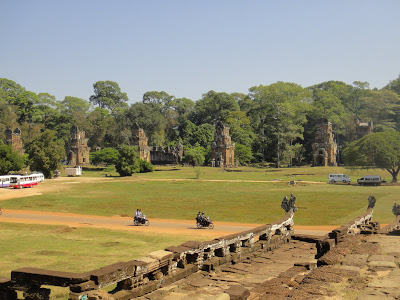 Anyway, so if you're wondering how the mighty Khmer Empire lapsed into the bloody Khmer Rouge after a few hundred years, now you will find out. Some say the king's position was weakened by the state's conversion to Buddhism. Some say the waterways and other public works were neglected in the 13th and 14th centuries. Some say drought across Southeast Asia contributed to the Khmer Empire's decline. But one thing is certain—in 1431, decades of war with the Ayutthaya Kingdom in Siam culminated in Angkor's being sacked and looted by the Siamese. After that, Angkor was abandoned except for a few Buddhist monks who remained in Angkor Wat. The city's important documents were taken off to Siam, and for the next few centuries power of Cambodia wobbled between temporary kings and vassals to Thailand and Vietnam.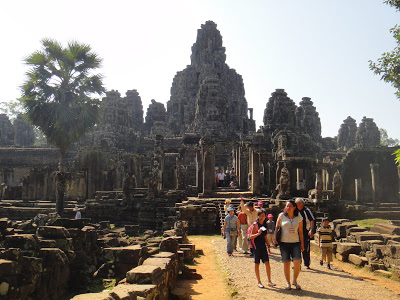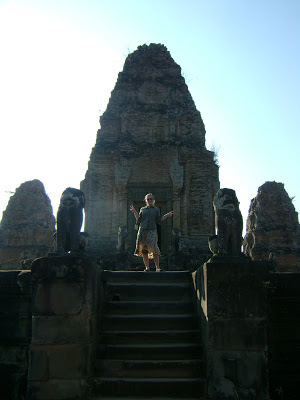 Thai-backed Cambodian King Norodom put an end to this and applied to France for protection in 1863, which worked well enough—the Second World War and Japanese occupation notwithstanding—until French Indochina (including Vietnam) broke apart in 1953. In modern times, Cambodia had a shady neutrality in the Vietnam-American War and emerged into the mid-1970s under control of the Khmer Rouge, who followed Pol Pot's lead in killing about two million of the (now Democratic Kampuchea) population. The horrifying 'killing fields' were put to an end when communist Vietnam invaded Cambodia and set up some other government; then there was civil war and more chaos until the 1990s, when Cambodia reached a peace settlement and opened for tourism. Today Cambodia is the world's only post-communist nation to restore the monarchy as part of the government.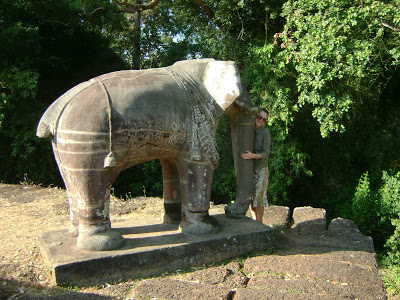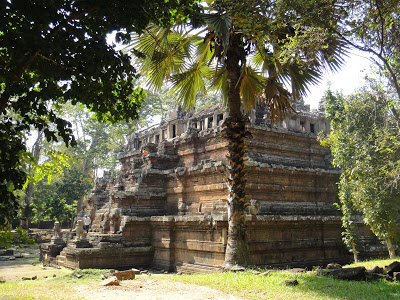 The abandoned temples of Angkor succumbed to the jungle, hiding their faces from the horrors going on around them. That's kind of how I felt, too, still rumbly as ever after lunch, and took a nap in the car while Chris visited Angkor's Ta Phrohma. He came back and described the way the trees had taken over the temple as "pretty much the coolest video game I could have imagined when I was little!"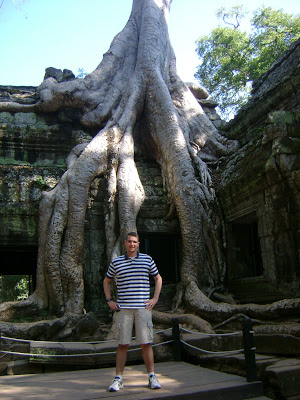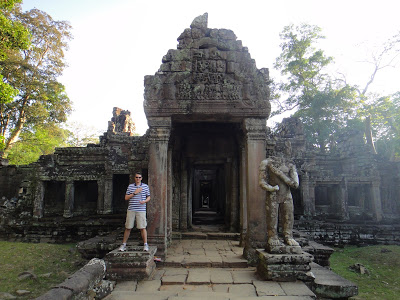 That evening we climbed up to a mountain temple to watch the sunset over the plains of Cambodia with about a million of our closest Chinese tourist friends when who should we see but Chris' coworker and her husband! Hello Robinsons! As the sun sank over the horizon a plane took off and crossed over the sun, eliciting gasps from the crowd. Soon after nightfall, we too were on an outbound plane heading north to Hanoi!