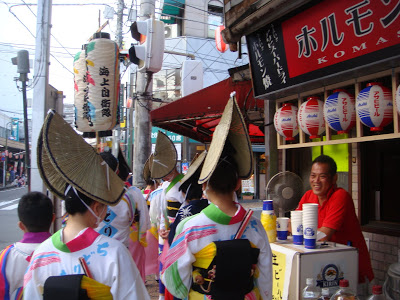 Exactly a year ago I crouched on this Yamato shopping street and watched the Chidori-ren dance and twirl. Ooooooo, I thought, I wish I was one of them! This weekend my wish came true.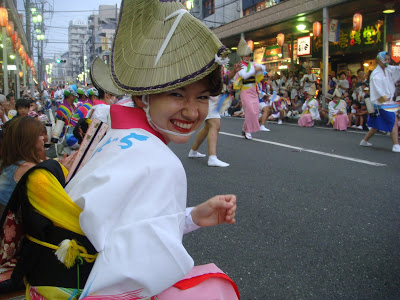 That's me second from the right. Saturday night at the Yamato Awa Odori Fesetival was a dream—I hardly missed a step and saw many fellow Warlords, friends and neighbors. That was a huge surprise after last year, where I didn't see a single familiar face beyond the other dancers. Instead of feeling like an outsider watching it felt like I'd become a part of this area. Well, as much as a
gaijin
can, anyway.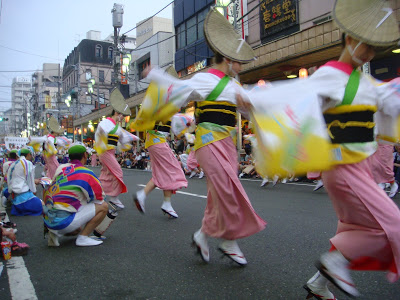 We completed our dances Saturday with some foreboding, knowing that any pain we felt now would be doubled in 24 hours…not to mention the laundry that needed to be hand-washed and ironed in half that time. Yikes! Sunday morning my feet stung with each step and my slightly twisted ankle was aching so I popped a couple ibuprofen, taped everything up, and started ironing.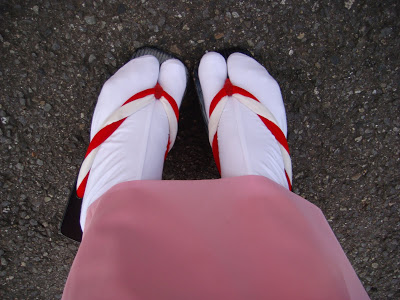 Here's a quick rundown on the schedule (note: practice/preparation/performance hours
this week = 43+ hours
). Saturday: practice again at 9:30am! 11:15am–please shower, eat lunch, do hair and makeup and be back by noon. 12:15pm–pant, pant…get dressed! 12:45pm–dressed in this elaborate costume! stand around…stand around…stand around… 2pm–Mari! you're not wearing red lipstick yet! quick! put it on! I tossed back the rest of my energy drink and applied a vibrant lip stain. Maybe we're about to leave! 3:45pm–FINALLY leave. Wait, why are we going
up
stairs? oh, more practice. 4:15pm–finally board the buses for the festival. 5pm–arrive in Yamato. Stand around…stand around…in the sun…in 20 layers…5:30pm–yay! over to the festival area! see friends! watch them parade by!! Then we started dancing and continued until 9:20pm! We'd dance along in parade formation, then at the cue we'd spin off to the sidelines and start the routine (which includes three separate main girl dances spaced between guy dances), then at the end we'd either bow to the crowds or dance back into formation and dance out of the staging area. Between performances the water boys would pass around energy drinks, oolong tea,
onegiri
(rice triangles) and bananas. I got home at 10:45pm, fed the cats, hand-washed some items, threw the rest in the cold water cycle, then hung it all up to air dry, getting to bed after midnight. Sunday morning I ate as much as I could and ironed ironed ironed all the sensitive fabrics through a dishtowel before showing up (late) around 1pm. I got dressed, waited around a couple hours, then did a few run-throughs and boarded the bus for another evening in Yamato!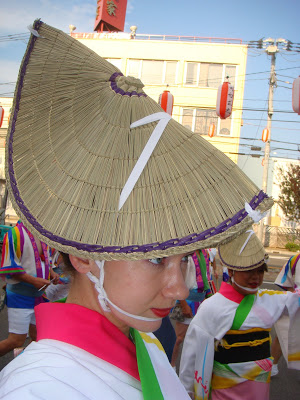 Waiting before the festival Sunday on my already blistered feet had me a little worried—despite another energy drink I was lagging. Would adrenaline kick in once we had an audience? I hoped so (it is amazing how pain disappears when people are taking pictures, I found). Ako, a very sweet fellow dancer, taught me how to say, "My feet hurt!" in Japanese. We got a lot of mileage out of this over the course of the evening. Many Americans commented, "Ooo, I bet you've learned a lot of Japanese in dance practice!" Yes! I've learned how to say, "No, not like that," and "One more time!" and "This hurts!" and "Everyone smile!" At night I dream of taiko drum beats, the rhythmic clapping of our instructors, long strings of unintelligible Japanese dance instructions, and twirling.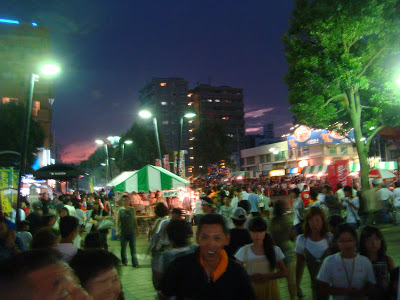 After discussing foot and leg pain, we joked about smiling. The Japanese girls tease me by turning to me and saying, "Smile! Smile!" because one day at practice we were admonished to smile more, so I did—thinking the whole time about last year's parade and how I couldn't stop smiling (also true this year!)—and I kept smiling at everyone until someone said, "Hee hee, smile like Mari-chan! She has number one smile!" Waiting to go into our first performance Sunday we practiced the biggest, then the weirdest smiles we could manage. I told them I am very careful to smile during performances in case I miss a step; that way I'll be That Smiling American, not That Sloppy American. Ako laughed at this and said, "I feel tired, but when I see you smiling, I feel happy, not tired." This gave me another reason to keep smiling.
Half the friends I saw didn't recognize me until I waved to them. Even in the pictures, I can't quite tell which one is me! One of the nicest compliments anyone has given me here was a sweet Japanese woman who said she enjoys reading my blog because she thinks I have a Japanese heart. That made me smile for days. As I twirled and smiled and spun my fan overhead Saturday night I thought to myself, "I really do have a Japanese heart!" Then, ironing for hours Sunday morning I grumbled to myself, "Nope, still American." But today I cleaned my whole Japanese house for hours, so maybe I can try for the best of both.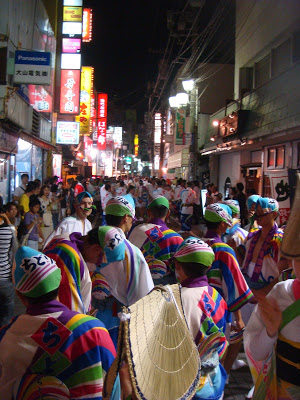 Sunday night we danced through the heart of Yamato Station straight away. Smokey clouds billowed off yakitori grills, filling the streets with the savory smell of roasted chicken. A vendor toted a box of cucumbers on sticks. Everyone had huge cups of shaved ice. Children and adults were tied into beautiful yukata with neatly bowed obi. Lanterns lined the streets; the crowds clapped in time with the drums. I noticed the same people from performance to performance, so some people were following us along. A lot of the other dance groups featured kids or consisted solely of lyrical arm-waving. We did the lyrical arm-waving, but we also did a kite dance (yakko dance), lots of spins, jumps and a fan-wave with fancy festival fans imported from Tokushima Prefecture (Ebisu dance) and some back-and-forth 'dance off' spinning (Shin dance) before a final crescendo finish! The fan-wave got a lot of "OOOoooooo!"s from the crowd. Despite the pain in my feet, I thought, "I never could have imagined dancing in a foreign country's summer festival like this! This might be the pinnacle of the Japan Tour!!" What fun to dance through streets crackling with excitement! What a privilege!!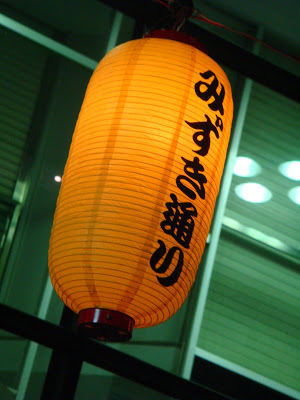 The rosy glow of the sunset was soon obscured by black thunderclouds; the drums boomed, lightening streaked across the sky, and the first drops of rain fell as we spun and dipped in the hot summer streets. An orange full moon hung between gaps of cloud, the rain fell and we danced.