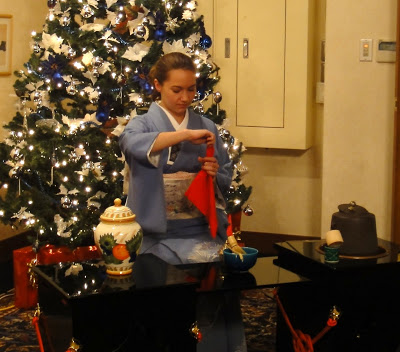 I think it's best to stay busy right after family leaves to eliminate time available for moping. Even if I didn't want to stay busy though, it's not like I had much of a choice. December 1 marked the 60th anniversary of NAF Atsugi 1950 commissioning, and the base celebrated with a recommissioning ceremony, symposium and reception. Aaaaand—tea ceremony!!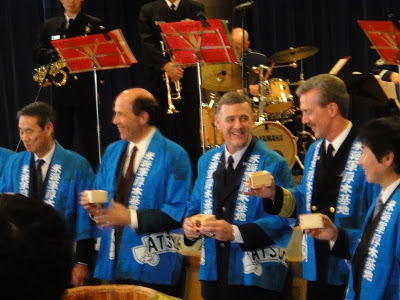 That's right, the American ladies who take tea ceremony lessons from Sumie were on hand to perform tea ceremony for the base's many distinguished guests. Ms. Roos, Ms. Buck and Ms. Gardner were our first tea guests, with Tina performing and Rebekah as head assistant. They performed flawlessly! Each of us assitted and performed after that, and although we were nervous to formally perform in kimono for the first time, it was a lot of fun! Captain Eric Gardner, the Commanding Officer of NAF Atsugi, introduced John Roos (second from left, above), the US Ambassador to Japan, for the keynote speech. He thanked the mayors of Yamato, Ayase City, and many other Japanese and Americans for attending the recommissioning and praised the strong ties between our two nations. This year is also the 50th anniversary of the 1960 Treaty of Mutual Cooperation and Security between the United States and Japan. Then they all ceremonially opened some sake barrels! Kanpai!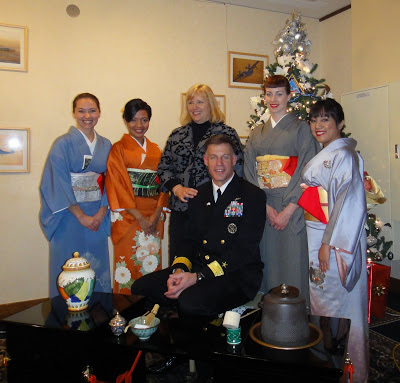 Later, Rear Admiral Sean Buck and his wife agreed to take a picture with us, laughing, "All of us in front of the Christmas tree? This could be someone's Christmas card photo!" Too bad we're not all related! Merry Christmas from Japan!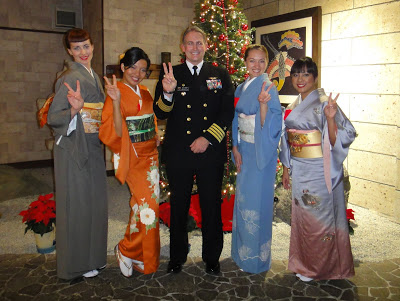 We were having a lot of fun posing for pictures, especially as the ceremonial sake barrels emptied. Some very jolly gentlemen (definitely NOT pictured) bemoaned the fact that Rebekah isn't single, then asked us to pose for a photo. When I leaned next to Rebekah and smiled, one of them frowned. Oh. They wanted me to take the picture of him with Rebekah!! Well then!!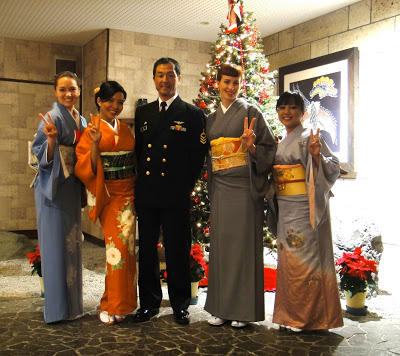 We were very happy to get a photo with our very busy, beloved chado-sensei (tea teacher) Sumie Maruyama, Host Nation Relations Specialist for NAF Atsugi. Before that, we also roped Capt. Gardner and Nori-san into posing with us. Ichi-ni-san! Hai! Cheeeee-su!!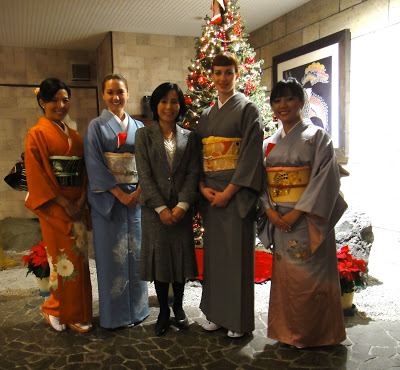 Left to right, the tea ladies are: Tina Arguelles, Mari Krueger (me), Sumie Maruyama, Rebekah Deep and Joyce Genita. It's been so fun to watch and learn tea ceremony with and from you, ladies! Thank you!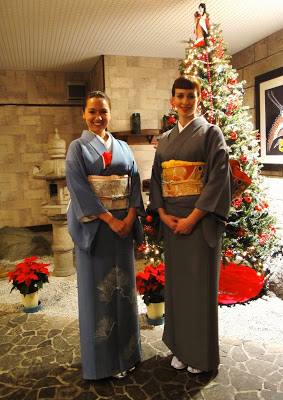 Also, please note that my beautiful formal tea ceremony kimono was selected by Elaine Brown—the powder blue kimono features a subtle pine pattern, coordinating nicely with the silver and white snowy forest obi. Thanks, Elaine!!