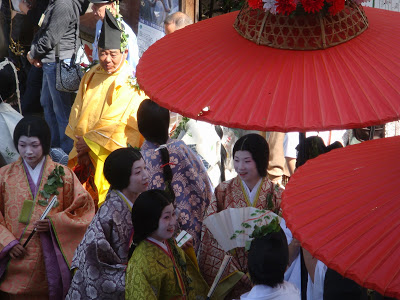 May turns out to be a great time to go to Kyoto. The Aoi Matsuri, or Hollyhock Leaf festival, is one of Kyoto's big three annual festivals and includes horse riding events and a parade that traditionally took rice and other thank-you gifts to the regional ruler to thank him for letting them do the horse riding. The girls above are waiting to step off in the parade like the girl below.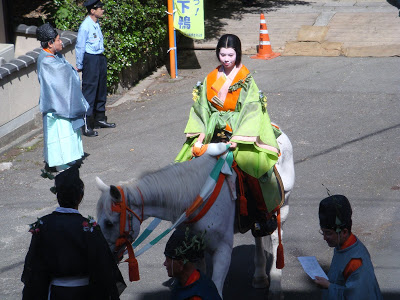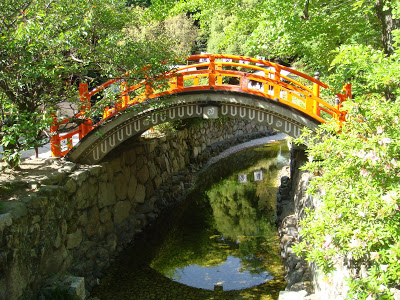 The beautiful Shimogamo-jinju Shrine (which includes above very Kyoto-esque bridge) is where the horse riding happens.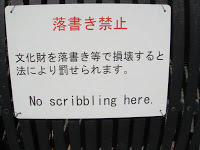 My calligraphy book got stamped with a special hollyhock stamp that day. Chris and I didn't have a very good vantage point for the parade but we spotted a little stairwell where we might have a better view. Not really, but then we noticed it was an antique shop and tearoom. Chris asked if I wanted to go in. Do I! So in we go and as we look around, turns out it's an antique-STYLE tearoom, so I thought we'd have to split, but then Chris said table for two. I was shocked—Chris initiated tea time! My favorite! Then we realized, whoa! The back window of the shop had a view of the staging area and the beginning of the parade, so that's how I had a fly-on-the-wall vantage point of the giggling girls. Perfect timing!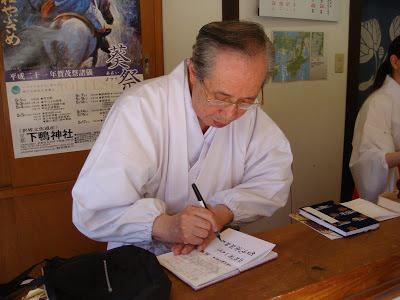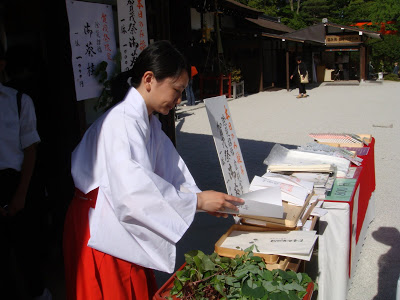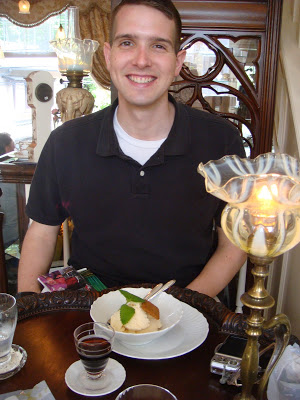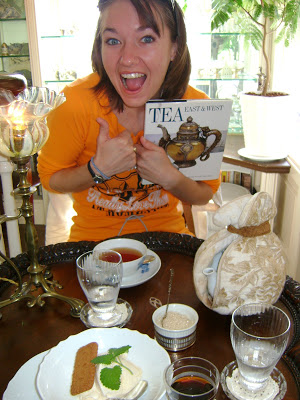 Doesn't Chris look happy with his ice cream and espresso? It was delicious. I had Earl Grey. Also delicious. "You look way too happy to be here," Chris said, pulling out his camera. A nice Australian family shouted across the room to ask where we were from, then proceeded to talk about how Princess Di had changed the role of a princess forever. I love English-speakers in parts of the world where they don't speak English! Then we left and went to the Imperial Palace, which of course was closed. Note: if you want to go in, you have to take your passport and fill out some paperwork, then they assign you a tour and show you the buildings, but you don't get to go into them, just inside the big walls. We didn't even go in the walls. Oh well.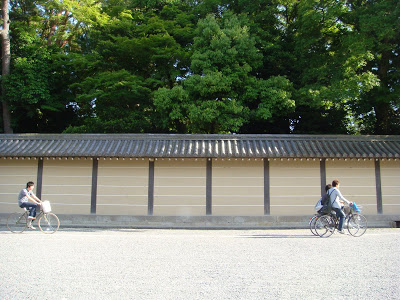 Here's what we got to see anyway: Japanese croquet teams.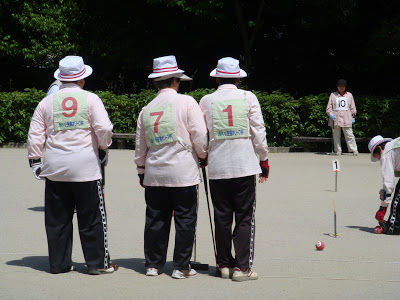 ….Interlude….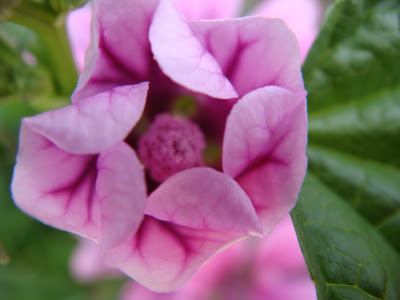 Our first stop of the day was Nijo-jo Castle. Chris drug me there (what's one more identical Japanese castle!?) only to discover this is the castle of the famed Nightingale Floor! I can't believe I tried to get him to skip it! Oops. The Nightingale Floor is the name of the long hallway that surrounds the important rooms. Above the elephant sounds a bunch of tourists make on a raised wooden floor, you could hear chirping, like a whole flock of tweeting sparrows at a bird feeder. The powerful guy (samurai? shogun? emperor? whoever) designed the planks to rub together this way so no one could sneak up on him and kill him. Near his seat in the rooms where he met with other powerful guys he also had two doors with red tassels behind which his bodyguards hung out, poised to ninja-fy anyone who raised a hand (or flying kick) against His Powerfulness. That would be a boring job.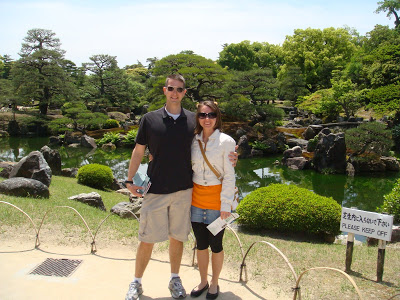 That night we wandered around Gion and the shopping district and Chris bought me a fan. Fans were invented in Kyoto. That's where the Spanish got the idea of folding fans, too. I have both!