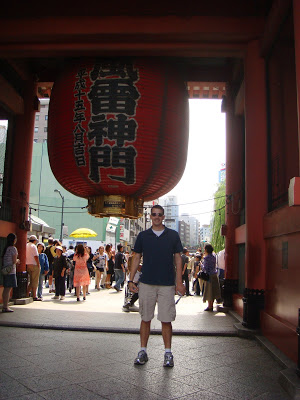 "Two fishermen, Hinokuma Hamanari and his brother Takenari, were on the Sumida River one day when they heard a command from the heavens to cast their net. When they brought the net up, they saw that they had caught a golden statue of Bodhisattva Kannon. Hearing of this from the Hinokuma brothers, village headman Haji Nakatomo decided that he would become a devout believer in Bodhisattva Kannon. He took vows as a Buddhist priest, remade his home into a temple and spent the rest of his life practicing Buddhism. This episode marks the birth of Tokyo's oldest temple and the start of Senso-ji's history."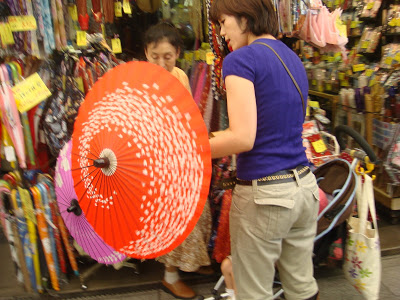 "In 645, the renowned Buddhist priest Shokai visited Asakusa and built a hall for the worship of Bodhisattva Kannon that makes him the actual founder of Senso-ji. After having a mysterious dream one night, Shokai decided that Bodhisattva Kannon should be hidden from human view, and it has remained so ever since. Word of blessings bestowed by Bodhisattva Kannon spread far and wide, and many people who had heard of this came to worship at Senso-ji from all over Japan. As a result, Asakusa flourished and grew into a large district."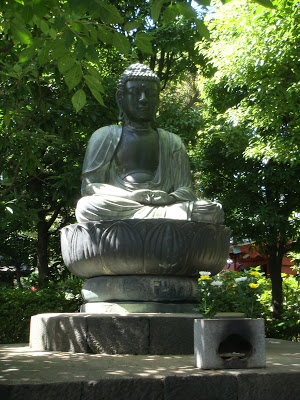 "In the mid-ninth century, Ennin (794-864), the highest-ranking priest of Enryaku-ji, the head temple of the Terdri School of Buddhism, visited Senso-ji, created a statue of Bodhisattva Kannon identical to the hidden one and called its spirit into the new statue. Senso-ji, thus further developed by Ennin, attracted devout faithful not only among commoners but also famous samurai and persons of culture. Designated a sacred site of prayer for the shogunate by shogun Tokugawa Ieyaso (1543-1616), founder of the Edo shogunate, Senso-ji reached a peak of prosperity." — "History and Mission of Senso-ji" plaque inside the temple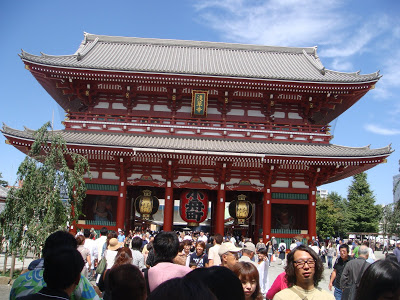 Senso-ji is probably the most famous temple in Tokyo and features in most travel shows about the city. But Chris and I had never visited because we knew it was on the Tokyo Sightseeing Tour the base offers, which we could never seem to get on; either it would fall while one of us was out of town or it was already full. So finally–on our birthday weekend–it was available and so were we. The temple we'd avoided so we wouldn't spoil our tour was finally explored!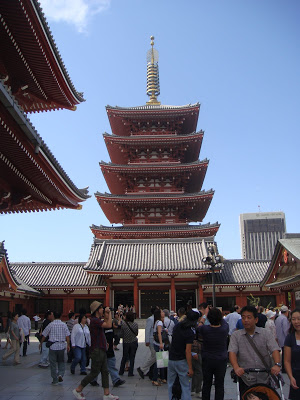 The huge gates mark the entrance to a shopping street called Nakamise that's sold souvenirs and treats to tourists and locals alike for centuries. Even though we live here it is painfully obvious Chris and I will always be tourists, so we took advantage of that and bought a matted print of the 'floating world' from the Ukiyo-e Gallery. And some of those funny socks that have a toe so I can wear them with flip flops.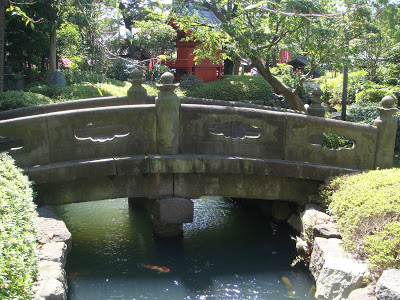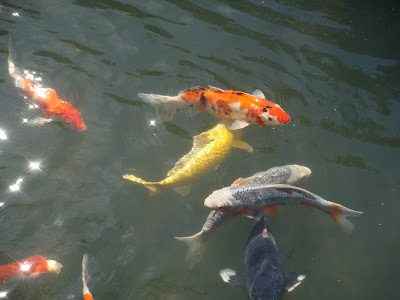 My mom thinks it's hilarious when I mention Engrish (weird translations splayed across t-shirts, bags, etc.). Here is a very cute one: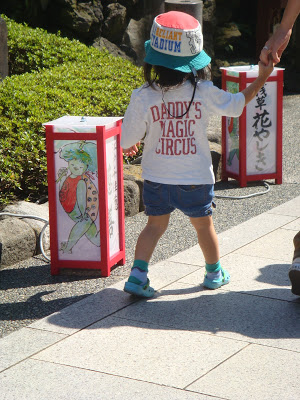 It was pretty warm considering how cool the day started out and my glasses were sliding around from squinting in the sunlight, but there was a wedding going on next door at the Asakusa Shrine commemorating the brothers who found the statue in the river.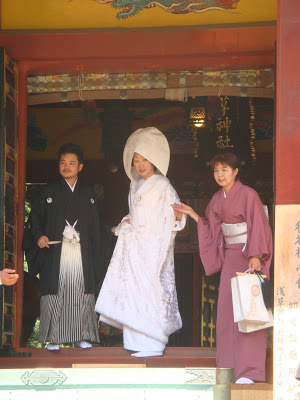 The white hood thing is traditionally worn during the ceremony to hide a woman's horns so her soon-to-be husband won't panic. I don't get it either.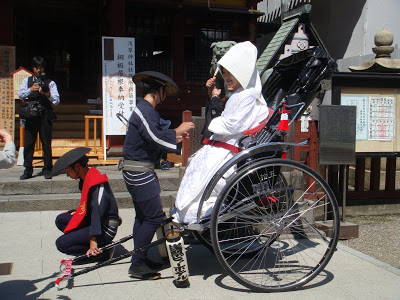 They both looked really nervous and happy!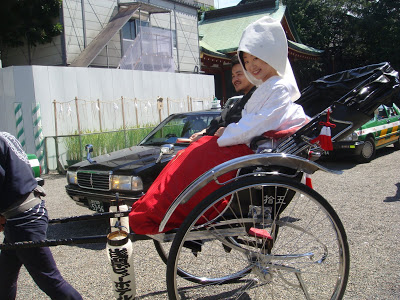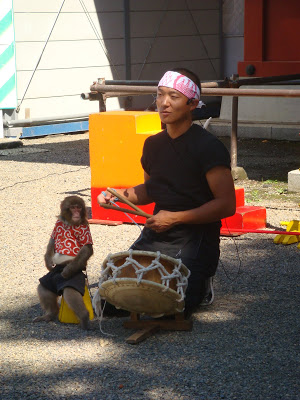 About 50 feet from the wedding this guy and a fully-clothed monkey-on-a-leash did some tricks.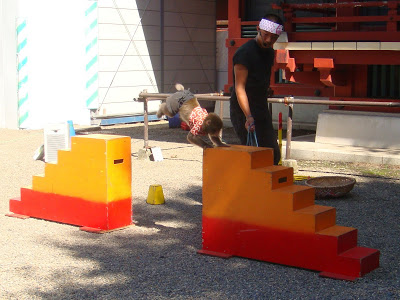 Then we had some lunch on one of the side streets near the temple and walked around the alleys and shops. Chris liked this store selling vintage WWII uniforms and stuff. We stopped for ice cream and Chris had banana-choco. I couldn't decide between black sesame flavor or Chinese tofu flavor. I was pretty sure Chinese tofu meant that yummy coconut-ish jello they serve at the end of a meal in Chinatown, so I got that…and it was! YUM! Then we rushed back to the river to catch our river bus down the Sumida River to Odaiba. If you come visit us, you can expect to come here!