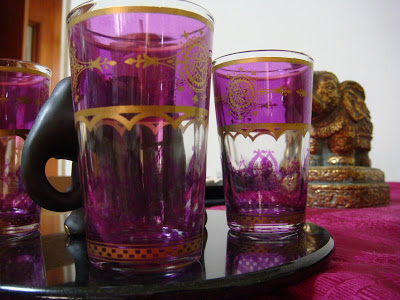 So many countries are represented in this delightful table setting. I bought this hot pink obi, or kimono sash, at Sunday's Machida Shrine Sale. The fabric shines with a Japanese fan pattern. I don't use too much hot pink in decorating, but this obi really jumped out at me and subsequently inspired this exotic tea party.
The sakura, or cherry blossom, plates and their coordinating bowls were all found here in Japan. Hannie and I bought the gold and magenta tea cups from a Moroccan woman in Grenada, Spain last summer on the Great Sister Trip of 2008. The elephant chopstick rests were a gift from my friend Karen, a missionary to Africa, for my help with their ministry newsletter in Pensacola. The marble disk in the middle to the table was a congratulations gift for Chris's winging. Everything else is from Texas (napkins, black plates, elephant candle holder, gold elephant bookends, table).
Tea, anyone?? I'd serve a ginger-honey milk tea like I had Sunday in Machida—black tea with a touch of milk and ginger, topped with unsweetened whipped cream, drizzled with honey and sprinkled with ginger shavings. Just exotic enough while retaining the comfort of tea!