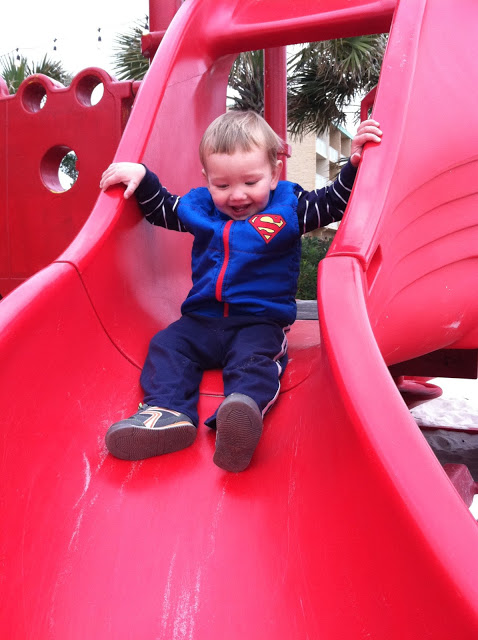 My mom zipped out to Pensacola for a couple days while my dad was out of town! It was really nice—Captain Goodbaby is ok to be around healthy people, which means we still can't hang out with anyone because everyone is sick. But not my mom! We had a really nice time.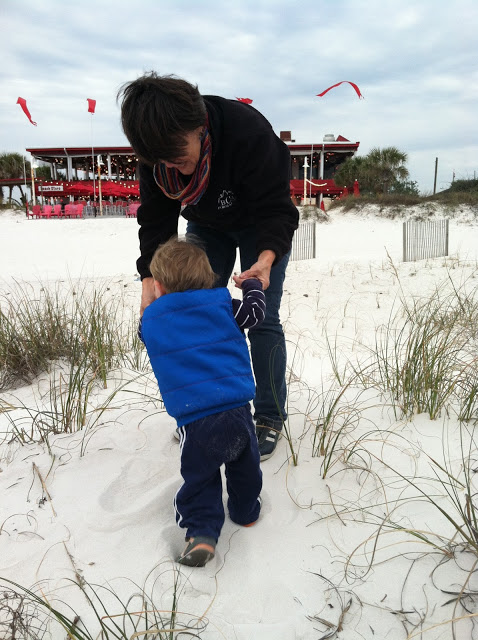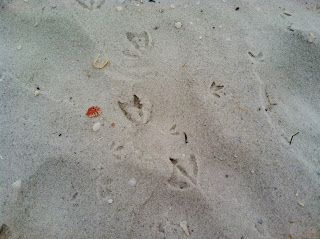 OF COURSE we went to the beach. It was cold and windy, and the sea was a peculiar shade of translucent gray-green.
We had coffee, cinnamon honey buns, and crab soup at Crabs, played on the sandy playground, and chased seagulls on the beach! The wind died down, but it was still pretty brisk. Captain Goodbaby slept really well that night.
Other fun mom activities include cleaning out my closet, visiting the pet store (the good Captain led the way), and a date night for Chris and me! Two days is a short trip, but like we kept saying, "If it seems like not enough visit, bottle up that feeling and try to remember it when I'm at your house for over a week in April…."
Sorry about that haircut, son. Good thing you're so cute!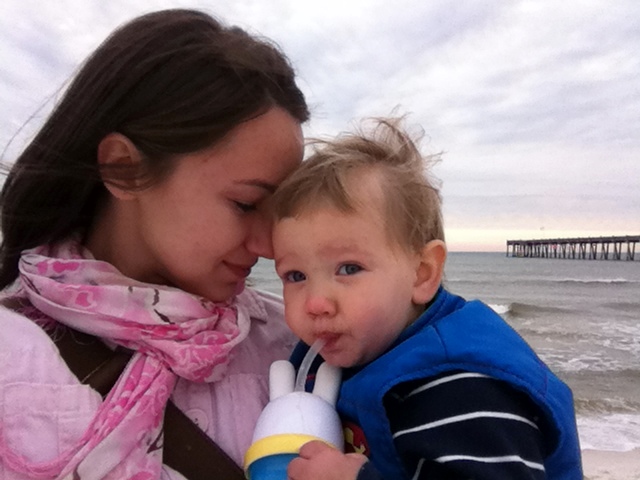 It was windy, but nothing a bunny cup and mom can't fix.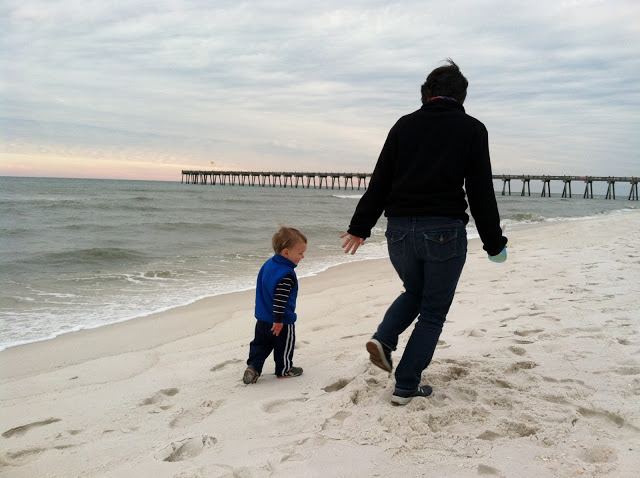 Hey Grandma, I like bunny cups, board books, and short walks on the beach.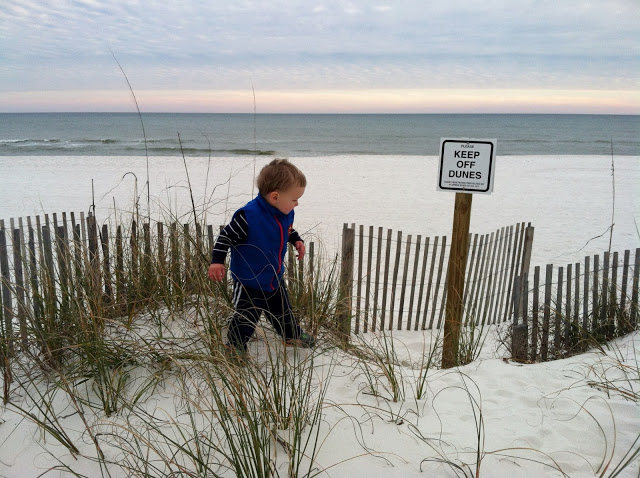 Rebel.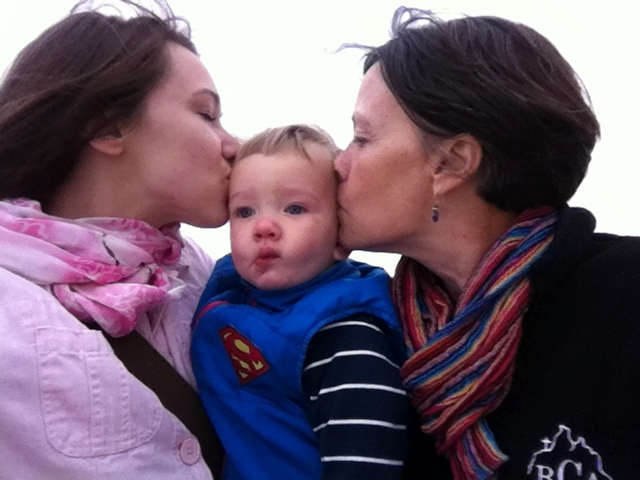 Group kiss!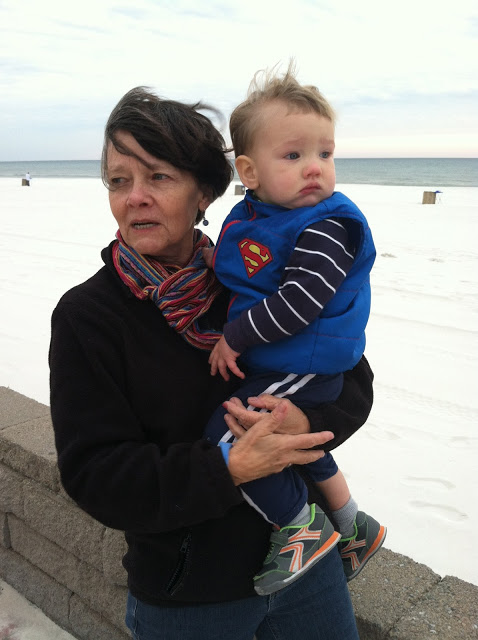 the Goodbaby is eyeing the ramp down to the sand: I want that.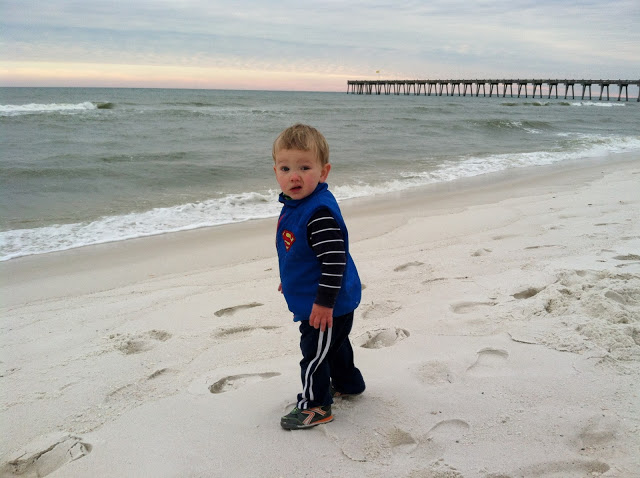 Wait—I can't go in?? And you call this going to the beach?!
Our 17-month-old has these new accomplishments: walking backwards; running everywhere; climbing easily onto our bed, the bar, etc.; saying 'all done,' 'apple juice,' 'what's dat?' 'uh oh,' 'dog,' 'awww,' 'lion'; correctly identifying a lot of animals, and being the most precious. "Be good to your mama," said Chris, leaving for work. The Goodbaby smiled and gave me a kiss. He has also started identifying Mama in pictures. He's pointed out Da! for months now. He learned to snuggle/wrestle the cats, and likes to do that with Mama and Dad, plus anyone else around! Watch out!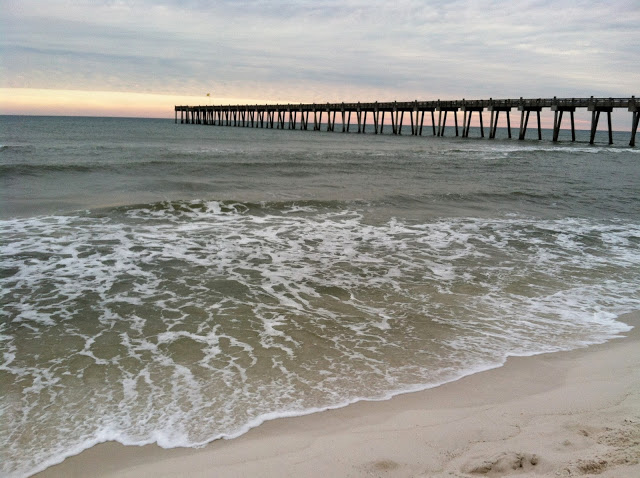 A cloudy sunset at Pensacola Pier