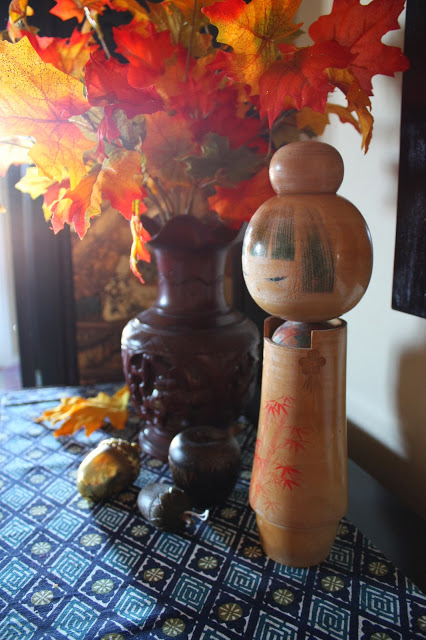 An online poll of my friends revealed very few people of my acquaintance decorate for each season, citing lack of space/time/interest in seasonal decor. This surprised me a little. I go more toward the Japanese mindset of microseasons, which gives nearly two dozen or more seasonal specialties a distinct nod.
I have distinct early fall decorations (yellow, crimson, gray, blue, harvest moon, grasses, leaf imprints, Oktoberfest), mid-fall/Halloween decorations (pumpkins, black plates, many shades of orange added to yellow and scarlet, vivid leaves, the autumnal kokeshi parade, autumn tea ceremony instruments), and late fall/Thanksgiving decor (a cornucopia, layered browns and golds, turkey salt and pepper shakers). After clearing away the shells, driftwood and glass floats of summer, I add a few things at a time, layering fall through until my favorite holiday: Thanksgiving!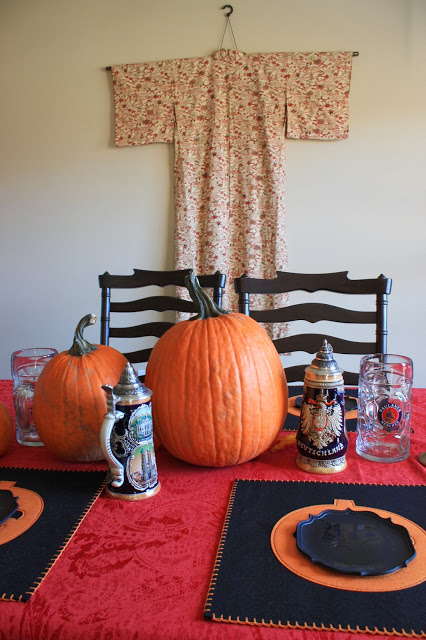 I've been doing more seasonal dishes lately, too. I always do some, but Chris' schedule has allowed him to be home for dinner most nights (yay!), so we're having a more structured dinner schedule: wild salmon, a taco variant, a seasonal dish begin the week's dinners. Friday is pasta night; Sunday is wine and pizza night. We have some free days for leftovers and flexibility. I've been picking up a veggie I've never prepared each week. I added grocery day to Monday: Cleaning Day for efficiency.
This time of year I've been preparing the salmon with sesame oil. Sesame oil, brown sugar, green onions and sesame seeds. Sesame oil, green onions, chopped dill, chopped fennel leaf. Serving it with sauteed fennel bulb topped with green onions. Toasted pine nuts on salad dressed with sesame oil and balsamic vinaigrette. Spaghetti squash. Butternut squash pasta, or butternut squash served with chopped apples, crumbled bacon, and a maple syrup/balsamic reduction (that was with Hannah).
Previously, eating lighter meals resulted in Chris poking around the pantry saying, "I'm still just a little bit hungry…." But I discovered recently just how much Chris likes dessert. "Is this apple pie for tonight? IT IS?! This salmon is really good! The fennel stuff goes with it pretty well. This is really good, Mari."
At first I was puzzled. Usually foods Chris considers nonstandard get the curled lip fork poke: "What's in this?" Why the sudden change? Was it just the pie and ice cream? Really? Yes! Chris is THAT motivated by dessert! He has become a cheerful dining companion when there's pie on the line. How could it have taken me this long to figure that out?! I can take or leave dessert—give me a glass of wine over dessert any day.
Well whatever, it makes dinner planning, grocery shopping, and preparation MUCH more fun for me, and dinnertime much more satisfying overall. Except when Isaac climbed into his chair and saw the salmon, he started bawling. BAWLING. Eyeroll. He was having chicken pasta leftovers anyway. I always give him a bite of salmon, which he licks and hands back to me, so I'm fine with not sharing. Wild salmon is expensive! But not as expensive, apparently, as forgetting to serve DESSERT!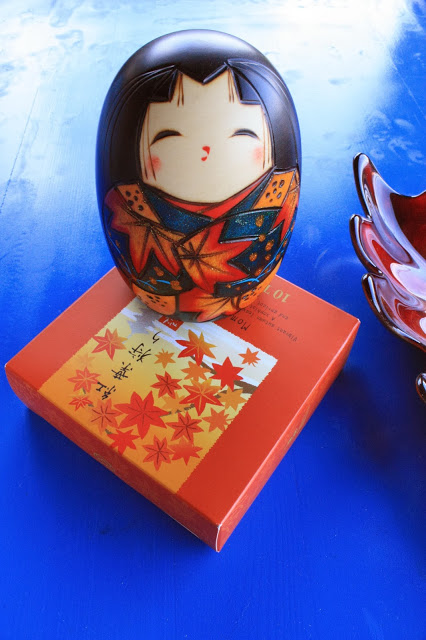 This kokeshi and autumn-viewing tea were the first things out of the box!