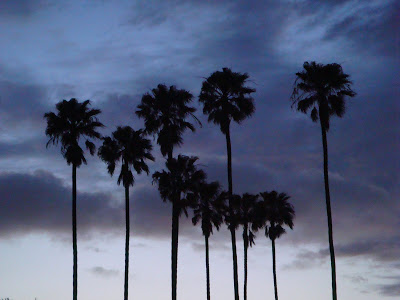 Flying Space A is worse than any bad relationship I was ever in. When I reach my limit—enough is enough!—it has just the right honeyed words to lure me into giving it another chance. One last chance. One more time to change. I know its character; I know this story ends badly. I still come back for more.
I wanted to leave Monday or any day thereafter. Space A says Thursday. Then two hours before I show up, Space A says, "Oh sorry, no fights…how about Sunday?" Wait another three days or pay $670? For now, wait. Sunday morning at 8:30 a.m. I checked before we headed off for church. We picked an early service on Coronado Island instead of possibly trying to spend it with family because I need to be back by 1 p.m for my flight. Saturday had a flight to Hawaii, but it was delayed until later this week, so I'm hoping everyone isn't trying to show up for this flight going through to Atsugi. It's still on schedule.
We sing the Easter hymns, we have uncolored, hard-boiled eggs with brunch. I call my family after their huge Texas lunch. Easter is one of those holidays I don't anticipate being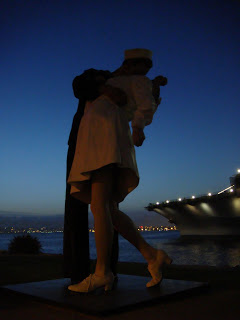 anything but joyful until mid-"He Arose," when I turn to Chris and sing the deepest, "He arose!" I can manage, which has never once failed to elicit a giggled-reciprocation from Hannie mid-worship. Apparently Chris is not privy to this game. Then I realize how far from home we are, mid-transition on an island in San Diego. Not home in Japan with our church there, not home in Texas with family. Not home by the river celebrating Easter with a walk through the cherry blossom festival happening all up and down the banks. Just here in this cafe on a partly-cloudy Easter in my new Easter dress peeling plain, white eggs, sitting between a guy in a t-shirt and Uggs and a several tables of students working solo on homework. I'm so glad we can spend Easter together, Chris and me, but there's an undercurrent of urgency because he too is leaving for two weeks of training and flights further out in the Pacific. Our time in San Diego has concluded. Back to the hotel to finish packing and a final check on the flight status before walking out the door reveals…all flights canceled. A phone call confirms it. An atom bomb of frustration and disbelief explodes in slow motion, the grainy black and white image superimposed on my vision as I stare unseeingly at the computer screen. Canceled.
No. blink blink
. Canceled.
I check every commercial airline. Nothing leaving this afternoon. Ah, but there's a Space A flight to Hawaii tomorrow morning. Bad relationship. Promising just enough to disappoint. So I finally find the limits of my bad relationship with Space A: seven canceled flights on the way here and three trying to get back. And in the end the return costs not only the $670 for the one-way return ticket, but four extra days of a rental car, additional minutes on my pay-as-you-go phone to call and cancel the dorm bed I'd reserved in Hawaii, make the phone calls I was waiting until I got back to Japan to make, cancel the dental appointment I had to make four weeks in advance, missed obligations in Japan, plus the added hassle of now having to take myself to the airport, drop off the rental car, find a flight that will let me catch the two-hour shuttle from Narita home—I'm exhausted just thinking about it.
Extra work on top of failure, frustration and expense. Lured into this position with whispers of adventure and false hopes of thriftiness. Wouldn't it be cool to actually make it to California and back to Japan?, coos that siren Space A. I'm tired of being in transit. I'm tired of being homeless. One night I didn't have a hotel room in Hawaii and had to sleep in the airport with my luggage. Right after the reservation lady told me stiffly there were no rooms available…EVER…the retired couple and I drove to Waikiki for dinner. We passed a park downtown that was a garden of neatly labeled plants. No wait—it was a garden of homeless people, each camped out under a tree, marked like a sign by a huge shopping cart bulging with stuff. I felt that now-familiar twist of panic as I looked out the backseat window and saw myself.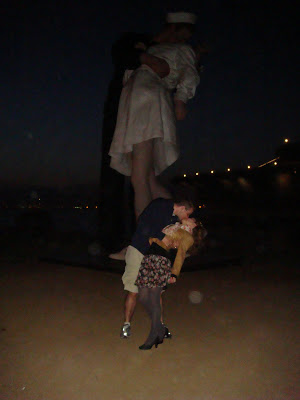 It's the same twist of panic I felt in Hong Kong when my hotel wouldn't honor my reservation and the entire city was full. It's the same twist of panic I felt the first day of this journey in Okinawa when the flight was canceled at 6 p.m. and I had nowhere to go. It's the same squeezing sickness I feel anytime I realize I'm far from home and not going to get any closer any time soon. And to cheer it all up, Baja California, Mexico (100 miles south), then shook the area with a 7.2 earthquake, startling Chris from a nap and swinging our third-story hotel bathroom door on its hinges while the coat hangers jangled in the closet. The ground rumbled like thunder; the concrete building swayed. What joy. What else could go wrong? Oh, more earthquakes. 4.5…5.1…go figure.
When you end a bad relationship it should feel exalting, freeing. It doesn't. I have that nervous, sick feeling of failure and drudgery. Thanks, Space A. And I still have to travel across the biggest ocean in the world. Le sigh.