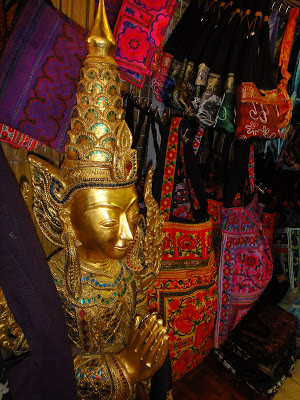 We got back to our Chiang Mai hotel room and collapsed on the bed. We'd just finished two long days of price negotiation, product inspection, bargaining, measuring, baht conversion, price calculations, and tromping around from shop to shop in mid-90s Thai humidity. We spent all our money; we filled all our suitcases—we were exhausted but pretty elated. We joked around and turned on the television.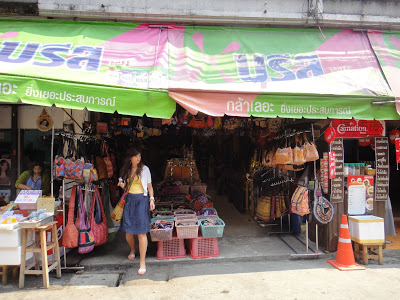 The first image to flash across the screen was a burning house carried by a wall of water across farmlands. "MASSIVE JAPANESE QUAKE AND TSUNAMI!" screamed the reporter. "Whaaaaaaaa!" screamed the Ichiban staffers. I checked my email and had just received this from Chris: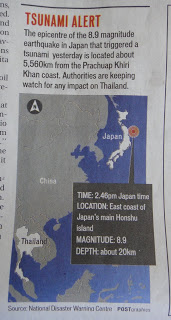 "Have you heard about this? I was on the way back from the Land and Traffic Office to go to the VRO and finish our car's paperwork this afternoon when a huge earthquake struck! Everything was shaking and moving, all the trains stopped, and traffic was a nightmare. It took me 3.5 hours to get back to base (should have been 20 minutes) trying to find my way through traffic to cross train tracks that weren't closed off. It just shook and shook and shook for hours!"
He later told me he'd been sitting at a stoplight when cars, streetlights and buildings started to shake, knocking debris loose from overpasses and stuff. Most people kept walking, but the cars stopped driving, hence the traffic. The tsunami and chaos on the news is 230 miles north of Tokyo and Yokohama—about the distance from Houston to Dallas—but elevated freeways, the train system and Tokyo's Narita Airport were closed down. Our flight was supposed to leave in just over 12 hours and we weren't even sure the airports would be open again.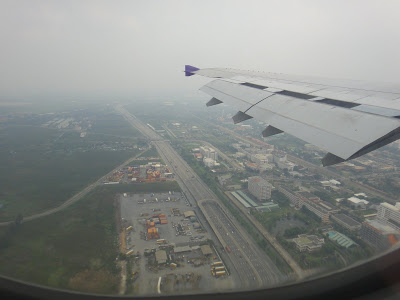 Fortunately, we were scheduled to use Haneda Airport on Tokyo's west side, which only recently allowed international travel. Just in time! Everyone along every step of the check-in process at the Chiang Mai airport the next morning looked at our final destination and said, "Tokyo?? Have you heard…??" This was repeated again in Bangkok. We arrived at our gate early and plopped down in front of BBC news. As more and more people bound for Tokyo checked in, the crowd around the TV screen grew. Japanese crowds are quiet anyway; this one was silent. All attention was focused homeward.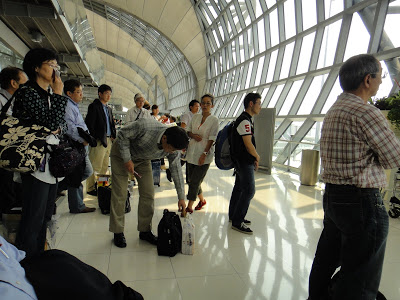 On board, I picked up a copy of the Bangkok Post. Inside, Obama pledged support for our close ally, Japan. The article also read, "The State Department issued a travel alert strongly urging people to avoid tourism and nonessential travel to Japan. 'Tokyo airports are currently closed….'" I continued reading as we taxied down the runway. Going home is essential travel, right? We landed, collected our bags and passport stamps, then looked for our driver. We found him right next to another driver waiting for Ms. Ann Curry, NBC News. I decided she was my favorite TV reporter after her Haitian earthquake coverage. Now she's here. Ironic. We waited awhile, but ultimately decided we'd rather see home and husbands than her. Some other time!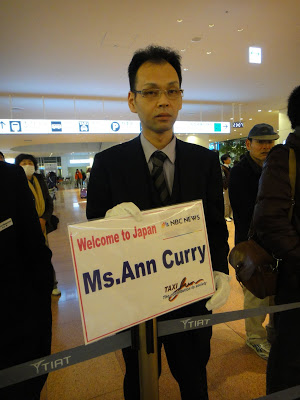 During the drive home my phone buzzed with earthquake early warning messages. More shaking woke us up during the night, and even more this morning. I am really happy to be home safely with Chris and the kitties. My sand collection in the bathroom didn't even break! Stuff upstairs was knocked over, but we had no real damage. We're very thankful for the many prayers and messages of concern people have sent. Fortunately, we're far enough away from the disaster to avoid anything but inconvenience, so please keep praying for the people in Sendai. Chris' squadron stopped everything to mobilize and assist in the relief effort, so that's what he'll be up to this week.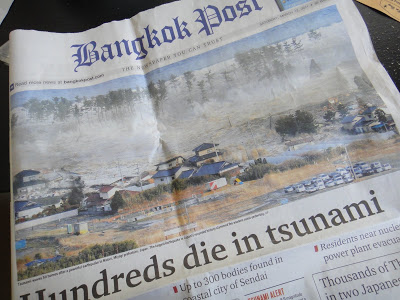 It's disorienting to live in Japan during its strongest-ever recorded earthquake, but it could have been so much worse. More than 140,000 people died in Tokyo's 1923 earthquake and its resulting fires. Thousands died less than two decades ago in the Kobe Earthquake. That doesn't diminish the tragedy of the many deaths and thousands of missing persons reports, and at this point I'm just I'm praying the death toll stays lower than estimated. Keep calm and carry on!