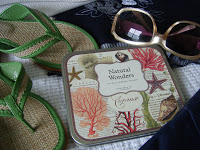 Disclaimer: I am not going on a beach getaway. Chris and I live all of 6.5 miles from Jacksonville Beach. We are 'away' and do not need to 'get.' Therefore, Chris thought this was silly.
But anywho, I have about five things I wear the majority of the summer and I discovered they fit conveniently into my carry-on-sized beach bag. Add a beach blanket, boogie board, chips and salsa and Landshark and I could live on the beach forever. Maybe. Now how did I discov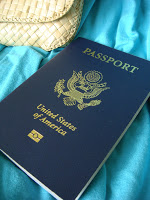 er roughly a week's worth of outfits fit in my beach bag when I have no need to research this information? When I was little I loved reading survival books about kids who live in the woods or with animals or go back in time all on their own and save the day with their resourceful possessions. Gee, it sure was handy to have that bronchitis medicine in my pocket so I could save the Queen of Poland's life…or whatever…so I would carry around a fanny pack with a travel kit, first aid kit, baby powder, uncooked rice, pocket knife, shoehorn, et cetera for that rare chance that I'd be riding my bike home from the pool and suddenly be forced to live at the playground the rest of my life! Well, now
certain people
would make fun of me for being so full of foresight, so I have to cut back my desire to pack/prepare to fake-vacation packing, like below.
All you need for that week-long vacation getaway fits delightfully into your beach bag. Don't forget some small change for ice cream!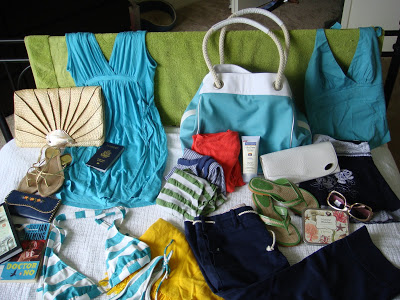 Being stylish on the water is a 'shore' thing with the summer's hottest colors—Caribbean Water and Day-at-the-Beach Sunshine anchored with navy blue and woven with shots of rattan, coral and metallic gold. Bon Voyage!
The line-up:
reversible aqua beach bag (inside: yellow stripes!)
aqua and white striped bikini
aqua Zara dress from Barcelona
aqua halter
yellow Sevilla wrap
navy anchor-button crop pants
navy striped tank
green striped tank
coral tee
navy embroidered cover-up skirt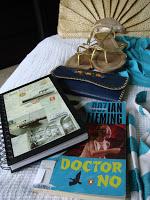 yellow and aqua beaded necklaces
gold Zara sandals
green and woven grass flippies
woven straw clutch with shell detail
white alligator trip file clutch
passport
sunscreen
trip journal and seashell stickers
beach read (James Bond)
Mediterranean Breeze perfume