I've got the clutch halfway in, which in theory puts me in the 'friction zone,' and I'm giving it a little gas, but apparently not enough. That, or I'm not counter balancing correctly. Either way, none of these things are passing through my head at the moment, because all I'm thinking is, "Going down again!" This time I pinned my ankle, which didn't hurt thanks to a proper choice of footwear, but I banged up my right knee to go with the left shin gouge I sustained tipping the other way on Monday. As previously mentioned, my feet don't touch the ground so what would be a little 'oops' and slight catch for taller people becomes an 'oops' and hard catch once the motorcycle is 45 degrees over already. Those things are heavy!! The second topple shook my confidence a little but didn't hurt as much as the first one. Practicing a swerve-and-quick-stop exercise at the end of a full day of riding went well until I tried to restart in second gear.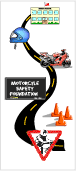 This was my third fall, and the lurch of the bike as it went down sent me rolling onto my right shoulder hard. The helmet made me top heavy so I sort of flailed around before turning and pushing myself to my feet again and picking up the bike. The skills test started with the only exercise I fell down in during movement: the slow, tight figure eight. Sigh. By the time it was my turn, the sun was almost set and a breeze had picked up. I shook a little with cold, a little with nervousness. Falling over during any skill assessment is an automatic failure. I started slowly and tried to keep a constant speed, but my shaking hands let the clutch out too much and the bike stopped moving. I started to tip. As my foot shot out and hit the ground hard I inadvertently twisted the throttle, hurtling myself 10 feet outside the boundary. Everyone was watching and I was mortified, but at least I didn't topple. I slowly finished the rest of the eight as much in the box as I could. The instructor wouldn't make eye contact with me when explaining the next evaluation. Sigh. When it was all done he called the first guy over for his score. The second guy returned and said, "He has to do individual ones when someone doesn't pass." Then it was my turn.
"I know!" I said, walking toward the instructor.
"You really blew that first one," he said.
"I know."
He shook my hand. "I'm sorry, but you received a qualifying score."
"I know. Wait—what??" I was genuinely surprised. I mean floored.
Apparently going outside the lines has a maximum detraction of five points. Shoot, I should have just ridden figure eights around the instructor and gladly accepted five points off! We returned inside for the written exam and I got a 100. I was very proud of myself overall—this course was much more physically demanding than I expected—until one of my classmates made the good point: "I don't feel quite ready to go out on the road. But what scares me even more is that people as bad as I am are already out there."
She was being totally serious, and she really has a point!