My friend Laurie gave me a hot tip: Seville Quarter's Palace Cafe serves up puffy, sugary beignets and steaming mugs of coffee. We headed downtown to historic Pensacola to see for ourselves.
We used to spend a lot of Saturday afternoons at Seville Quarter when we were the regional vice presidents of the Emerald Coast Texas A&M Club way back when. That was a little different, because we were watching four hours of good ole' Texas Aggies losing miserably at football, which made it hard to enjoy our chicken wings, fried pickles and beer. This was a much happier, much shorter visit. Thanks for the tip, Laurie! I love beignets. Chris and I are thinking we want the basement wine cellar bar in Krueger Keep to be stylistically similar to the Palace Cafe's New World Old World ambiance.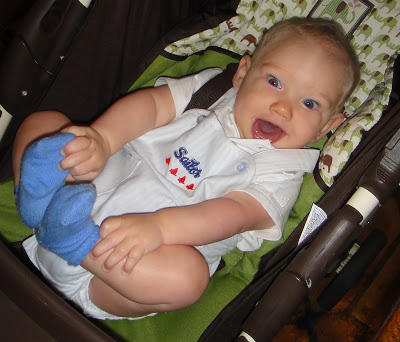 That sounds good to me!
Did you know their majesties King Juan Carlos I and Queen Sofia of Spain visited Pensacola in 2009 in honor of the 450th anniversary of the de Luna exploration landing in Pensacola? Tristan de Luna y Arellano arrived in Pensacola Bay with 11 ships and 1500 people in 1559. Hurricanes were responsible for the ultimate failure of the settlement, which predated both St. Augustine and Jamestown.
Plaza de Luna commemorates the settlement, and a yacht in the plaza at the end of the pier was offering free tours. When I was little and supposed to be going to sleep I would pretend my bed was a boat sailing around the world and that if any of my stuffed animals fell off they'd drown. As we were boarding with our cute little milk-stuffed animal, some hippie said, "Who's responsible for those chubby thighs?" I laughed because I was glad someone thought my string bean baby was chubby.
The hippie continued, "Is Mama's milk responsible for that?" This is the first time a complete stranger has asked about Isaac's sustenance and I was a little surprised but said, "Of course…it's not Dad's milk! Ha ha!" Then the hippie said, "Well, look at those little wings on him. Back in the '70s we had a bus we painted and would drive around and everyone would come hang out. It was really awesome, and we had these white ceramic wings on it. Just like this little guy. Enjoy the boat!"
Huh? Did you just say my baby has wings? …? Turns out this very cool tropical hardwood yacht, which was built by some excessively wealthy family in South America, is now owned by the Twelve Tribes, which may or may not be a cult. That still doesn't explain the wings. Everyone knows Redbull gives you wings. Possibly coffee and beignets; certainly not milk.
"Take me home now, says I! Yarrr!" ~ Captain Good Baby