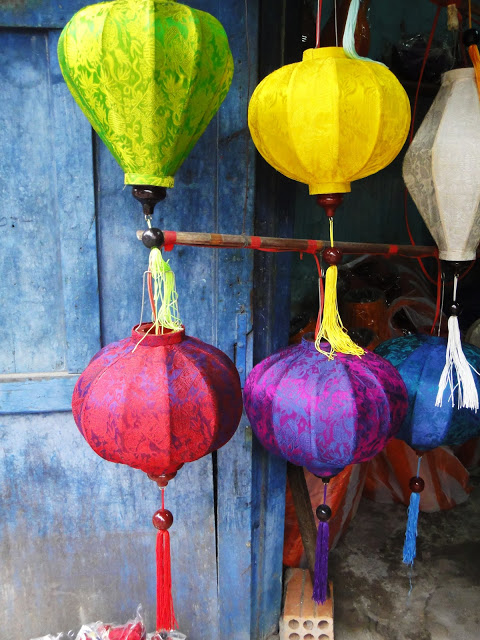 Silk lanterns in Hoi An, Vietnam, 2011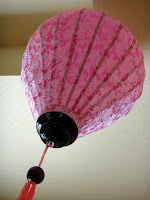 Chris had one of my favorite ideas ever early last year as we were wandering the streets of Hoi An, Vietnam. We'd admired myriad gorgeous Vietnamese lanterns from Saigon to Hanoi, but what would anyone do with them back home?
Chris suggested consolidating our suitcases and filling the now-empty one with as many lanterns as we could, then hanging them up for birthdays instead of balloons. BRILLIANT!! I'm a little jealous I didn't think of it myself! Incidentally, I read recently that latex balloons are the number one cause of choking deaths in children (followed by candy, nuts, and grapes). And we didn't even know it at the time!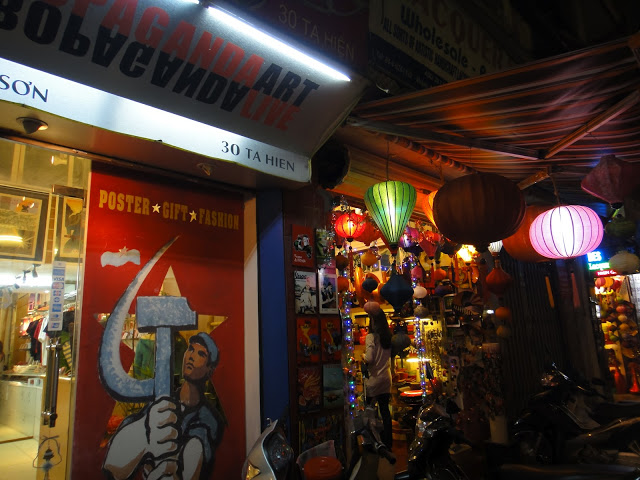 Old Quarter, Hanoi, Vietnam, 2011
Our Vietnamese lanterns were easy to transport; they collapse into cylinders. Wrestling them into shape over a year later, however, was quite a challenge. I pushed, shoved, jammed, massaged, forced, and otherwise abused the lanterns until all but one had attained a more-or-less rounded physique.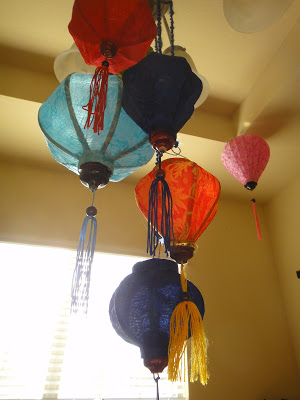 Captain Goodbaby likes us to be similarly occupied and working side-by-side. Thus, he was happy to explore the cabinet of wonders and crawl around me, banging his stacking cups, while I pinched my fingers shaping the lanterns and swore silently under my breath. And when we got the ladder out to pin them to the ceiling, well, that was just the most fun Isaac had all week. He crawled around to the opposite side of the dining room and cackled with laughter at seeing me up so high, straining and grunting with the thumb tacks. Decorating is hard work! But rendered more delightful with a tiny baby giggle soundtrack.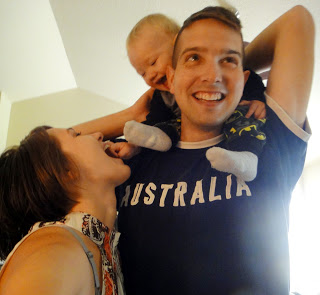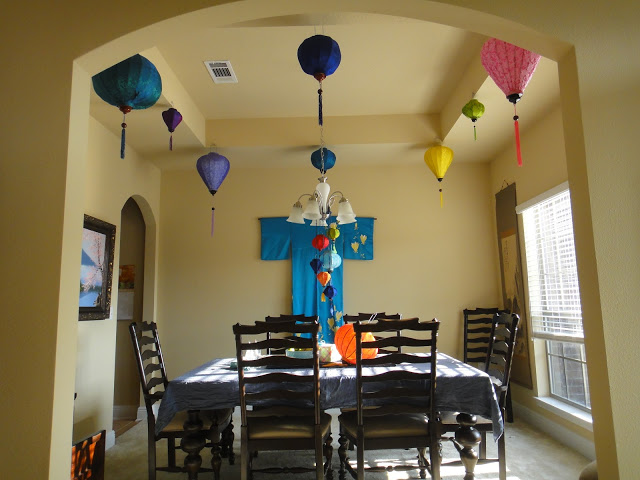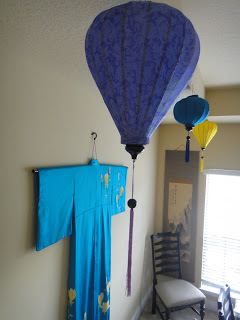 I also hung a bevy of tiny lanterns from the chandelier. So cute!
This turquoise kimono with cheerful yellow lantern-like lilies is the perfect accompaniment. Chris was working late one night, so I sipped a glass of merlot while viewing the room from different vantage points. The colors blended together as I added a turquoise and gold obi to the wall, a blue tablecloth, and a green silk Vietnamese scarf as a table runner.
I put a lot more time and thought into decorating these days, because 1., we got all this stuff to decorate this, our future dream home, 2., it's fun to decorate with Isaac, and 3., I need to make something beautiful out of the chaos. I never know when Chris will be home, and I may sweep the kitchen floor every day and mop several times a week, but it will always have baby presents scattered here and there. But cross that threshold from kitchen to living room, or dining room, or whatever, and ta-da! Beauty—just for the sake of delight. Happy birthday!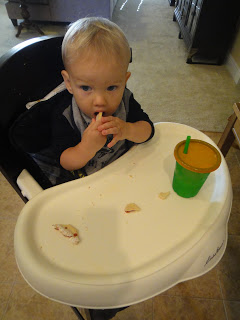 Isaac got a pop tart on my birthday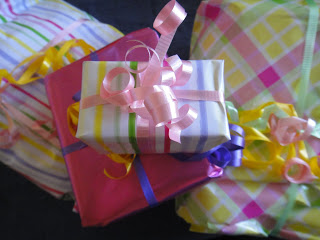 thanks, Mom!
For my birthday, Captain Goodbaby and I had lunch with Nancy and an evening glass of wine with Kristin, then Chris brought home our favorite Mexican food for dinner. I got to open presents from my mom and sister in the morning, and a Japanese rain chain from Chris after dinner.
For Chris' birthday, we had lasagna and watched a movie. And of course there was CAKE! One of many good things about my and Chris' birthdays being three days apart is that we always share a cake and avoid eating two of them.
Since the captain took his sweet time joining us last year and declined to celebrate September as his birthday month, I'll have to switch out some of the more vibrant lanterns for autumn-colored-lanterns after the autumn equinox (thanks for the idea, Mum!).