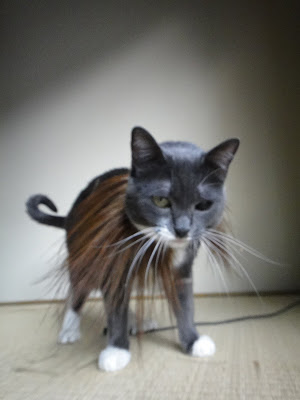 At the Yamato Promenade Antique Market I bought Pounce and Mouse this feathery collar. Pounce just lay down and looked sad. Mouse walked around looking like a lion and trying to bite it. Success!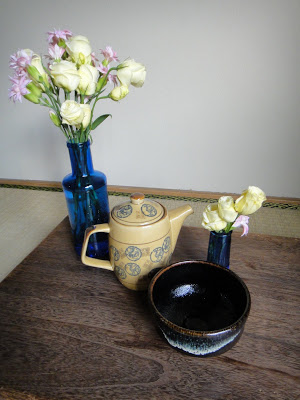 At the same time, I decided it was time for the evolution of the flower arrangement. I like when original arrangements are reincarnated to something more delicate, more selective. My birthday flowers were a week old, so I removed the mouldy greenery, chopped off the soggy stems, culled the dying flowers and tossed the baby's breath. I appreciated them over a pot of Sweet Kyoto Green Tea with milk and sugar.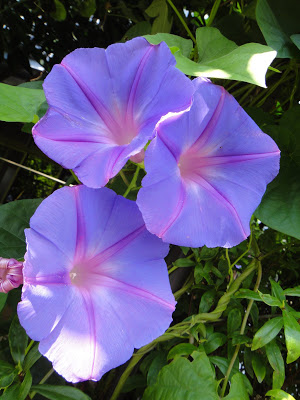 These September blue bells are suddenly everywhere. I seem to get them mixed up with morning glories. They are also the featured flower on my September Kokeshi Doll. Anyway, I was trying to enjoy a nice cup of tea to power up before cleaning when Pounce here decided he'd like to join the tea party. He does this thing where he flattens and slithers up to whatever smells delicious like a snake and sniff-sniffs until he decides to try it or I shoo him away, whichever comes first.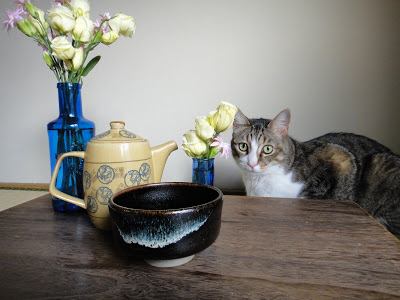 You may have noticed; when Chris is gone, I post more pictures of the kitties and me because the photo attachments in emails to him often get booted back. We miss you Chris!