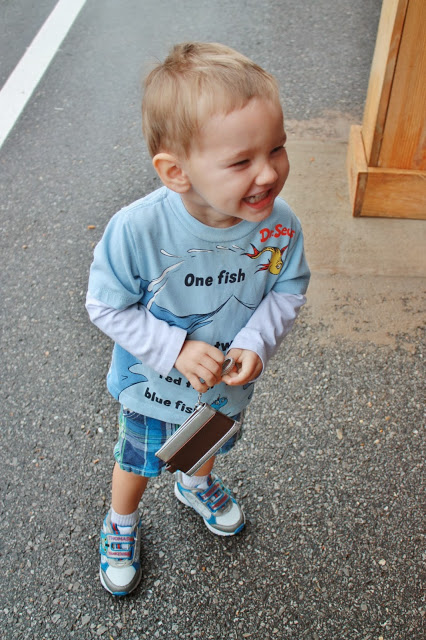 World's Most Handsome Assistant, on assignment at a recent ribbon cutting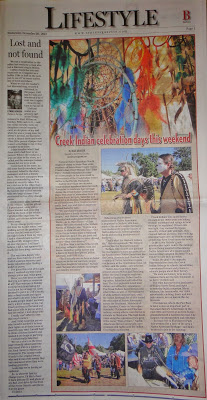 Love this layout
Now that I'm not sick 3/4 of ALWAYS, my Assistant Photographer and I have been quite busy. We've had something in every Gazette except one this month, and have a spread (photos and a story) scheduled for the last issue, too.
The local paper comes out twice a week, which turns out to be the perfect amount of time between deadlines for us—not overwhelming like a daily can be, but enough to stay motivated. My assistant doesn't always come with me…but he usually does. Other than that, I interview people over the phone during nap time. I'm surprised at how well it (usually) works, especially if we're covering something outside or with other kids (Monarch Madness notwithstanding).
I try to get stories written during nap time. I occasionally work on them in the evening. Chris sometimes has to prepare for flight events or study, so we try to coordinate and have Office Evenings. And if we're covering something like the Veterans Day parade, we all go enjoy it, of course.
"Did you have fun at the ribbon cutting?" I asked Isaac on our way home a couple weeks ago. "Yeah!" he said. Granted, he's two, so "yeah!" could have been an answer to something totally unrelated. Sometimes at dinner we play "Magic Baby Eight Ball" where we take turns asking Isaac questions: "Do you want to live in Maryland? Do you want to eat broccoli for dessert? Do you want to wear the kitty like a hat?" and he seems to answer as arbitrarily as the toy.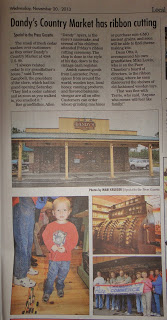 Same ribbon cutting
Anyway, Isaac usually seems to have a good time, plus the paper only covers our county, so we never have to go far. It's as local as it gets. I love it! Taking photos means we have to be in the front, so I'm usually crouched down. After a few events I noticed Isaac watching me and crouching down too. He has a toy camera he carries. We've covered a couple parades, a Kindermusik class, and most recently, the local Creek Indian tribe annual pow wow.
If you're thinking, "Hmm, sounds like you cover the type of stuff you blog about," you would be correct. I find blogging an efficient way to motivate myself to do something, to give myself assignments and deadlines. The newspaper is like that…but with money!
And we don't stop at the shallow end of the pool (ribbon cuttings, press releases, etc). The weekend the annual 40 Days for Life campaign wrapped up, the paper printed a front page article about local efforts to end abortion. I was so excited to have that pitch accepted!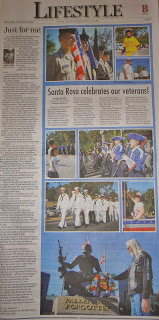 Veterans Day coverage
This is a true story: when I worked at the Corpus Christi Caller-Times, I was sent to cover a ground-breaking ceremony for a Catholic orphanage. A priest sprinkled holy water on the site and quoted scripture. That's pretty much all that happened (not very ground-breaking, ha ha!….sorry), so that's what I wrote the article about. My editor called me over to her desk that afternoon. "Do you have any quotes we can put in here instead of this?" She pointed to the scripture quote. I shrugged. "That's pretty much all he said." She raised an eyebrow. "I don't know about quoting the Bible in the newspaper." I shrugged again. "He didn't say much else."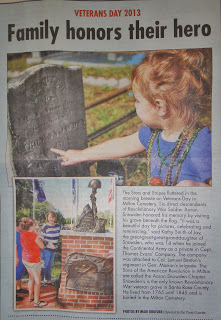 Front page – this was just good timing
She frowned and turned back to her computer, discussed it briefly with her editor. "I guess we'll have to leave it…" she seemed perplexed, like I was doing something wrong. The same editor deleted paragraphs of a different article one time that she personally disagreed with. I'm no Lois Lane over here, but my most frequent compliment was/is how people feel their side of the story was well-represented. Even when I disagreed with them. So I couldn't believe that editor just flat out dismissed one side of the story like that.
All that to say, I was delighted when Santa Rosa's Press Gazette ran the 40 Days for Life story on the front page. And soon afterwards, the editor told me I didn't have to pitch every story to her anymore—just go ahead and turn stuff in. That really cut down on turnaround time, and my tiny assistant and I have been busy busy busy ever since!
We are thankful for this opportunity to get to know our community better. Happy Thanksgiving!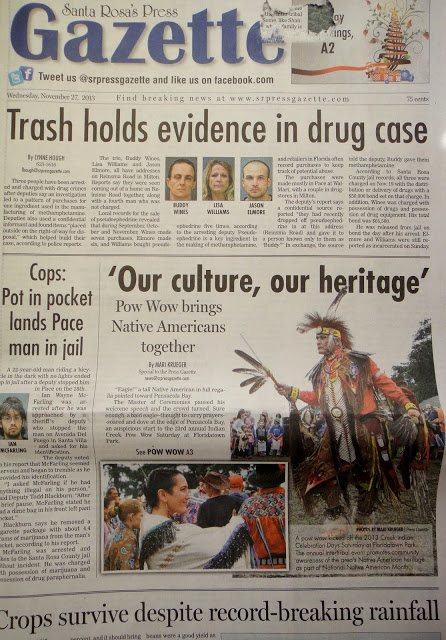 Today's front page. Interviewed an Indian Princess Saturday for this! Happy Thanksgiving!!