I tasted honeydew melon and adventure at the same time as a five-year-old on my first airplane flight. The famil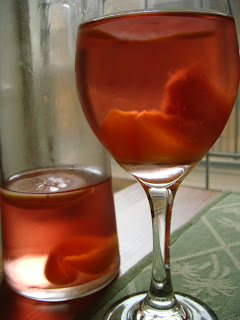 y was en route to Sunny CA from our home near Trenton, NJ to visit the grandparents, pick some oranges, find some seashells and visit the San Diego Zoo and Disneyland. It felt like we spent the whole summer there. We have a picture of Mama getting us ready to go—Baby Hannie part of the action by getting to lay on the kitchen table, Big Sister Mari keeping an eye on her, Luke and Simon somewhere in the house probably carefully packing their matchbox cars into lunchboxes. Even as a munchkin I could feel my mom's excited anticipation of the trip as she rushed around the kitchen doing grown-up things.
So in honor of families and summertime, Chris and I had California Curry Chicken with Honeydew the other nig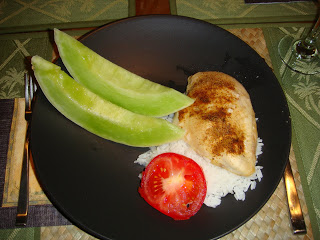 ht—my own creation.
I zapped two frozen chicken breasts in the microwave on low for four minutes, sprinkled with plenty of sweet curry and garlic and tossed into the preheated oven (375) for 35 minutes.
Then I boiled some jasmine rice (my favorite—also very aromatic so good for Chris' cold) and sliced some honeydew melon and a tomato. We didn't eat all of the tomato, although it complimented the chicken well, so the rest of it got dumped into the lasagna I made the next night (with a lot of other tomato products I found in the fridge).
The bright green of the melon is striking against the black plates, and visual satisfaction is a good way to start dinnertime. I enjoy dinner more when hunger and aesthetics are satiated. Anywho, easy, fast and another bonus: it started to smell delicious immediately, so when Chris got home he was already impressed!