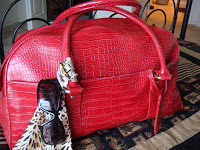 Gee Mari, your blog is awfully stale. Yes well, Best Buy has held my laptop captive for five weeks as of this Monday, plus the in-laws are in town. That slows down the delivery of excellent, relevant information, such as the answer to this pressing problem: my buddies Rachel and Jeff moved to Charleston. That's an easy four hours from Jax, but–gasp!–what should I pack for a late summer visit?! Fear not; here is the answer:
Late Summer Weekend in Charleston, South Carolina
Revel in the last blaze of summer with these nautical looks that hint to fall colors.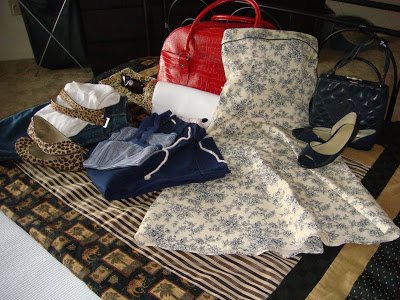 Dust off the red overnighter–chic with embossed crocodile print–and its coordinating White House Black Market white croc travel organizer. Toss in a few simple outfits and you're done: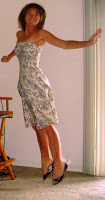 Travel easy in basic slim jeans with a sleeveless white turtleneck, then add polish with leopard-print suede ballet flats and a matching skinny belt snug around the waist. Complete the outfit with a leopard scarf and black giraffe-print sunglasses! Saturday is for strolling along the waterfront, so don't forget these navy nautical crop pants with rope belt and anchor buttons! Go all out with this navy and white stripped tank. Sunday is simple in a strapless cream with navy toile. Navy patent flats from Banana Republic and matching vintage handbag are a must in classic Charleston.
Tsk tsk, my travel plans have changed. How to stay traditional and classy for a sassy weekend in Savannah, Georgia?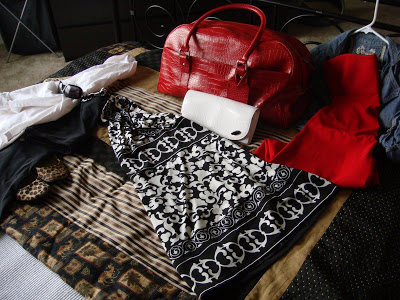 It's easy with just a few simple changes to the Charleston compilation. A slight shift from navy to black steps the formality up a notch. Friday is simply chic with these black groove pants from Lululemon, topped with this white dress shirt from Milan (thanks, Auntie Sonja!). Leopard ballet flats, matching scarf and black sunglasses sail into town in style. Sightseeing in historic Savannah is a breeze in this black and white halter tunic dress. Sunday in September means a red delicious halter with this cropped denim jacket for grown up back-to-school style.