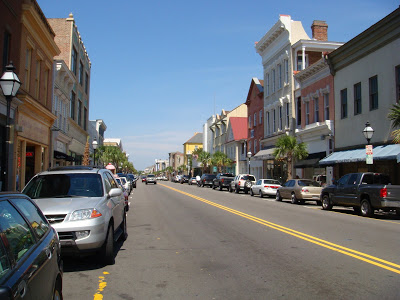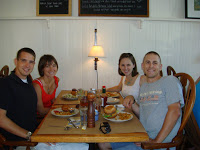 Our friends and gracious hosts Rachel and Jeff Milota showed us a great time in Charleston! Tropical Storm Hanna couldn't rain on this parade—after catching up until early Saturday morning,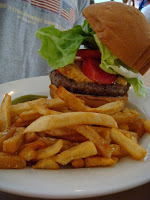 Rachel made waffles before a sunny stroll around downtown Charleston and lunch at Hominy Grill (207 Rutledge Ave, 843.937.0930). Then we booked it across town to catch the last ferry to Fort Sumpter. Dolphins surfaced around our boat. Photos: above–downtown Charleston; left–us at Hominy; right–Jeff's pimento cheeseburger at Hominy; below–Cooper River Bridge)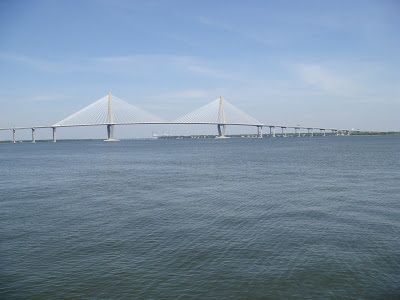 This is THAT Fort Sumpter, the one where the first shots of the Civil War were fired.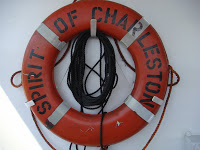 I had forgotten that was here. We picked around the old ruins and the WWI (II?) update, and I sat on the wall looking out at the entrance to the bay where it faces Fort Moultrie on Mount Pleasant and tried to think about the impact that had on Charlestonians at the time. Plus it got me out of the museum exhibits.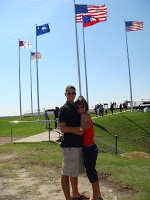 I've been in a lot of museums this summer and rather than try to speed read facts and trivia I will soon forget I figured Chris would tell me anything truly interesting while I tried hard to…you know…appreciate. Or whatever. Here is something easy to appreciate: Rachel's gift of cooking. Indian food Saturday night, wraps for lunch after church on Sunday…the woman is gifted.
(Photos: left–boat to Fort Sumpter; right–Chris and me on Fort Sumpter; below–inside the fort looking out)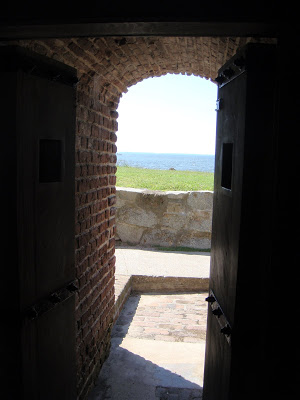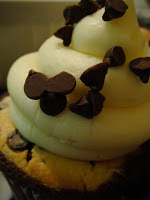 Sunday afternoon we took a drive to Wadmalaw Island to seek out a tea plantation I'd heard about
(Charleston Tea Plantation, 6617 Maybank Hwy, SC, 843.559.0383).
How Classic Southern can you get?! We watched the video where a bedtime story voice explained about tea leaves waking up from their "winter nap" before getting trimmed, then "resting quietly" while they oxidize. I bought some tea (of course) and resisted the pretty china with the boats sailing across.
(Photos: right–cupcake from Cupcake. It's a Black Bottom: cheesecake and chocolate cake with a cream cheese frosting; below–Chris and me at the Charleston Tea Plantation)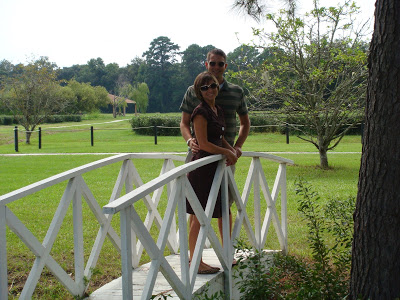 We had just enough time to make it out to Fort Moultrie, which is where South Carolina declared her independence from England four months before the Declaration of Independence roped everyone else in, too. That's about as many forts as I can take for awhile, but it was a super-fun weekend AND we got a bunch of National Park Passport Stamps. That motivates me.
(Photo: have you ever seen a cuter/manlier guy?? Chris shows off the similarities between his corps uniform and…the doll on his right)