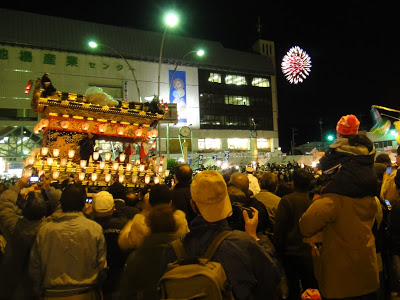 The Chichibu Night Festival is one of the top three! Wait, what?! Absolutely everything we go see in Japan is one of the top three or top five somethings. This is the third time I've gotten to a festival and found out it's one of the top three, always behind two other festivals I've never heard of. I asked Sumie, our festival guide, for clarification. "This is one of the top three festivals for floats," she explained. "The Nikko Samurai Parade is one of the top three festivals for processions, and the Aoi Matsuri festival is one of the top three festivals in Kyoto." So what we learned here tonight at the Chichibu Night Festival is: the rankings essentially mean nothing.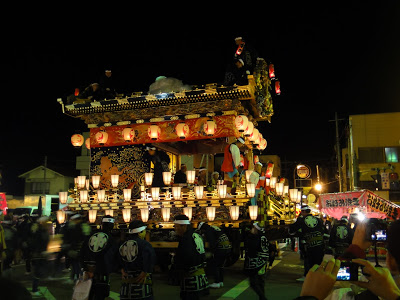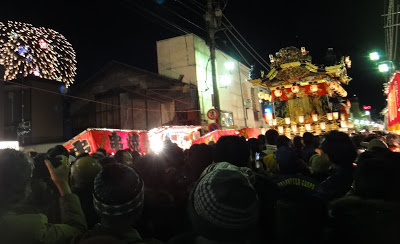 These enormously heavy floats are pulled through the streets of Chichibu every December 3. When they reach an intersection, the people pulling the float work together to lever it up onto a post so they can pivot the hulking structure around and proceed down a perpendicular street. Vast crowds clogged street corners in anticipation of this risky maneuver, gasping as the float jacked up, first higher on one side than the other, and finally swiveling precariously before again reaching solid ground.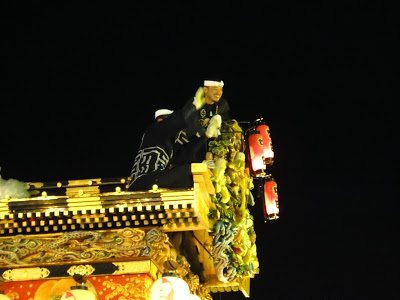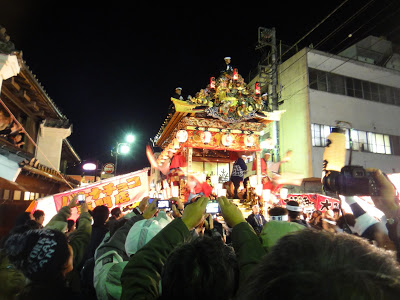 Intermittently throughout the night fireworks burst in the night sky, illuminating surrounding buildings, upturned faces, and sometimes the surrounding mountains. It's cold up here in the mountains north of Tokyo. The best thing about the crushing crowd was the warmth and protection from the wind it provided. I procured the best souvenir—my thickest, warmest wool socks!