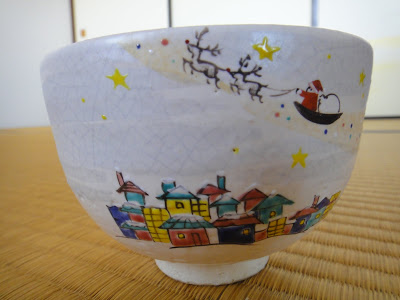 After November 1 we study winter-style tea ceremony on tatami. What's different about this style is that we bring in all our tea instruments, then kneel and ceremonially close the door to the tatami room, blocking out all distractions. Then we come in, take five (auspicious number) steps on the final tatami mat, then arrange ourselves at a perfect 45 degree angle to the hearth, against but in harmony with the natural straight lines of the room, and take a deep breath (that part is the same). Another difference: we are using a Santa Claus tea bowl.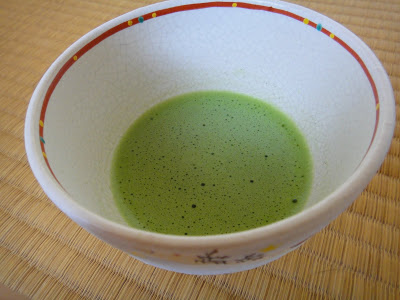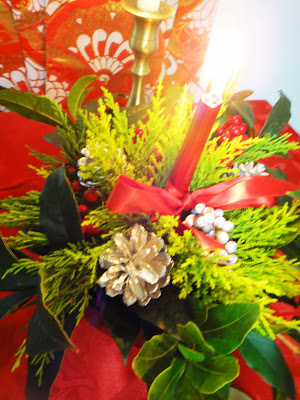 After winter tea ceremony lessons, I enjoyed Christmas Ikebana. As we tucked pine and berries around a red candle I said it looked really similar to an advent wreath. The teacher didn't know what that was so I explained the wreath I grew up seeing on the table every night for weeks before Christmas—the central Christmas candle, a Christmas Eve candle, and three candles for the Sundays leading up to Christmas. One year Simon tied a noose around his candle, which subsequently lit the entire wreath…and our kitchen table…on fire on Christmas Eve. Oops. We were all upstairs when the fire alarm went off; Daddy went to check it out and moments later there arose such a clatter as he smothered the three-foot flames with a cooking bowl. Ah, Christmas!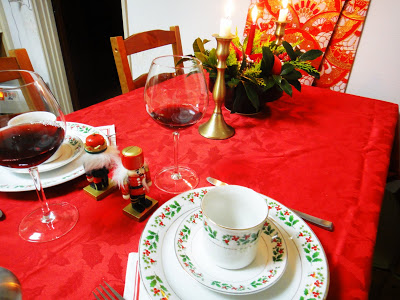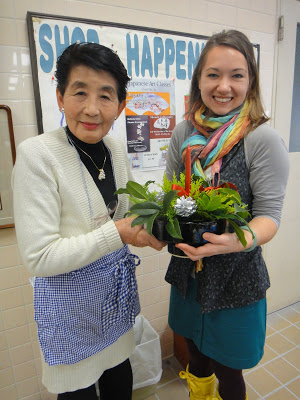 My family would sit around our table and sing the Advent song: "Three more weeks 'til He arrives! He who's filled and changed our lives! Let the bells ring loud and clear! Let the people should and cheer! (Pause where we all traditionally forget the words) Let all kinds of drums be heard. Let all people get the word. Let's clap our hands and slap our thighs! Raise our voices to the skies! Sing and play our songs and drums, 'til the special baby comes! Hallelujah! Hallelujah! Hallelujah! Hallelujah!"
Back home with Chris, everything is looking merry and bright. We snuggled up on the couch for pizza and a (Christmas) movie night. Pounce looked on beneath the happy glow of our Christmas tree. Merry Christmas from Japan!