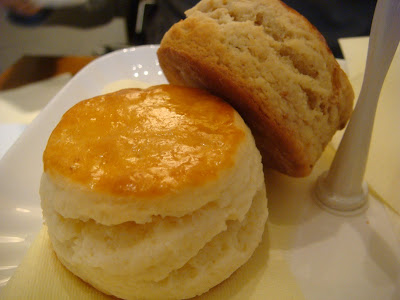 Would you like the house blueberry jam from Kyoto to go along with your scone? I love afternoon tea! I LOVE IT! And I love that there is a club in Tokyo to celebrate it. We joined this fun group for an afternoon Christmas tea party at the Lipton Tea House (1-3-1 Ginza, Chuo Ward Tokyo 104-0061, Tel: 03-5159-6066)! Maybe you didn't know that Sir Thomas Lipton (knighted for his tea trade contribution) was the first to import tea to Japan.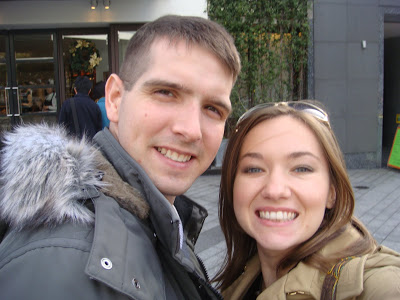 Richard Mort, a British Tokyoite, organizes these fantastic tea parties at different tea houses around town, like the last one at the Ebisu Westin. The Christmas tea's menu included: Assam Second Flush tea with finger sandwiches, sausage rolls, quiche and salmon/pickle open sandwiches, followed by plain and fig scones with clotted cream and blueberry jam. For dessert, I had Vervain Blend tea (lemon verbena and cornflower) while Chris had the Chinoiserie (Darjeeling, Earl Grey, Keemun) with our petite four: pistachio creme brulee, lemon meringue tarts, flapjack and carrot cake.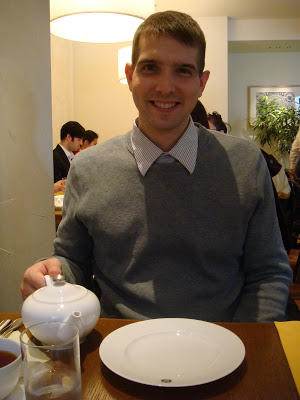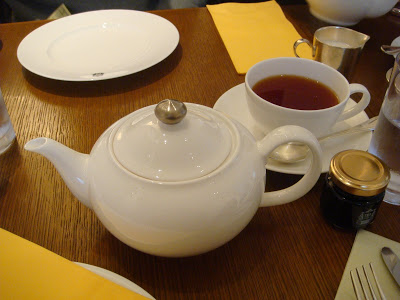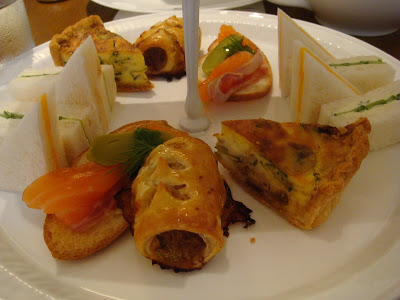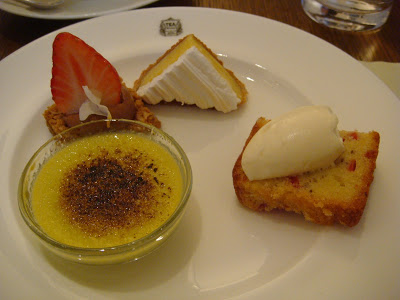 We sat with these really nice Indonesian ladies who told Chris he looked just like a movie star (the same one my mom thinks he looks like…guess which one!) and posed with him for pictures.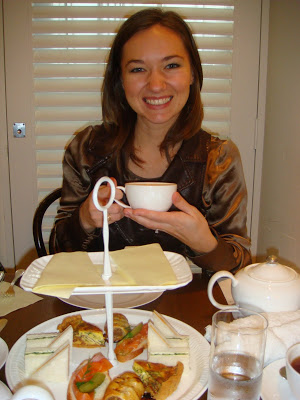 Then an Islamic protest marched by…??? Anywho, afternoon tea was delightful and we're looking forward to the next!!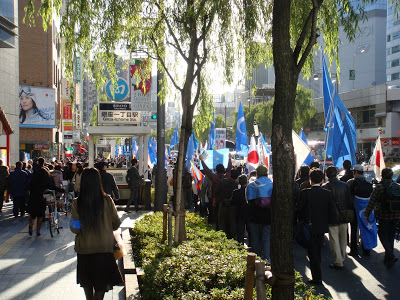 Then we set off for an evening of Christmas illuminations! I researched some great places to look at Christmas lights around Tokyo for an article that hasn't come out yet and we worked our way down the list. First we wandered up and down Ginza's Chuo Street, stopping into bookshops and wandering around jewelry stores all decorated for Christmas. Everyone was out and merry and the evening was crisp without being cold. A lovely evening!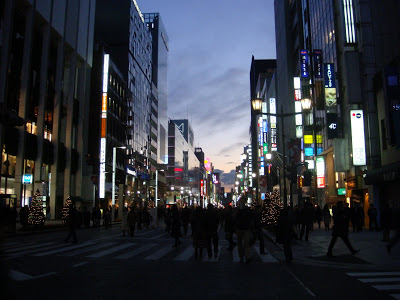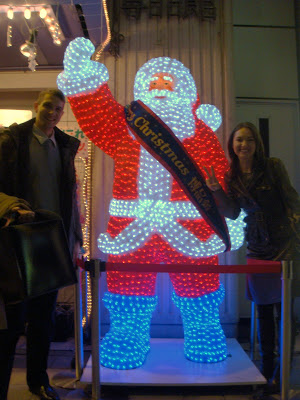 From there we walked to Maranouchi between Tokyo Station and the Imperial Palace. To get there we walked through the International Forum's Marche de Noel de Strasbourg a Tokyo! Tiny shops selling Alsatian wine, cheese and decorations lined the path of decorated trees. My family (and maiden name) originally come from Alsace! We picked up a free map of the region.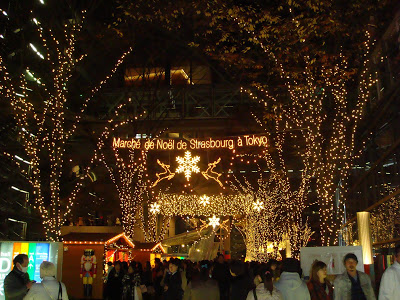 I wasn't quite sure what we were looking for…just a street lined with illuminated trees for Maranouchi's Bright Christmas 2009 Illumination. Surprise—it was easily found! We walked around awhile, then stopped and had a light dinner at a posh Chinese restaurant decorated in dark wood tones, white walls, blue-green glass and earthenware. We could see the trees bending in the wind outside the second-floor window as we tasted the spring rolls, tomato dumplings, rice with seasonal veggies and a banana fritter. Whoa, what time is it!? The trains are about to stop running! We ran for Tokyo Station and made it just in time to catch all our connections. This was the most romantic, Christmasy, perfect day…ever!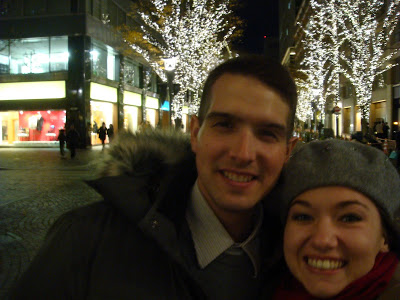 Some years it seems like Christmas is gone before it's even Christmas. Too much to do, too much change, too much uncertainty—transition is a challenge for following Christmas traditions and being joyful and content in the present. Last year for instance, Chris and I had just moved into our home and went to Beijing with our friends right before the holidays, which was totally fun, but we both caught something awful on the way home and spent Christmas Eve, Day, and the day after knocked out with chills and fevers. So this year kind of feels like two years of Christmas rolled into one! And we'll be back downtown soon for Tokyo's New National Theater's Nutcracker! Merry Christmas!!!