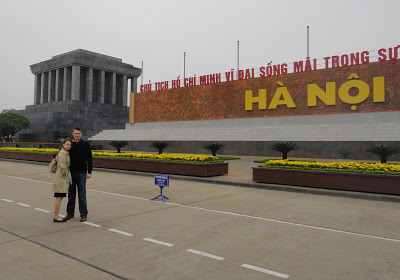 "Hanoi felt like a cross between Beijing and Moscow. It's cool, clean, chic and open. From the moment we landed in the airport it was clear that Ha Noi is far more fashionable than its southern sisters" (Stripes Kanto, "Land of Ascending Dragon Lures with Beauty, More" by Mari Krueger, February 2011).
"Who says the South is better than the North?" asked Chris.
"The South," I said.
Our Saigon guide told us, her lip curling, that silly northern Vietnamese will save their money and buy one higher quality motorbike and share between two family members, when they could both buy cheap ones for the same price! She also said people in the South were more friendly and open, while northerners were reserved, and we should have rearranged our trip with less time in the North and more time in the South. How Hanoi-ing!
From the moment we met Fu'ooo (spelled differently, but pronounced like that), our Hanoi guide, it was clear that we and North Vietnam would get along just fine.
"Broad avenues intersected tiny shop-lined alleys with silk lanterns hanging in the windows. In the old French Quarter chickens pecked the pavement across the street from the German Embassy" (
Stripes Kanto, "Land of Ascending Dragon Lures with Beauty, More"
by Mari Krueger, February 2011), which we passed on our way to our first stop: Ho Chi Minh's mausoleum.
"His wish to be buried was ignored and now his body is embalmed and on display Lenin-style five days a week. The surrounding parade grounds were enhanced to celebrate Hanoi's 1,000th anniversary, celebrated in 2010. On the same city block is the current Presidential Palace, Ho Chi Minh's home, garage, house on stilts and place of death" (
Stripes Kanto, "Land of Ascending Dragon Lures with Beauty, More"
by Mari Krueger, February 2011).
A single caged peacock lives near the house on stilts. "Alone, just like Ho Chi Minh," observed Fu'oo.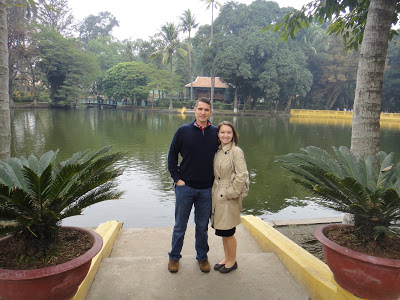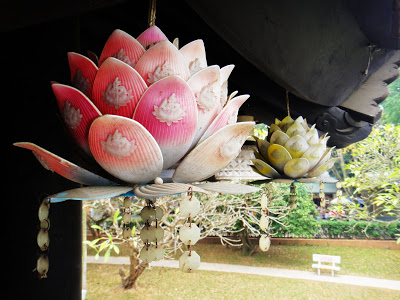 From there, we walked to the One Pillar Pagoda. Long ago, Emperor Ly Thai Tong dreamt the goddess of mercy appeared to him in a lotus and handed him a baby boy. The childless king awoke perplexed and told a priest of his dream. The priest advised the king to dispel any bad luck by building a lotus-shaped pagoda supported by a single column to honor the goddess. The king married a peasant girl who gave birth to his first son and the One Pillar Pagoda was built in 1049.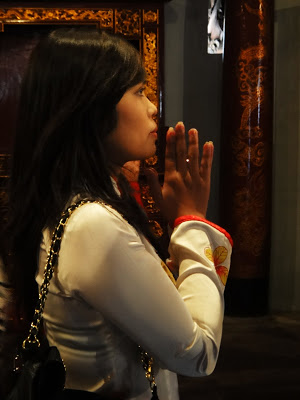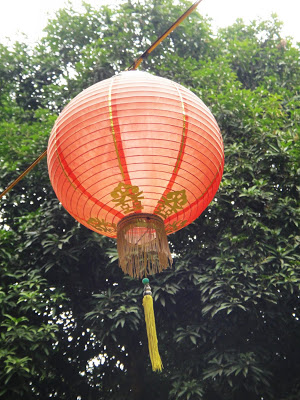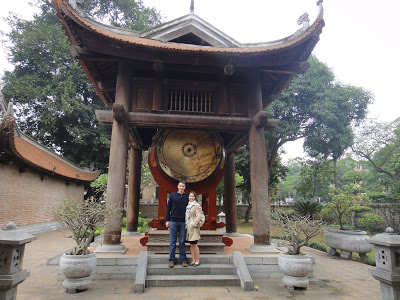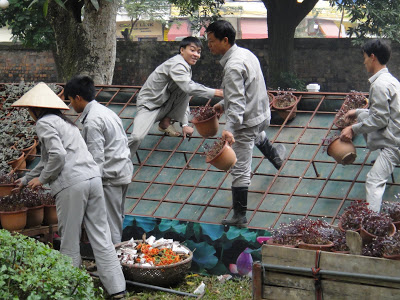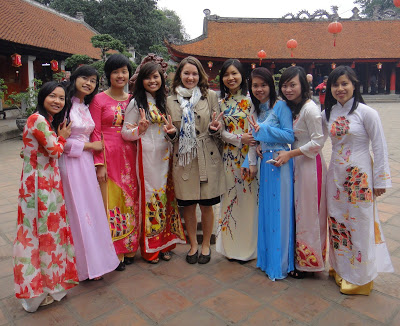 School girls in traditional Vietnamese ao dai dresses prayed for luck in their internships at the Temple of Literature, the first university in Vietnam. Many Vietnamese temples have images of carp near the front and dragons near the back or on the roof. Here we learned why: The carp symbolizes the Everyman. Through hard work, education and luck he can rise above his situation and thus become a dragon.
"In 1010, the first ruler of the Ly Dynasty, Ly Thai To, traveled to the riverside fortress that predated Hanoi. As he neared the end of his journey he saw a dragon ascending to the heavens from the Red River. He moved the capital of Dai (Great) Viet to the spot and named it Thang Long, or 'Ascending Dragon.' In 1831 it was renamed Hanoi, or "between rivers" because it sits on the Red River" (
Stripes Kanto, "Land of Ascending Dragon Lures with Beauty, More"
by Mari Krueger, February 2011).
Ly Thai To looks over central Hanoi in the form of a popular statue. The people of North Vietnam affectionately call him "Father Ho" for founding Hanoi, and Ho Chi Minh "Uncle Ho."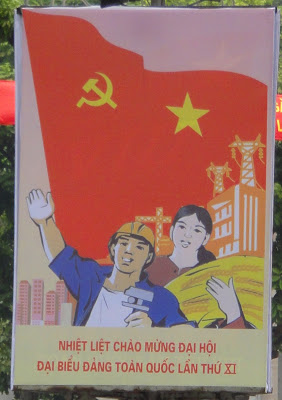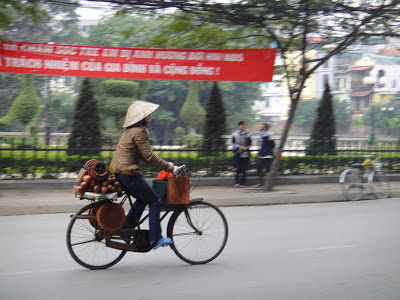 For lunch we had Pho 24—Vietnamese noodles in soup with spring rolls, Bia Ha Noi (our favorite of Vietnam's many local beers) and Vietnamese coffee. Where Saigon was loud and colorful, Hanoi was refined, educated, crisp. And full of legends.
Green Lake became Returned Sword Lake in the 1400s, when the king (who went on to found Vietnam's Le Dynasty) was fighting the Chinese as usual. During battle he ran into the forest and found a sword named Heaven's Will, which he used to defeat the Chinese. He thanked Buddha or the Golden Turtle god for sending the sword and settled into life around Hanoi. One day, he and his advisers were walking alongside Green Lake when a giant turtle rose out of the water. The king's sword flew to it and the turtle re-submerged. The king renamed the lake Return-Sword Lake and thanked Buddha/Golden Turtle for providing the sword when it was needed and then returning them to peace. Now the Vietnamese strive to leave the sword beneath the pond, or seek peace, so to speak.
Turtle tower and the Jade Mountain (Ngoc Son) Temple sit on islands in the yin and yang positions within this natural lake, and there is still today a giant turtle living beneath its gentle waves (we saw a dried turtle that used to live in the lake and it was almost the size of our car. I'm barely exaggerating—it's more than six feet long and weighed more than 500 pounds when it died in the 1960s).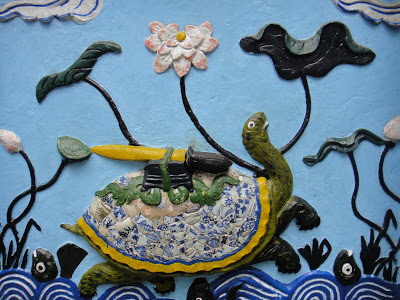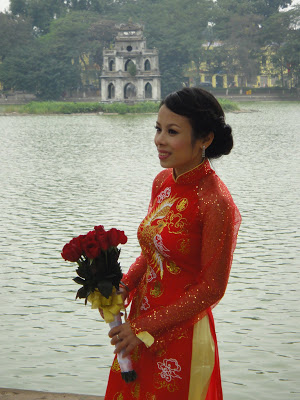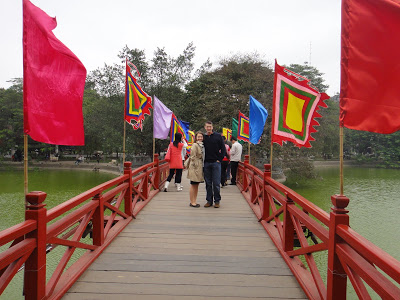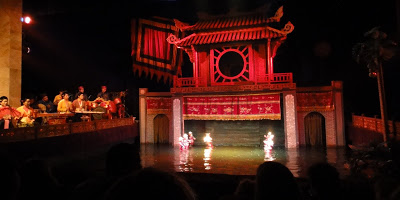 The opposite of enormous water creatures? Water Puppetry Theater, or Marionnette Sur L'Eau! This traditional Vietnamese art form is performed on a stage…in the water. With puppets. (Regular-sized) musicians play traditional music as the wiggling water buffalo, puppies, boys and girls puppet around on the watery stage, splashing and dancing and jumping through flaming hoops and lighting fireworks and stuff. That was pretty interesting. Especially considering our next stop was the depressing Hanoi Hilton.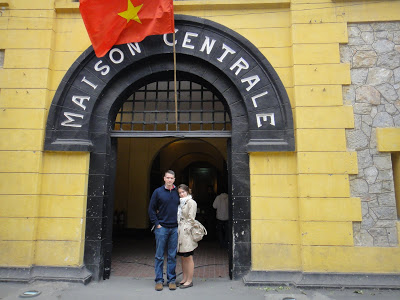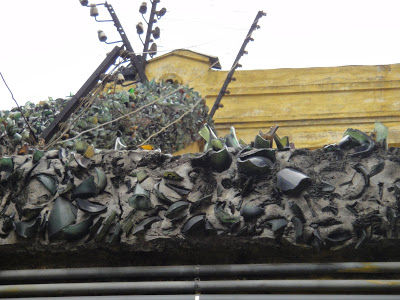 "The Americans ignored the Geneva Convention and invented the Gulf of Tonkin Incident for an excuse to invade…" says a video playing in a room filled with American memorabilia. I asked our guide whether the Vietnamese people have a greater dislike for the French or Americans. He stifled a smile and said, "Neither. It's time to forgive and welcome a new generation who had no part in the American War or French Occupation." He lost two uncles in the war.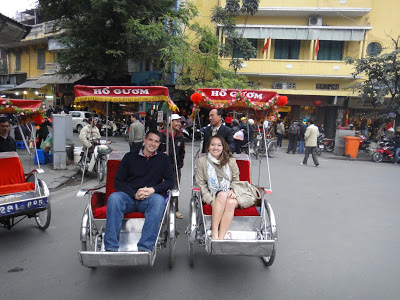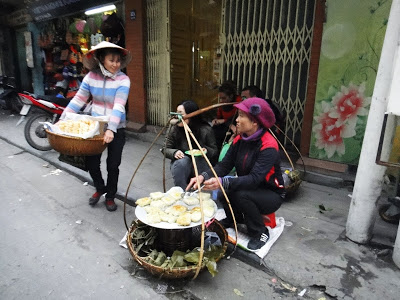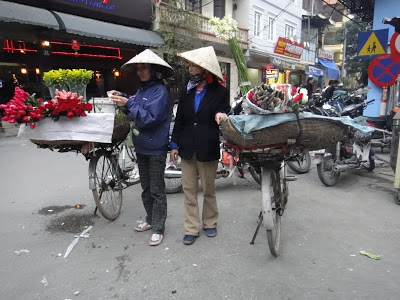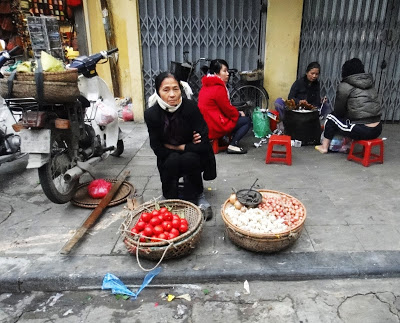 Then, an hour-long cyclo ride through Hanoi's Old Quarter, where tiny shops stuffed with colorful silks and souvenirs and coffee fill streets named for the items they used to produce. A cyclo is sort of a rickshaw on the front end of a bike. Fruit and bread vendors, open fires of street corners, a woman walking around in a blue shower cap. Two old men biked my and Chris' fat American asses around the fascinating streets and then back to our hotel. Along the way, Chris' cyclo got bumped by a motorbike in heavy traffic. My cyclo ran over a woman's foot, prompting her to turn and yell at my cyclo driver, who offered apologies. I could almost hear him shrugging—the traffic was truly amazing.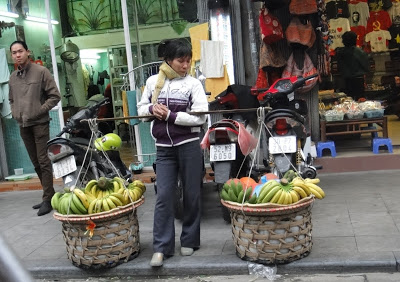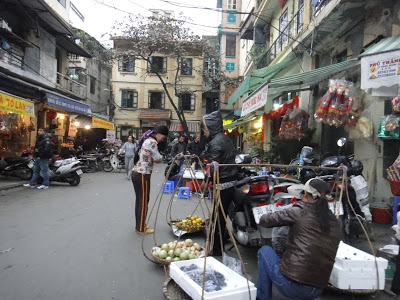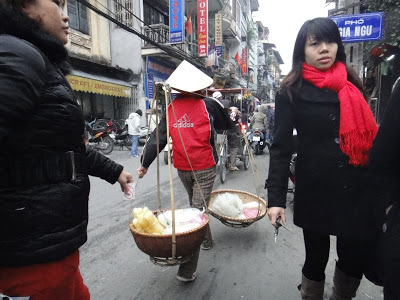 We rounded a crowded corner and I watched in horror as across the intersection a five-year-old boy chased a rubber ball into oncoming, fast-moving traffic. His ball bounced right in front of a guy zooming along with a passenger. The ball came from out of nowhere and the driver stretched out a foot…and kicked the blue ball high out of traffic back toward the curb, where they boy jumped back in time to catch it!! How was that physically possible!?
On each street we crammed in with the ever-present traffic jam and honking, and at times the drivers just got off and pushed us. Later, Chris and I agreed we loved seeing the Old Quarter, but it was pretty humiliating to be pushed around in the cyclos. "Especially when they got off and pushed," Chris said, putting his face in his hands. "We basically just spent an hour in a
stroller
." That had us cracking up the whole rest of our trip. Ha ha, strollers!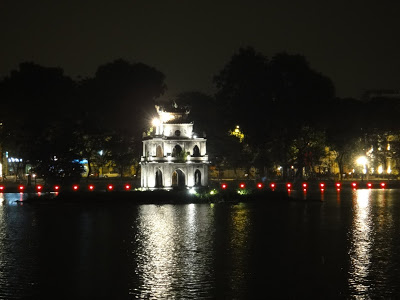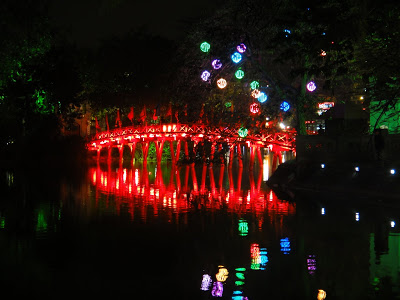 The temperature dropped, so we bundled up and walked back to the Old Quarter after dark, walking along beautifully lit up Hoan Kiem Lake, the pearly Turtle Tower, Father Ho, then through the back streets and alleyways, purchasing some of our first souvenirs—some silk scarves, a silk tunic, and two bamboo and silk lanterns. For dinner, Chris treated me to a French dinner in this former colonial city at the
Le Beaulieu
in Hanoi's
Hotel Metropole (15 Ngo Quyen Street, Hoan Kiem District, 10000 Hanoi, Vietnam)
. We walked back, of course. No more stroller rides for us!