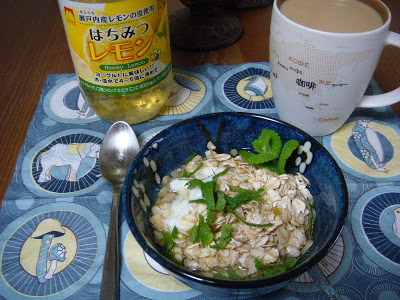 The Dutchess of Bedford sank after three
Something she has in common with me
The evening improves, my mind becomes free
With coffee at breakfast and afternoon tea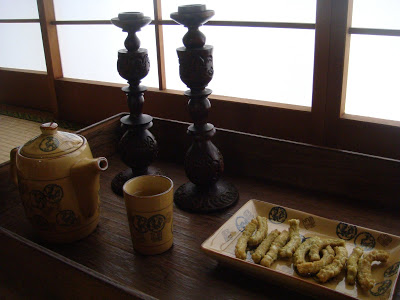 Summer requires lighter fare. In the cold winter months I enjoy a hot, toasty wheat bagel, and now that it's warmed up I can reset to my favorite yogurt breakfast. I do not like fat free or flavored yogurt—the consistency makes me gag. But I am in luck. Japan has some excellent, flavorful plain yogurts. I am working my way along the yogurt shelf and so far my favorite is Koiwai Farm yogurt, distinctive for its triangular-prism container. Luke put oatmeal on his yogurt when he was here, and now I do that too to stay full longer. I add a bit of lemon honey I bought from a roadside stand in Shizuoka Prefecture, which is famous for citrus. The lid says "health and beauty." Does eating it make me beautiful or am I supposed to be putting it on my face? Well, it's delicious! For a crisp finish I top it all off with a sprinkling of fresh mint from my out-of-control garden.
Breakfast inspired a light and satisfying afternoon tea: sencha (Japanese green tea) from the Greenpia Tea Plantation and seasonal wasabi crisps. A nice little pick-me-up!