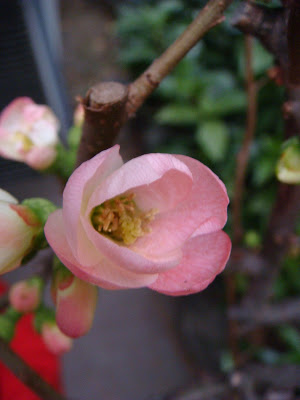 The tiny pink blossoms on my front porch are plum–not cherry–blossoms. The difference is that plums, sometimes called Japan's "friend of winter" bloom at a cooler temperature than the cherries, which tend to wait until March. Either way, neither typically blooms in January, so this is a rare treat.
On the subject of Japanese flowers, I'd like to point out that my neighborhood is beautiful. Little pansy faces bob along the tops of walls and elderly women volunteer to plant pansies around light posts and trees and even in my friend's front yard (she had a day off and came outside in the afternoon to find pansies on either side of her front step). Paperwhites grow wild all along the river, and all colors of potted plants decorate the little yards around my neighbors' houses. It goes a long way toward cheering up the rather bleak weather we've had lately.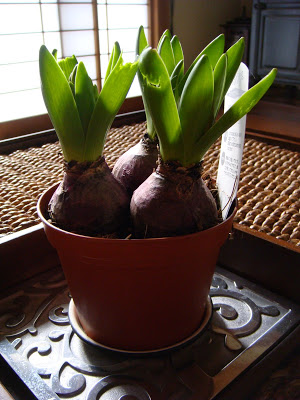 I saw a blooming hyacinth at the base grocery store last week and wanted to get it, but it was $7. Yesterday on my way to buy a devil mask and roasted soybeans in preparation of mame maki, or the bean-throwing festival Feb. 3, I found these three little hyacinth bulbs for 500 yen (total) at the flower shop down the street. My first of many floral purchases, I think! Please note the kitten chomp marks within 24 hours of purchase. To do today: go to the Y100 store and get a hanging plant holder to keep my beauties out of bratty reach.
Tradition calls for new people to the neighborhood to call on the existing residents with a small present the entire family can enjoy. Our orientation class recommended something traditionally American, covered in English, that's not as accessible off base. I don't know how American they are, but I bought six packages of Pepperidge Farm Milano cookies. Japanese desserts aren't terribly sweet, so I thought they'd probably like these. Yum! Who doesn't? Then, this being Japan, I took the liberty of wrapping the cookies in tissue paper, large bubble wrap, more tissue paper for decoration, and finally in White House Black Market shopping bags. Because the gift wrap means you care!
Between having watch and being sick, though, Chris and I still hadn't gone around to introduce ourselves. I think we were supposed to do that within a month of living here, and we're coming up on double that. Whatev, in the scope of three years that's not very long. So Monday we made the rounds:
[doorbell]
[no one home…shuffle to next house]
[doorbell]
[elderly lady I haven't yet seen out around the house answers the door like "who the heck are you?"]
Me and Chris: "Konnichiwa!" [bow] = "hi!"
Lady: "Konnichiwa!" [bow]
Me: "Hajimemashite" = nice to meet you for the first time "Watashi wa Mari desu." = my name is Mari.
Chris: "Watashi wa Chris desu."
Me: "Yoroshiku onegaishimasu!" = please remember my name and let's be friends.
Lady: "Yoroshiku onegaishimasu!"
Chris: [gesture to our house across the street and then to us]
Lady: "Ah! Hai!" = ah, yes!
Mari: [hands lady the over-packaged cookies]
Chris: [hands lady the note in Japanese that explains we just moved in, our names and family name, which maybe we should have introduced ourselves by, and that we're studying Japanese]
Lady: "Arigato gozaimasu!" = thank you
[bowing all around]
[exit]
This happened three times. The other neighbors weren't home. Best of all, we got to introduce ourselves to the lady we see most often, whose front door is right near ours. She's smiled at us a few times before and now I feel well-introduced and equipped to say 'konnichiwa' and that phrase that asks, "So how are you?" that I can't remember right now. She's even studied some English and wrote us a very sweet thank you note. I love where we live!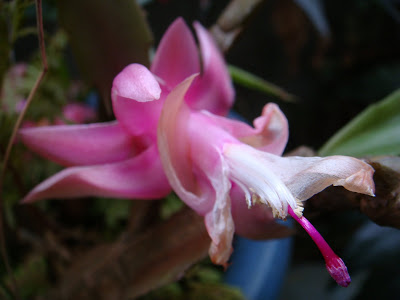 I found this pretty pink flower blooming on the side of my house. No idea what it is, but it's been hanging out for a few weeks now.