We drive past crop fields to get anywhere. We moved into our house in January, when the empty ground stretching away from the road was hard and dark, scattered with sticks and dead leaves. Neat rows of green appeared in the spring. Dark, broad leaves stretched high and wide come summer, and we guessed maybe they were peanut plants.
Then recently were we left scratching our heads again as heavy-looking pods swelled on the branches, big enough to see as we zoomed by (as good Southerners, we are of course aware that peanuts grow underground like potatoes. And I'm a big fan of George Washington Carver. Over 300 uses for peanuts?! Genius!).
But back to the cotton. As the leaves lighted to yellow and their edges tinged orange, the pods broke open to reveal fluffy white puff balls!
When we scoped out our neighborhood last November we saw another nearby field with fluffs of cotton fuzz stuck to the ground.
"Just think!" we collaborated, "Next fall we can come over here and harvest our own cotton balls! And all this time we've been going to the store and paying 99 cents a bag like suckers!"
The next weekend, when we drove home for Thanksgiving, I noticed a ton of white fuzz in the air and stuck to the side of I-10. Around Mobile we passed an 18-wheeler carrying bales of (shedding) cotton. Maybe some of that cotton came from this field.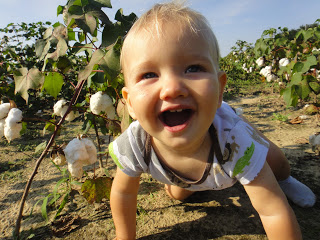 Cotton Patch Explorer Goodbaby's new favorite things to do at home include putting things inside other things, pushing around his cars, figuring out his Yoshi walker, fitting lids on containers, and squeezing through tight spots. This means he likes to climb under every table, wriggle himself under any knee or elbow you're using to support your floor-lounge, and repeatedly try to crawl under the basil in my herb garden.
So visiting the cotton patch on our way home from the library was a dream come true. He crawled down one row, tunneled under some branches to the next row, then crawled back to Hide and Peek surprise mom! The Goodbaby is not interested in Hide and Seek—he's more a fan of the slow chase, sitting down and looking back frequently to make sure mom and dad are in pursuit. And if not, that's ok—Explorer Goodbaby likes to turn the tables and come back to try his hand at tickling and shrieking before crawling off to wiggle under something again.
We had a fine time in our local cotton patch and even brought home a cotton plant (incidentally, we also found lots of peanut shells in the field). The plan was to use the pretty leaves and cotton buds in some sort of seasonal arrangement, but…it looks too messy. Speaking of messy, we went home and gave the good explorer a bath!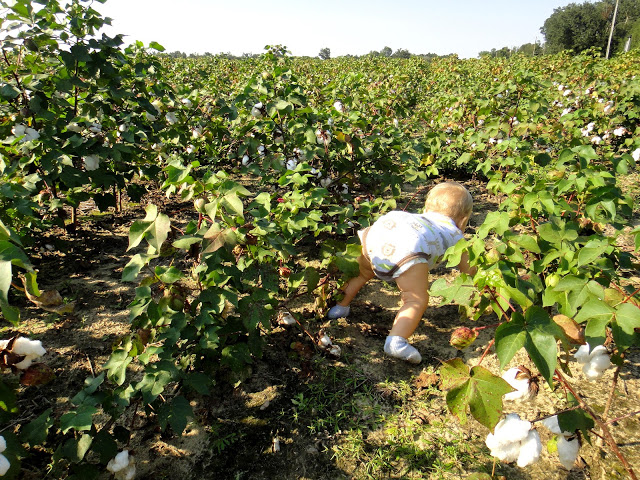 The end!