Reading about a shooting in the park I walk through weekly wasn't the best news: Hemming Plaza shooting was over PlayStation with 2 teens. I don't have a PS2; I'm probably safe. I pulled into a metered spot near the courthouse like I usually do on Mondays and set the emergency brake. A slim, muscular, young-ish lady in knit shorts and a tee-shirt stepp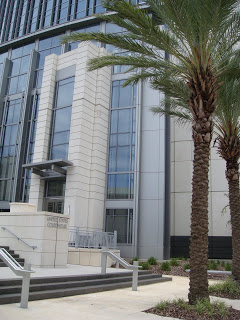 ed into the street behind my car and stopped in the middle of the road, cocked her head and looked sideways at me. She was very tan with angular features and her dark hair was pulled back in a messy ponytail. She circled my car, motioned as if calling to people a block away, curled into a ball, stretched up with her hands to the sky, chanted louder and louder, now pointing at me and yelling louder, spinning around, arms outstretched, dancing up and down like a Native American Rain Dance, or a tribal dance or something, all the while chanting and pointing at me. After two or three minutes—which felt a lot longer—the Crazy-of-the-Day scooped up her bag and walked off, turning twice to stare back at me with exuberant crazy eyes. An elderly lady came up the sidewalk, watched Crazy walk away, then stooped and looked in my passenger window. We shrugged at each other and she shook her head.
Inside the courthouse I asked the security guards what's with Jax lately—the shooting and now the hex on my car. Turns out the teen shot the dude within view of the courthouse. As in right outside. Whatever else is going on in life, how dumb do you have to be to shoot someone in front of a courthouse? One of the guards chased after the guy! That is very brave, I think: to leave the security of the courthouse and chase after a guy who 1. has a gun, and 2. is obviously using it. An officer I see weekly (all older gentlemen who are strict and friendly) caught me on my way back out and offered to walk me to my car. "I'll make sure she's not waiting for you to come back," he said. "I know who you're talking about. Sometimes people around here get physical."
Crazy was nowhere to be seen, so I thanked the officer and fetched my James Bond novels to exchange at the library for the next batch. Although with this many characters around, who needs fiction?