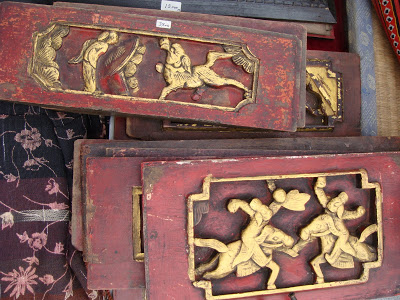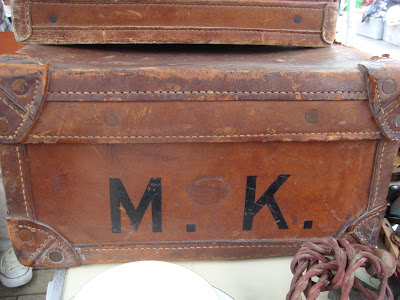 Every third Saturday of the month Chris and I LOVE going to the Yamato Open Market. We like to poke around the booths and see what the vendors are showing this season. September brought tables full of fall colored kimono and obi in browns, golds and oranges stitched with chrysanthemums and Japanese maple leaves. Chrysanthemums grow between September and November and are the symbol of the imperial family, I learned recently from the Japanese history book that sings me to sleep every night. The weather was warm, dry and partly cloudy. Chris and I had the best shopping trip ever! I've been eyeing those 150-yr-old hand-carved, hand-painted tiles at a few markets and finally went to bat bargaining. I got one at about half the original price! I did NOT buy the M.K. suitcase because the handle was broken. Now I wish I'd bought it.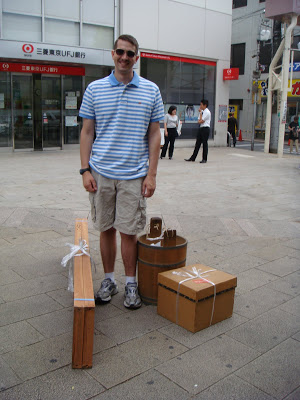 This is the same sale where we found those samurai gauntlets this spring, by the way, for anyone who's thinking, "Does Chris really think that's a fun day?" It's not like we're shopping for clothes; we're looking at everything from boat rudders to samurai helmets (we saw one for $5,000 USD this weekend) to ink block prints to…anything Japanese you can imagine. Like this bucket, used to carry sake around during festivals. Chris had mentioned a few months ago he wanted one, then ta-da! He found it AND bargained the seller down to half the original price. He's getting really good at that!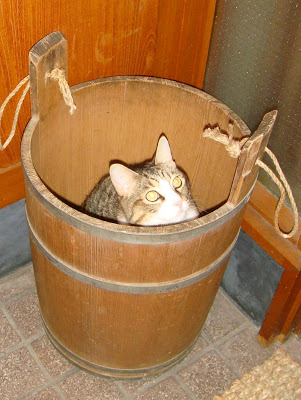 But Chris' crowing triumph was this complete mini-samurai set. He's been ogling these all over Tokyo, so when he saw this one he went to work haggling and got it at 2/3 the asking price even though some lady was interested too. The price is a secret unless you're related to me and want one for Christmas.
We've been looking at ranma, or the wooden carvings Japanese homes put in the space between the door and the ceiling to facilitate air circulation, since we moved here almost a year ago. They usually have carvings of cranes, bonsai, dragons, etc. One guy at the market was selling the nicest ones I've ever seen at prices comparable to other places I've seen them. Oh wait, no…that price was for a set of two, and each was carved on both sides. And it happened to be the prettiest one I'd ever seen! Woo hoo! Chris had pointed them out to me originally, then sent me in to negotiate price. This isn't even my favorite—the other has a more elaborate bridge that is just lovely. This is one side of one, left to right.


And at the end of the day, we spent the same or less than we usually do on a day trip between train fares and lunches and stuff. Not bad!