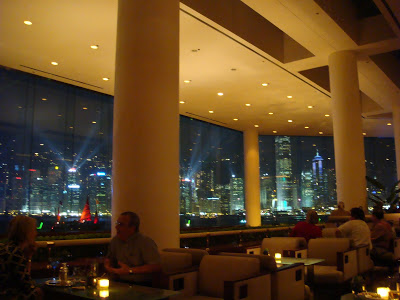 Chris and I settled into a couple of club chairs in the lobby lounge of the Intercontinental just in time for the nightly 8 pm light up of skyscrapers along the harbor. On the tip of Kowloon, we had a great view of the north side of Hong Kong Island including the Bank of China building and the racing-neon convention center.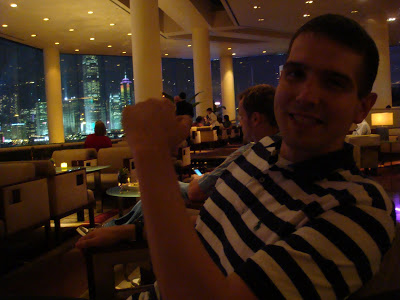 I ordered a Blushing Dragon to go with the puff pastry fried mozzarella Chris had. Dragon anything seems pretty appropriate here, eh? It included raspberry puree in champagne topped with strawberries and blueberries. Tough choice between the Blushing Dragon and the Jade Dragon, which had lime juice and tequila topped off with champagne…I ordered that a few nights later in Tsim Sha Tsui's Heaven on Earth restaurant. Yum!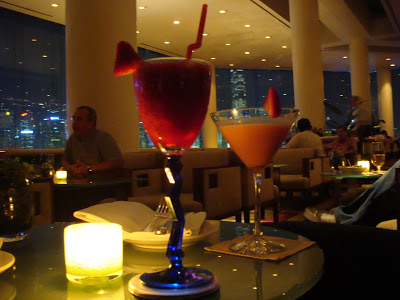 The lounge/light show suggestion solidified the Lonely Planet "Encounter" city series as the best alternative to Rick Steves in Asia (you can also have a nice free view from the Tsim Sha Tsui Promenade nearby). I LOVE the Tokyo Encounters book and its logical breakdown of the city into navigable neighborhoods, complete with sample itineraries for varying amounts of time that include things you actually want to do. I was hoping the Hong Kong Encounter would live up to the Tokyo. It did. We never got more than pleasantly lost thanks to its abundance excellent, pocket-sized maps and it was this very book that led us here in time for the shining light display worthy of a 1920s Hollywood marquee. "Top Ten Hong Kong" did no such thing. A well-spent $14!