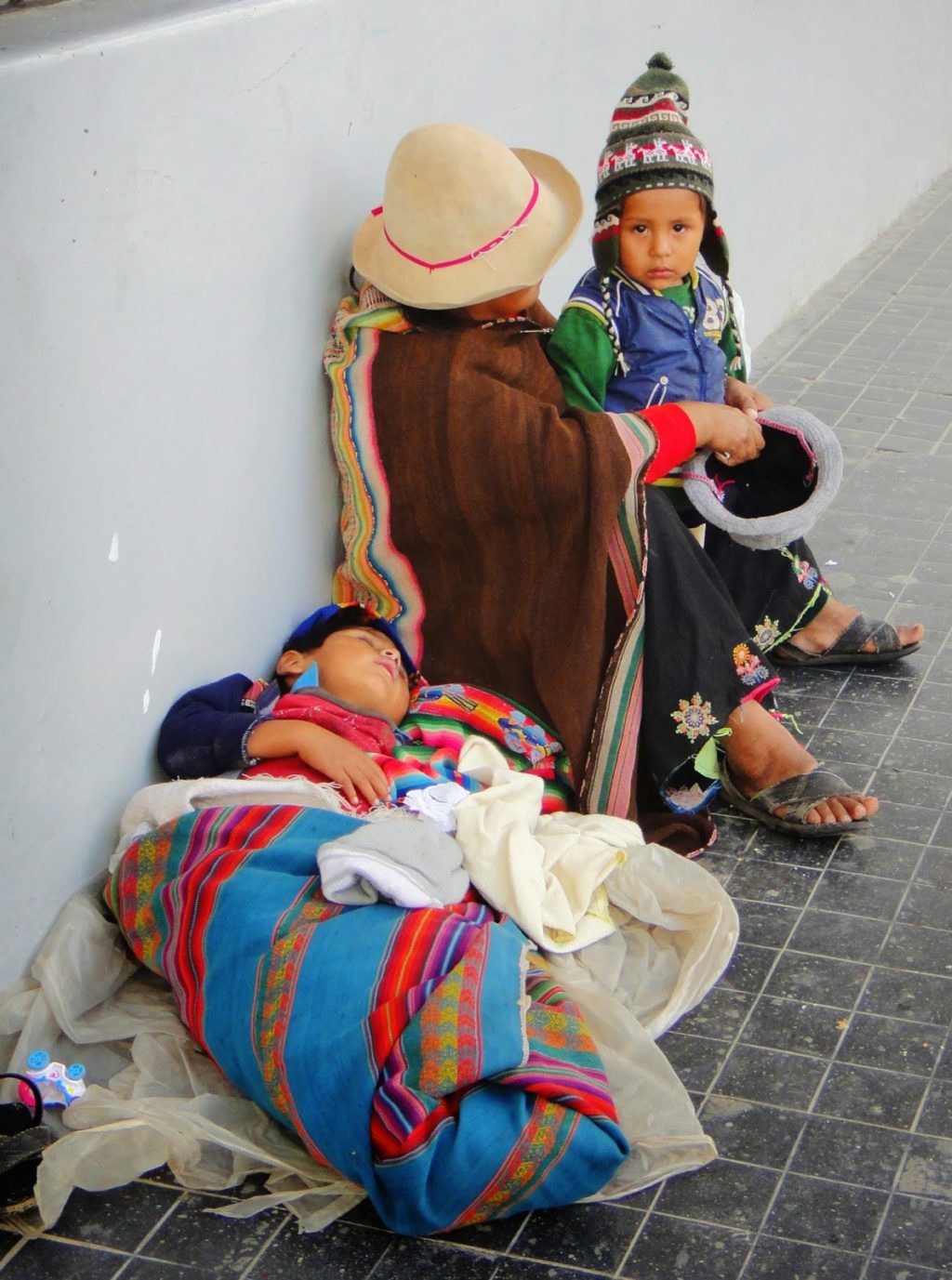 In downtown Santa Cruz
We wandered around Santa Cruz's Plaza 26 de Septiembre, the cathedral, some shops, then popped into a little cafe.
"Afternoon tea is big here," Carola explained. I love teatime!
Abi and Carola conferred, then ordered a pitcher of mocochinchi—an iced Bolivian drink made by boiling dried peaches with sugar, cinnamon and cloves, served over peaches. Delish! Since we'd tried cunapes (cheese and corn meal biscuits) at breakfast, they ordered tamal a la olla (Bolivian tamales), empanadas and sonso (I think that was yuca root, cheese and butter—it was everyone's favorite).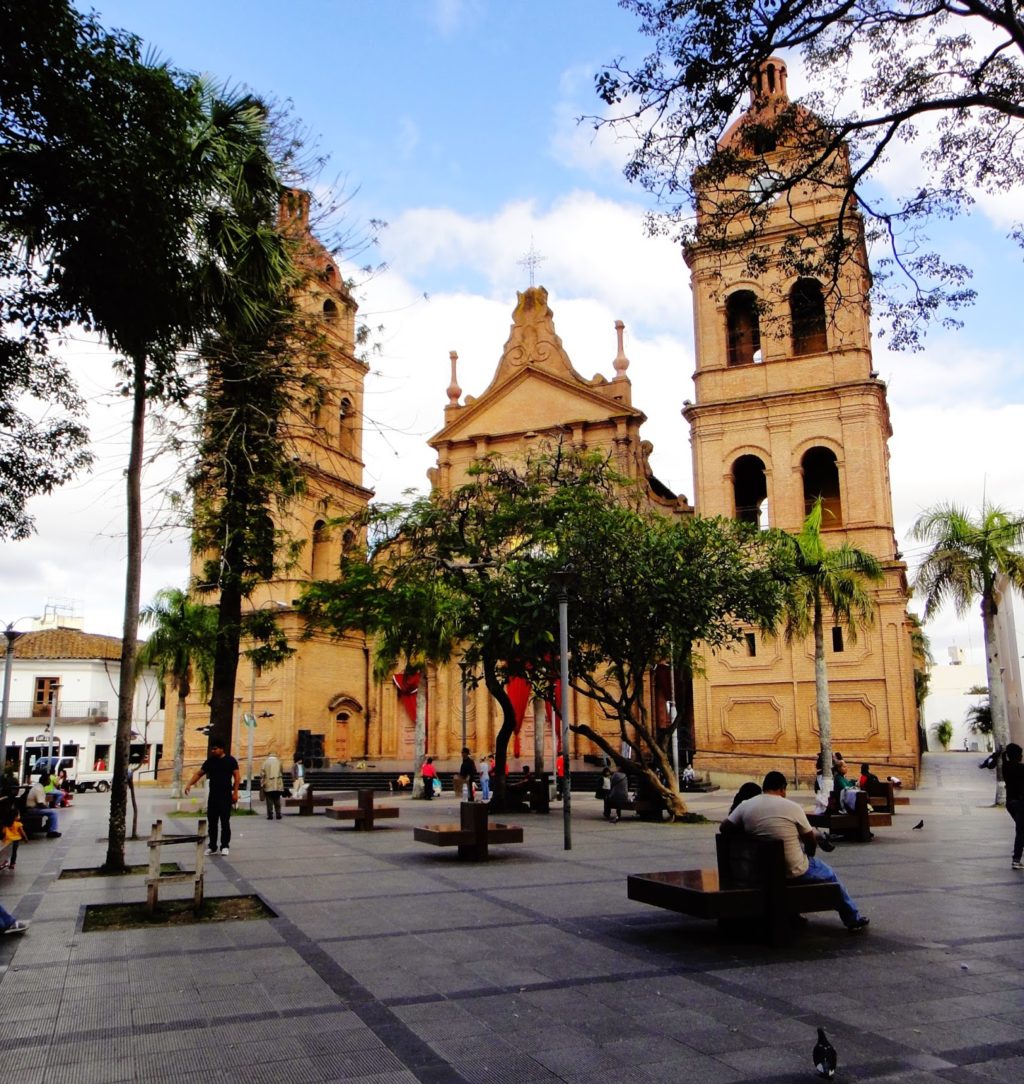 I asked about the next pair of kiddos heading north for surgeries. Carola, the Bolivian country manager for the Children's Heart Project, took a deep breath. She'd recently received a call from the mom of the girl next up next for surgery asking her to take her daughter off the list. The nine month old had already been accepted by a hospital on the East Coast of the USA and was just waiting for the paperwork's completion. But she passed away before she could make it to the hospital that would have saved her life.
"It's the bad part of my job," Carola looked down at her juice. She's hoping another baby she has in mind can get cleared to take the girl's place, but she's not sure.
The other kid accepted for surgery—a teenage boy—doesn't have a guardian who can travel with him, and it's slowing down his visa. His mom abandoned their family when he was five. The boy was living on the streets and drinking heavily when he was taken to live in an orphanage, although his dad is still alive and around somewhere.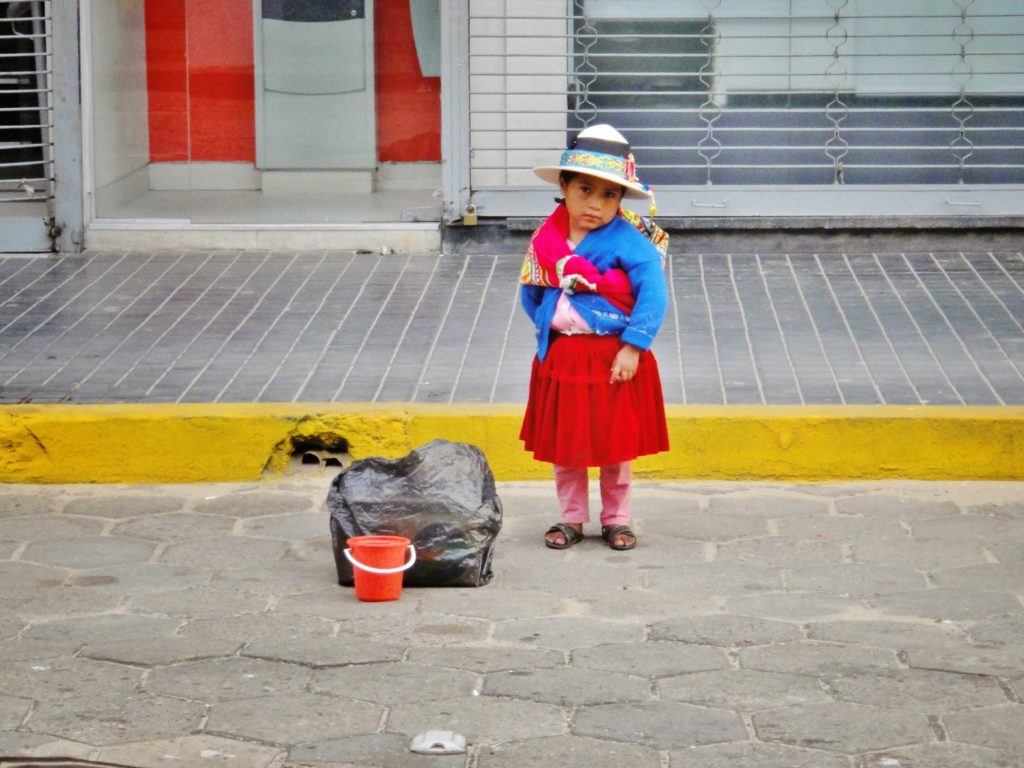 In downtown Santa Cruz, sort of dancing to indigenous-style music (her mom is just out of the photo with a baby)
Part of Carola's job is to attend clinics where North American cardiologists come to Bolivia to see patients. She translates, calls people to remind them to come, etc. She routinely calls people who say they won't be coming back—the baby died. "I'm just sitting there, unable to do anything for them from the other side of the phone, and I don't know what to say," Carola said. "I said, 'I'll pray for you,' but I don't know if that will comfort her. It's the bad part of my job," she repeated.
The bad part is offset by joyful reunions like Santi's, of course, and visits to other patients who have returned home completely recovered from their heart conditions. The day I left she was going to visit the girl Santi and his mom had originally traveled with to Canada and stayed with at their host family's house, a precious, big-eyed, healthy toddler with pig tails.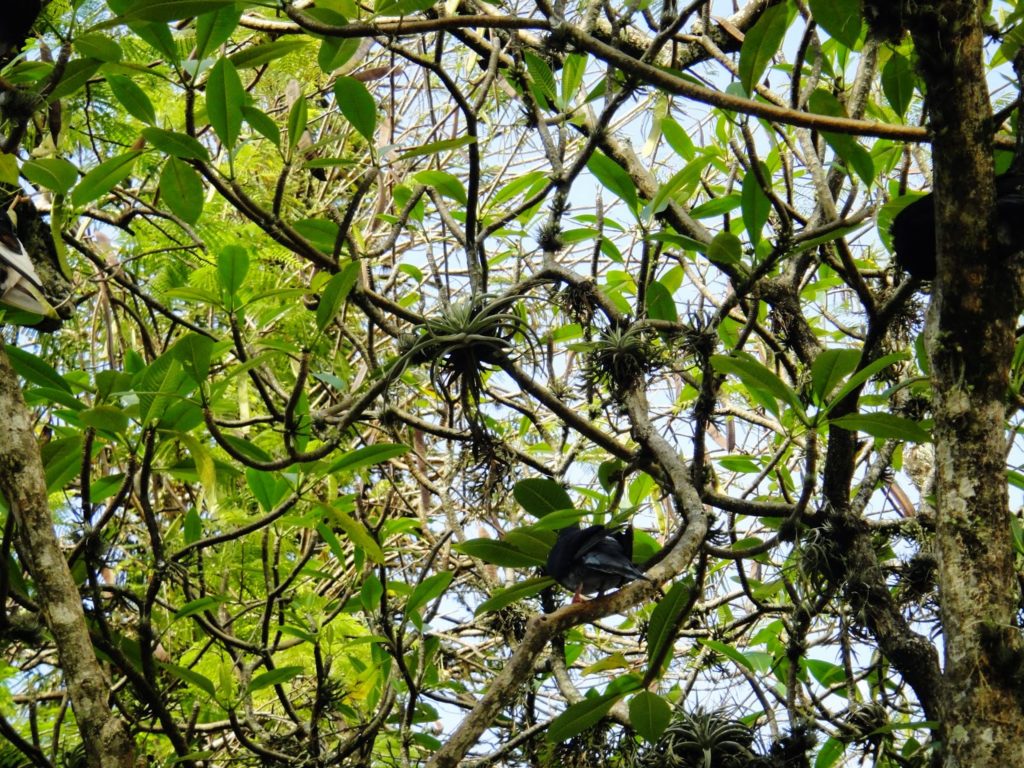 Plaza 26 de Septiembre
But Carola is also the one who has to translate the bad news at clinic sessions. Earlier this year, a family brought in their daughter, who, although four years old, had a blueish cast to her skin and had to sit in a stroller because she was too weak to learn to walk. Carola had to translate as the doctor explained the bitter reality of their situation: their daughter wasn't nearly strong enough to survive the long flights to North America. Even if she miraculously got there, surgery could treat some of her symptoms, but there was really nothing anyone could do for her. Her heart defect was too profound, too complicated, and she was too weak.
"The best thing I can tell you is to enjoy your daughter for the time she has left," the doctor had told them.
"And I'm focusing on translating what he says, but there are tears running down my cheeks," Carola said. "I think it's good the doctor isn't so emotional, but I think it's ok that I am."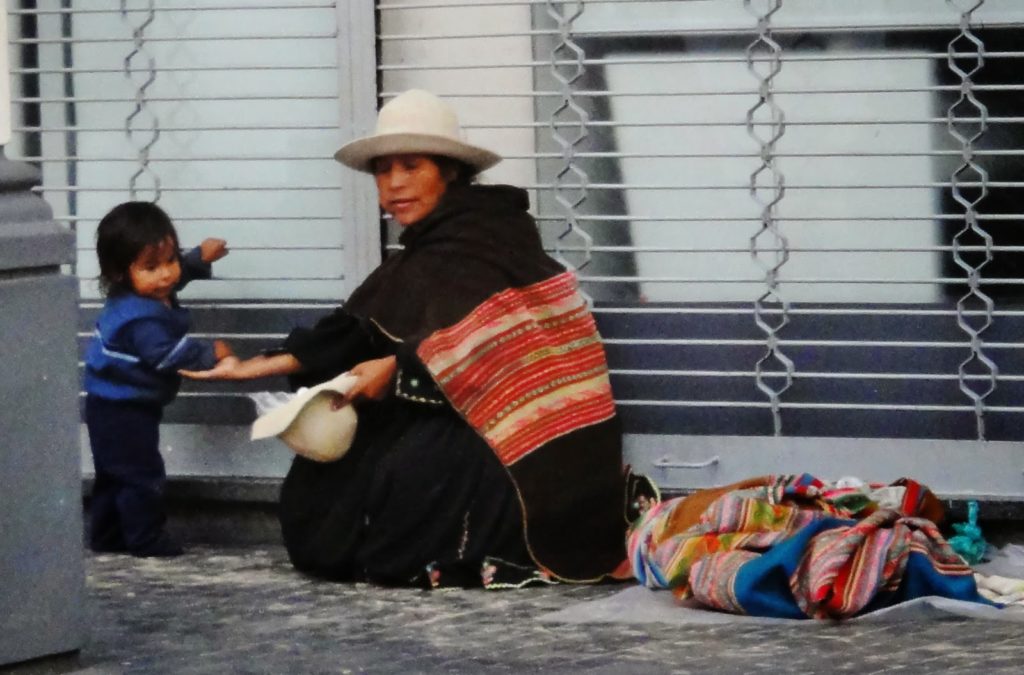 This spring, CHP celebrated the program's 1,000th surgery over nearly two decades. It's now working with clinics in Uganda, Mongolia, Honduras and Bolivia to keep saving tiny lives.
When I told Isaac's cardiologist I was transporting Santi back to Bolivia he told me he had once planned to help at a Mongolian clinic. An ill-timed hurricane damaged his home and he had to cancel his trip, but his wife, a social worker, was still able to go help out for three weeks. I thought that was cool.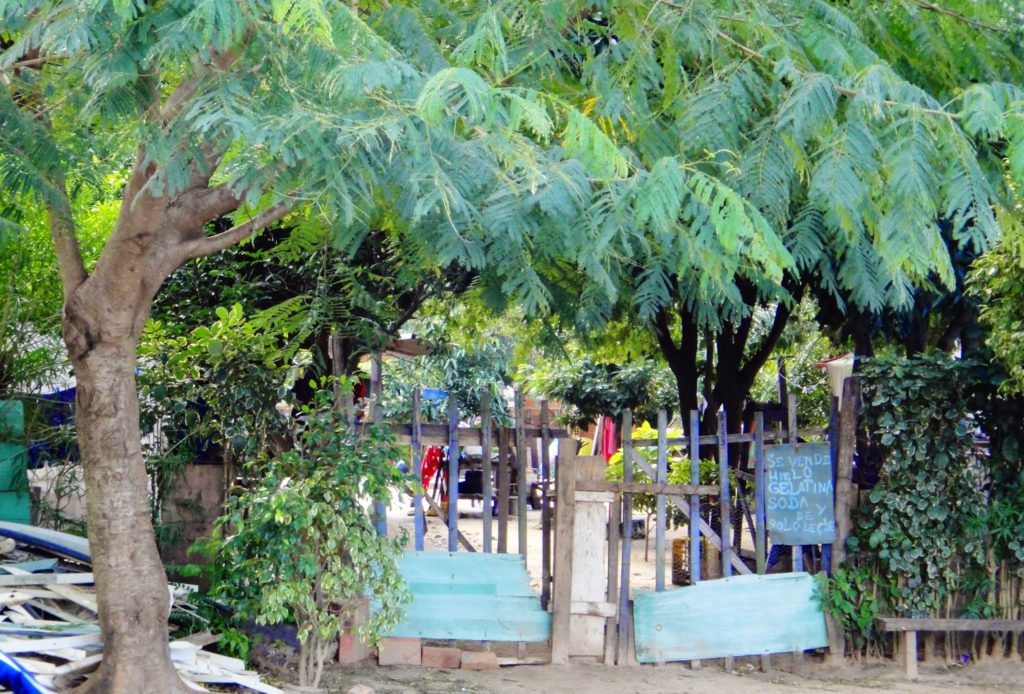 A little outside downtown
But back to Bolivia, both Carola and Abi live in La Paz. They say it's very different from Santa Cruz: cold vs. hot, political and business-oriented vs. industrial, less vibrantly colorful, more educated, more reserved. Both ladies were impressively multilingual, smart and pretty. We were all the same age. We talked about jobs, travel, boys. It was awesome. After teatime, we wandered back to the hotel to collect Abi's bags and take her to the airport. I left early the next morning.
Moto-taxi: we did not take one of these to the airport
"Ok, I have a tourist question for you," I asked Abi in the taxi. She grinned. It was actually a bunch of questions.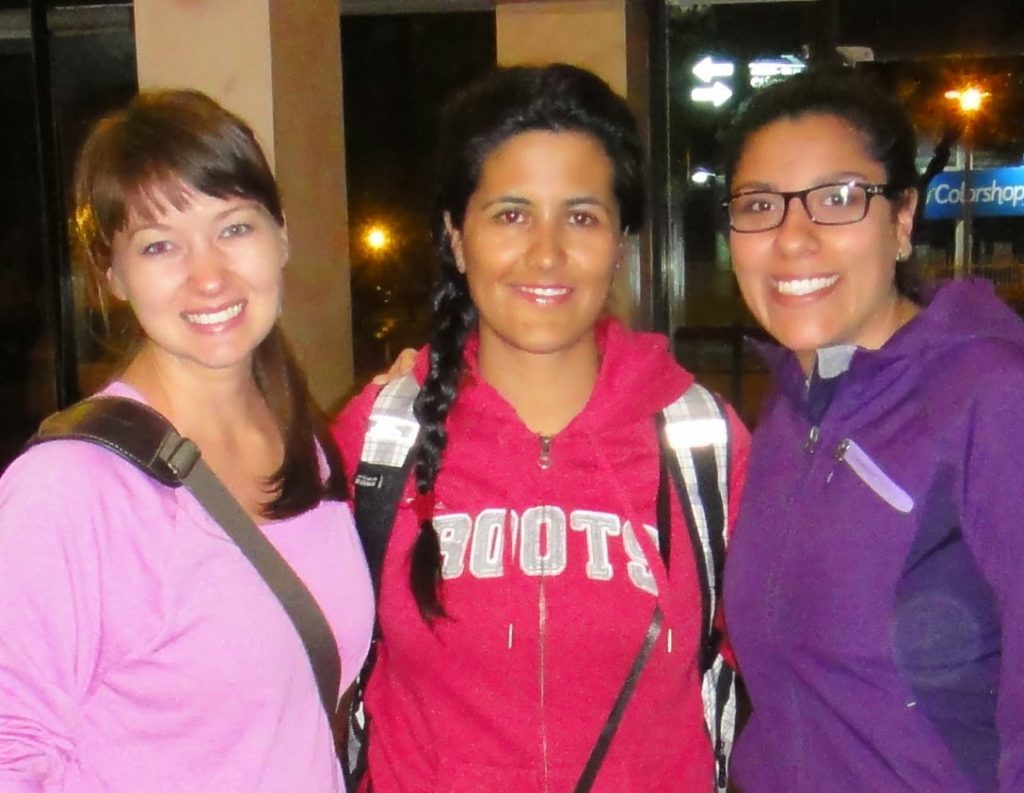 Q: The people we saw near the plaza who were dressed traditionally—is it a costume they wear to ask for money? Or do some people dress like that always?
A: Usually, people outside the cities dress more traditionally. Within the city, people dressed traditionally are more likely to be new immigrants.
Q: And do Bolivians see Bolivians of indigenous heritage as all one and the same Bolivian, or is it more European-descent Bolivians and indigenous Bolivians as separate groups? (this involved some consideration and discussion)
A: Maybe sort of separate, because usually it falls into urban vs. rural populations. But even in the cities traditional heritage is becoming more and more popular.
Q: So at school, university, work, where ever, would you sometimes find yourself sitting next to someone dressed traditionally?
A: Well, schools have uniforms, so no. In the cities, maybe people like to wear traditional clothes at home, to feel comfortable.
I really enjoyed meeting these ladies, and have lots of respect for the awesome, sometimes difficult, work they do!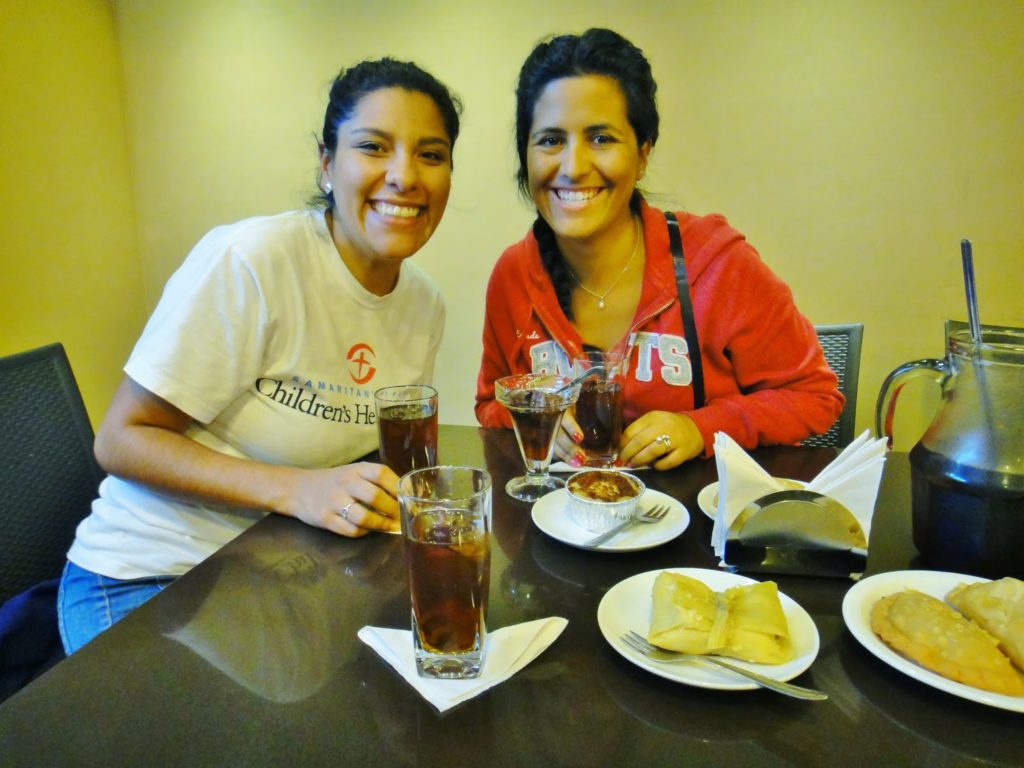 Carola and Abi! And our teatime spread.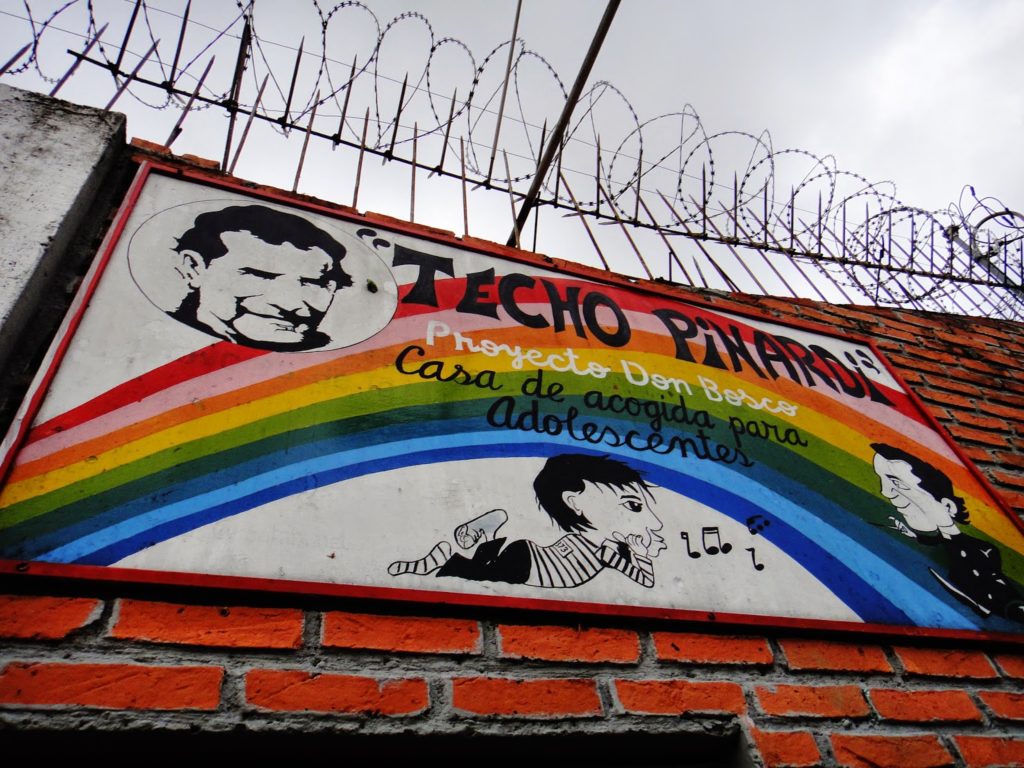 No idea what this place is, but I love the barbed wire/rainbow combo