Visits to Cupcakeries, round one!
The Cupcaking Trio started at
Vanilla's Cupcakery
, the newest in town
(4000 St. Johns Ave., 904.647.7586)
. We pulled into the lot and parked under an enormous red sign shouting, "CUPCAKES!" That was a good sign (da-dun-chh!). Pacing ourselves, we ordered two to split three ways: 1. Stra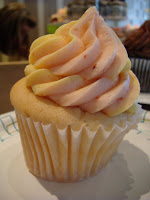 wberry-Pineapple, and 2. Aztec Chocolate. The strawberry-pineapple was in the icing, which was was not too foamy but not too sugary and dense, either. Good mid-range consistency, and the cupcake underneath didn't try to compete with its flowery bonnet of flavor. A good combination. But the Aztec Cupcake…now THAT was a cupcake! Dense, chocolaty cake with a good cayenne-cinnamon kick topped with icing (of course) and sprinkled with more of the spices. This cupcake made my brain tingle in that way where you're suddenly very aware of your ears, and then you want more cupcake. A promising start to the Cupcake Tour.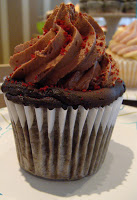 Stop Two:
Let Them Eat Cake
, where the three of us split a Fresh Strawberry Whip-Something-or-other Cupcake
(3604 St. Johns Ave., 904. 389.2122).
The other two-thirds of our trio liked this one best thanks to the smooth consistency of the topping. I also enjoyed the fresh strawberries in it—a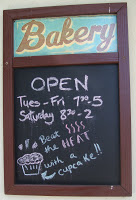 tasty surprise. The cake itself was rich but not overpowering, well-balanced by its light top dollop. Bonus: this cupcakery is conveniently located in a strip of shops and restaurants. Lots to see and do while licking frosting off your fingers…nose…etc. Let Them Eat Cake specializes in wedding cakes and other larger delights, and their cupcakes were the largest and very fancy. They inspire coffee dates and tea parties (I imagine).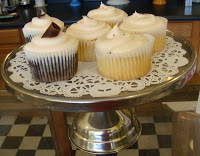 The Final Stop on the Initial Cupcake Tour:
Edgewood Bakery
(1012 Edgewood Ave S, 904.389.8054)
. Technically not in Riverside/Avondale but close, this was more of a general bakery. They had the most variety of baked offerings, but least selection of cupcakes. We took a break from sugar and had mini-quiches, then finished by splitting a Carrot
Cupcake with a big yellow flower iced on top. This was my least favorite, but I also don't love carrot cake in general. On a return trip I would skip the cupcakes and have a strawberry tart, but that would have been against the spirit of cupcaking and spoiled the fun of a cupcaking outing!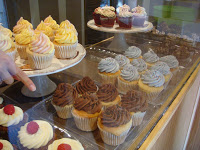 Conclusions:
1. Cupcaking is a fantastic thing to do with girlfriends (all in the name of research, of course) and is a great way to explore different parts of town on a mission while spending very little cash.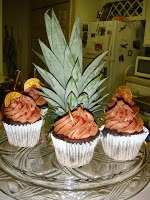 2. The Aztec Chocolate Cupcake was easily the hands-down best. I went back and bought five more to serve as dessert for company that night. I added gold coins to play up the Aztec theme and had the mini-cakes dancing around a pineapple bonfire. It made a good ending to Spiced Floridian Chicken with Rum-Peach-Pineapple salsa!