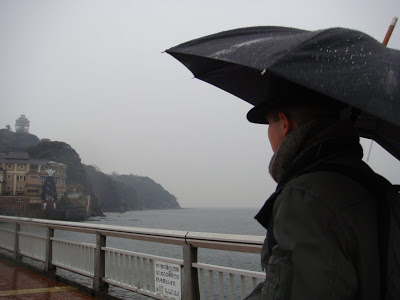 The entire world was covered in rain clouds when we looked at the worldwide weather map this weekend. Bleak. What a time for a three day weekend. By Presidents Day we decided we'd had enough so we pulled on rain boots, braced our umbrellas into the wind and headed off for Enoshima Island.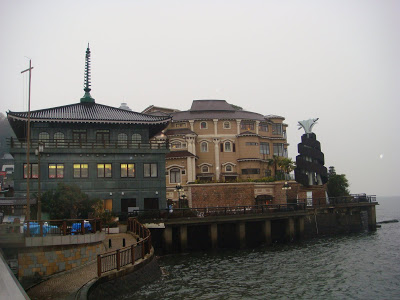 EnoSpa is just to your right as you alight on the island from the bridge. I'd heard rumors of open-air hot tubs facing the waves and coastline—they were all true. But our real reason for choosing EnoSpa as our first onsen (hot springs) experience boils down to one fact: bathing suits are allowed/required! Like most Americans I have reoccurring nightmares of finding myself naked in public (and I'm always in an airport), so until I work up some courage I'll have to avoid the spas where suits aren't allowed. Chris and I checked our shoes, split off into the locker rooms, and met up again on the second floor indoor area. We started in the main pool, then progressed into the jacuzzi pool before taking a saltwater dip. From there we got brave and went outside (outside!!) to the pool overlooking the Enoshima mainland shoreline.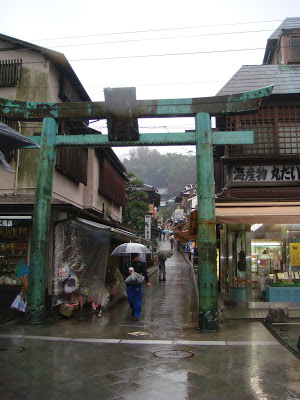 Freezing rain stung the tops of our heads and ears, but the hot tub balanced the chill. The harbor stretched away to the right, and to the left rock cliffs jutted out of the grey-blue waves. The sea air pushed billows of steam into the wild branches dotting the cliffs, and gulls cried as they soared past at eye level. A siren screamed from the mainland, then hushed, the sound disappearing as the curtain of rainfall again closed around the island. We retreated to the cave spa below, watching the waves crash around the base of the island as the water shifted from grey-blue to steel to gunmetal, then faded to black.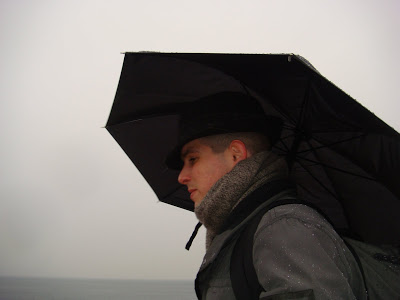 EnoSpa is open from 11am – 9pm (December – February) and 10am – 10pm the rest of the year. It's 2650 yen for a whole day, or arrive after 7pm for night swim (1150 yen). Bonus: Mondays in February are ladies' day, so entrance for the entire day is just 1650 yen! There's an Italian restaurant, the Island Grill, on the forth floor and expensive massage services on the third floor.