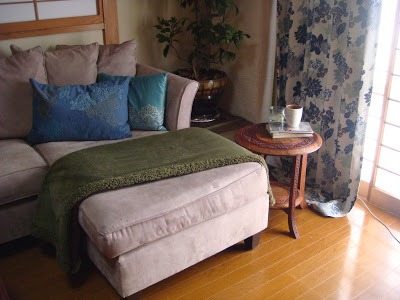 I love curtains. Until yesterday, I didn't have any; only a stylish shower curtain covered one window. That's because–while curtains more than anything say 'a grown-up lives here'–I am intimidated by all the parts, pieces and work that goes into each 'window treatment.' Also I think the name 'window treatment' is dumb.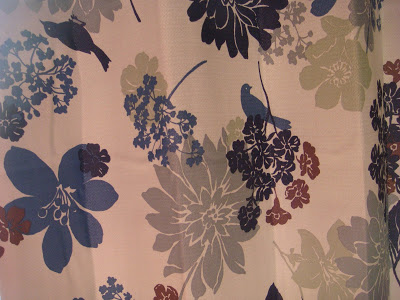 Seriously, poles, hooks, curtains, the top curtain thing, hemming, hawing, drilling, bolting etc. etc. just seems like too much work. In our Japanese house we have lovely shoji screens anyway. But what was the point of all those sliding things on the curtain bar above most of our windows? I bought some clips, but they didn't fit, so I shrugged off that unnecessary project.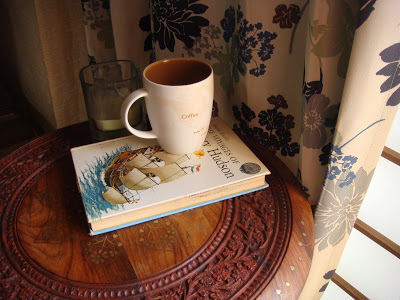 Then my friend Mary (who figured this out after living here all of a month) informed me that Japanese curtains come with standardized boning and hooks sewn in. Two packages of the cutest curtains I've ever seen later, TA-DA!! My living room practically shouts, "Hey world! A grown-up lives here!" Even Chris liked the curtains and suggested I get some for the other window. The pattern coordinates with our Chinese folding screen, and the colors pull together our couch, pillows, throw and Singaporean side table perfectly.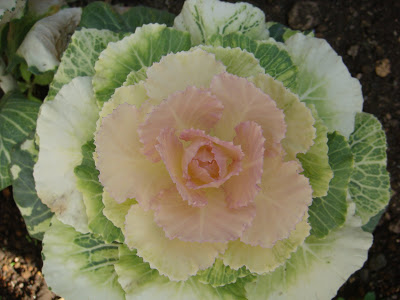 On the other side of the be-curtained window is this Japanese cabbage flower, a gift from my neighbors when they made a small amount of noise painting their house for New Years. I planted it in a square foot of ground where nothing will grow and surprise! It loves it.