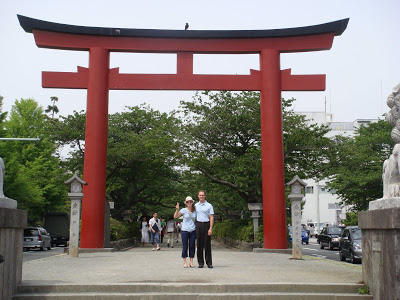 Yay! Luke and Amber are visiting from Texas!! This marks the second family unit to come see us in Japan. Thanks for coming, guys! They just moved into a new house and Amber is preggos—how's that for a couple of troopers??
Kamakura is the first part of Japan Chris and I explored when we moved here, plus it's mostly outside and involves lots of walking. Those are the keys to overcoming jet lag, or jisaboke, which literally translates to 'time difference stupidity.' I think 'time difference out cold face down in your noodle bowl' would be more accurate. Anyway, Kamakura was today's destination. Amber felt a little under the weather so we made sure she was comfortable and modified our schedule so she'd only miss things not conducive to pregnancy anyway, like strongly caffeinated green tea. Then Luke, Chris and I headed out!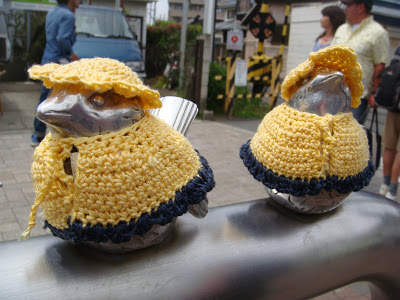 We switched trains in Fujisawa for the historic Enoden line and hopped off at Ryukou Temple near Enoshima Station. It's a pagoda! There's tatami flooring! We're in Japan! The metal birds on the railings are wearing hand-knitted sweaters and matching hats…we're in Japan!!??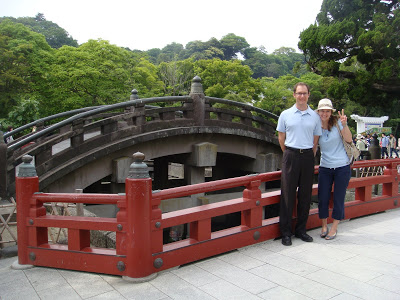 The Enoden line ferried us along to Kamakura Station, where we exited and strolled along the Dankazura—the half-mile approach to Tsurugaoka–Hachimangu flanked with cherry trees.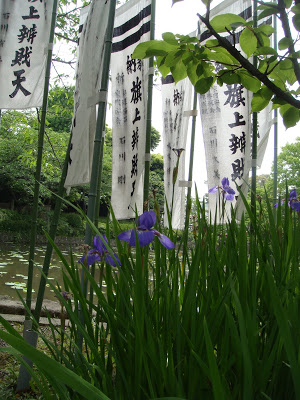 I've never been here in May and the little good-luck-in-business temple on the island to the right as you walk in was surrounded by lily pads. Pigeons sat on people's arms and ate out of their hands. Not ours—gross. We tasted candy-covered strawberries on Ritz crackers—yum! Luke got a temple book like ours and is steadily filling it up. One time we realized no one had paid the calligrapher, but the guy hadn't said anything as we walked away…oops. We didn't want to be those stupid gaijin so we went back and paid.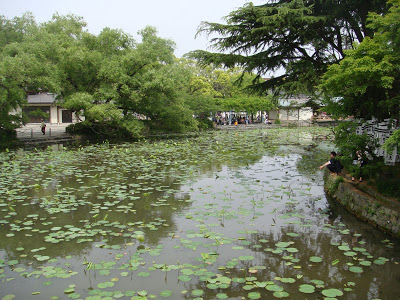 And there was a wedding going on in the lower shrine, complete with traditional earsplitting music.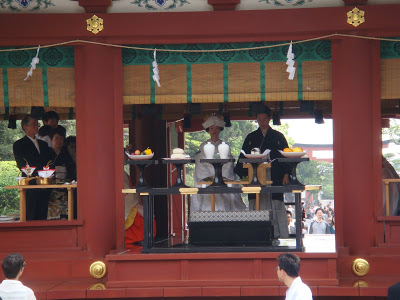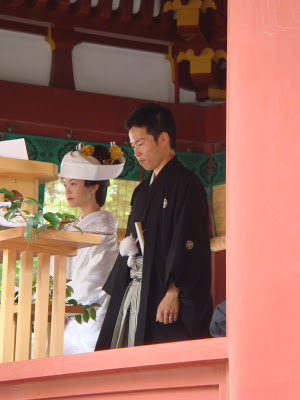 When showing people around I enjoy showcasing my favorite places of course, but also seeking out new points of interest together. The day before Luke and Amber arrived my friend Stacey recommended Hokokuji Temple for its bamboo garden and tea pavilion. Sold!

This sign along our way was not very helpful. "Shakadoguchi Kiridoshi Pass (Impassable)," it says. Pointless. How about unpronounceable?!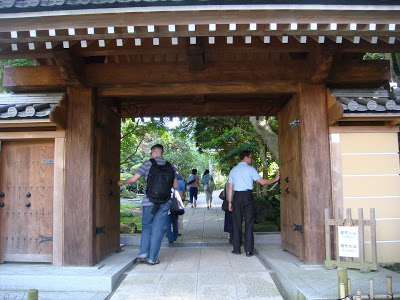 Continuing east from Tsurugaoka–Hachimangu, Hokokuji was maybe a 15 minute walk and we passed tons more temples and shrines we've never been to. My eyes are lighting up in anticipation. We found Hokokuji with no problems and entered through the wide wooden gate into the zen-est of zen gardens, complete with fireball orange goldfish swimming in jade (the color, not the stone).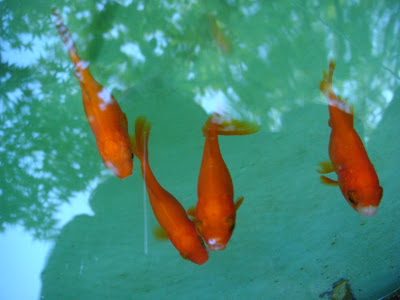 The Hokokuji Temple Tea Pavilion deserves its own post. Entrance to the bamboo garden is 200 yen and for another 500 yen little old ladies in kimono will whip you up a fresh cup of matcha (Japanese powdered green tea) to consume while overlooking the garden.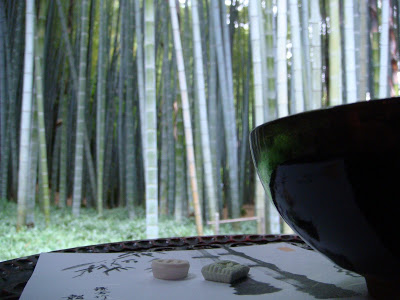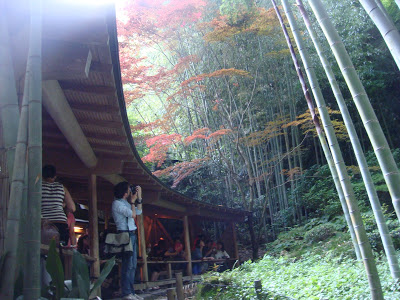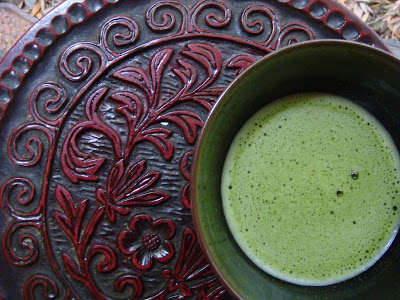 It's served on one of the carved lacquer trays that Kamakura is known for and comes with two sugar sweets. One was in the shape of—surprise!—bamboo. When I idealize Asia or Japan, this tea pavilion is exactly it. A waterfall splashes down the mountain bordering one side of the bamboo grove and Japanese maple—reddish-orange in its spring adolescence—reaches up to mingle with the bamboo leaves.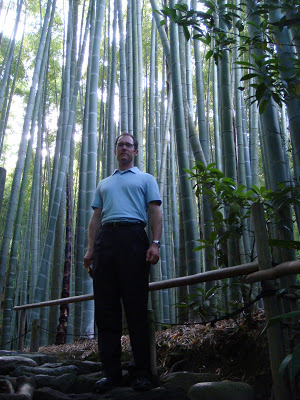 Luke agreed the bamboo was cool. The entire floor of the garden was devoid of vegetation beyond moss and bamboo, just a flat, yellow carpet of shed bamboo leaves.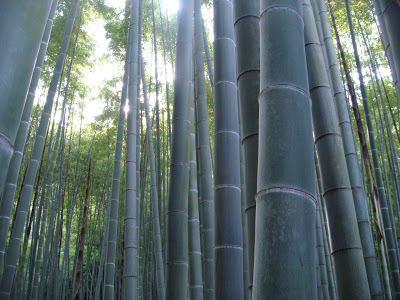 I accidentally used the flash while photographing this caterpillar in the bamboo. Blinded (hopefully temporarily), the poor guy reared up and flailed around. Oops. One caterpillar may have been hurt in the making of this dorkumentary!!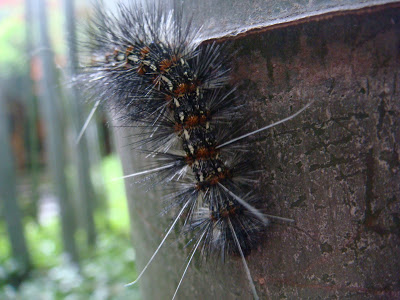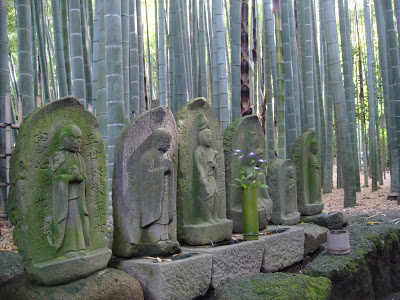 Anyway, the garden was sublime and I agreed with Luke when he said, "This would have a totally different mood in the rain." (Eyes widening in anticipation—I love Kamakura!)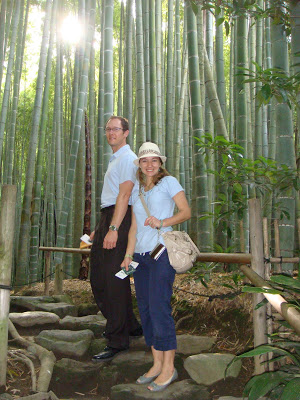 For dinner tonight we went to the Maruetsu Sushi Go-Round to eat yummy 105 yen (about $1) sushi and gawk at the gross things making the rounds. Like stiff, grayish squid tentacles poking out of their seaweed barriers and pointing at you. Justin, your bravery was applauded many times over. Both Luke and Amber tried questionable-looking sushi and proclaimed it good (no one touched the squid). Way to go, guys! Happy first day full day in Japan!!