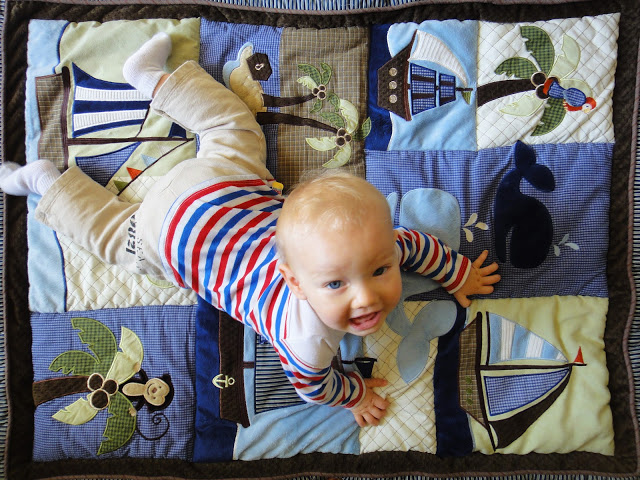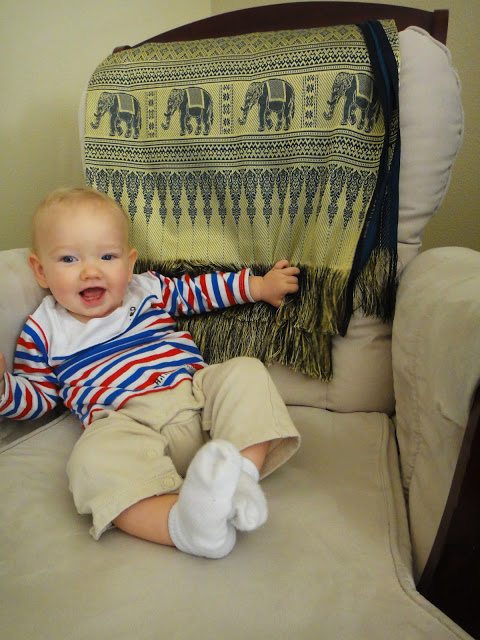 I LOVE the nursery! It's colorful, fun, very 'us,' is cute without being babyish, and is easily convertible: switch the crib for a bed and it ages nicely, or if we ever go in a different nursery decor direction, just about everything would drop seamlessly into other rooms in the house. I would take that ceramic elephant lamp for my nightstand, for starters.
When my parents visited Japan I showed my mom some of my favorite port call souveniers: turquoise saris from Singapore, cobalt and gold blankets from Thailand, a painting of Hong Kong we bought in the night market, an aqua elephant Chris bought me in Bangkok. Blues, greens, gold. It was all so pretty together, and recalled the excitement and romance of reuniting in some far off port in foreign seas. It quickly solidified into a theme: Southeast Asian Ports of Call. The bedding set (from my mom's friends!) is key—sail boats, treasure islands, tropical birds and monkeys, swaying palms—it ties everything together.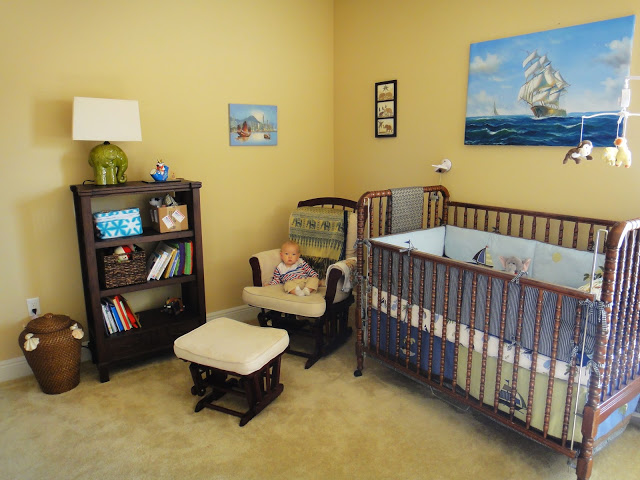 Let's take a tour. Chris bought the woven, lidded basket, which we use as the baby laundry hamper (far left), in the Philippines. The bookshelf is teak. Lamp: World Market. The aqua and white train case is a baby medicine kit, with gas drops, a thermometer, nail clippers, etc. I found the glider on craigslist, and the blanket on the chair and at the foot of the bed are from Thailand. Three Thai handmade paper elephant cards are framed together over the glider: an elephant couple, a mom and baby, and a baby with a palm tree (our progression exactly!). The sailboat painting over the crib was over our couch in Jacksonville and in the entryway of our Japanese house.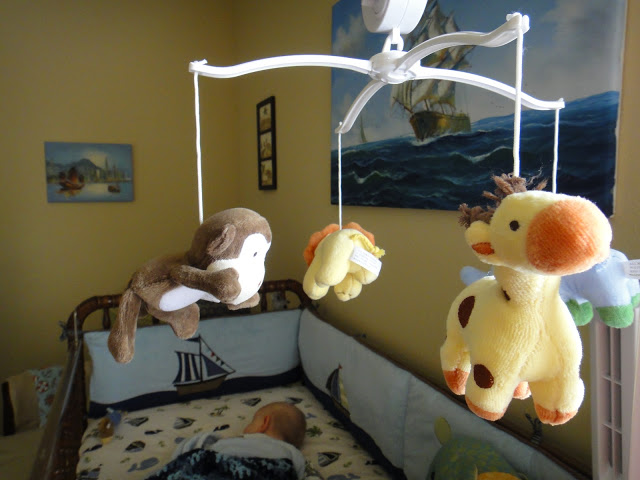 Sleeping baby, back in February
The combination of nautical and tropical delights me and seems very appropriate here in Florida. On our Vietnam and Cambodia trip, we were very much hoping to have a baby soon and bought him a handmade navy blue elephant, colorful strands of silk lucky chickens, and a painting of Angkor Wat. Visible only when seated in the glider is a string of ornate elephants and bells from Singapore's Indian market. I never did figure out how to incorporate the aqua/maroon and turquoise/orange saris without completely hijacking the nursery, so they're still boxed up. Any ideas? My original plan was to drape each across the ceiling and hang down the wall to the floor, but Chris thought that was 1. girly, and 2. way over the top. I had to agree. Maybe it wouldn't be overly girly if I just used the darker one to make a simple curtain…? But then I'd have to figure out how to make a simple curtain. I'm not what you would call 'crafty.' I'm more 'arrange-y,' except I don't think that's a thing.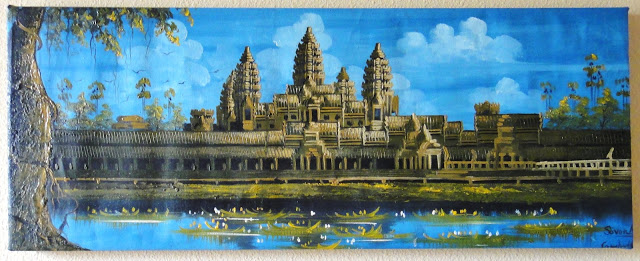 Angkor Wat
Pounce: Onesie Warmer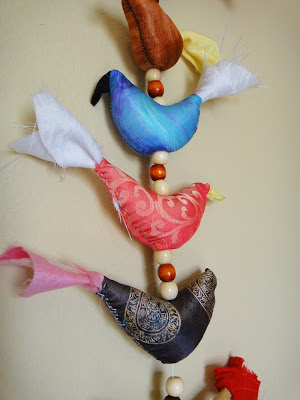 lucky chickens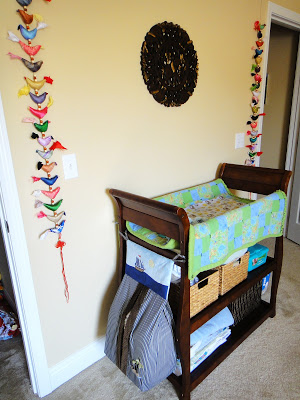 Isaac's nursery is probably my favorite room in the house. It's where we play in the laundry basket and fold baby laundry, get dressed in the morning, snuggle and nurse before bed, and the location of Isaac's huge first smile of the day every morning. Generally, it's where a lot of really cute stuff happens. What's not to love?
Isaac's onesies and pajamas get stowed in woven grass baskets on his changing table. Sometimes Pounce hops in. Mouse prefers to snooze under the crib.
My mom made Isaac the quilt on the changing table, which is green with little blue elephants, and Isaac likes to twist and grab at them during diaper changes. Chris and I bought the teak elephant carving in Thailand (not specifically for a nursery, but it worked). There's a little trashcan by the door that Chris painted with palm trees and fish while we were dating. It's goes perfectly in here. Just like Isaac!