So we drive all the way up to Munich on road signs alone. "Zentrum," said a sign within the city limits…maybe that means center? Chris followed it. All the people are walking that way, so we probably want to go there, too. Bad logic in life. Good logic when you're clueless and trying to find Oktoberfest! Um, there's a sign for parking so let's park.

View Larger MapAnd that's exactly how we ended up parking across the street from Oktoberfest!!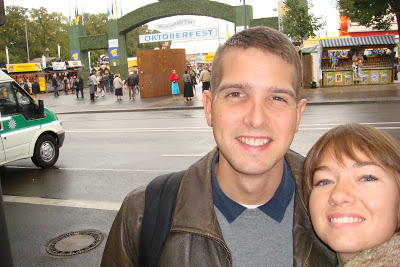 It seemed an awful lot like…well…any carnival I've ever been to. Neat.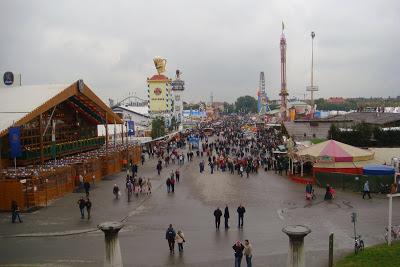 We walked around for a couple hours, spotted some lederhosen, had some coffee and strudel, poked our heads into a bierhaus.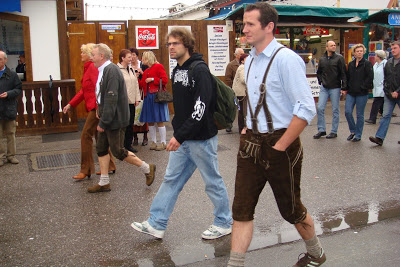 It was less than half-full of people lunching on mediocre-looking carnival food. Hm.
We saw some horses and a very nice feather-in-cap.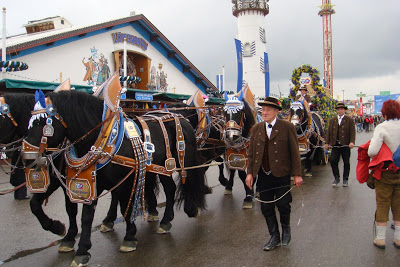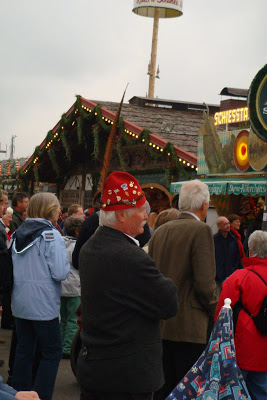 We climbed the steps and walked around the patron saint of Oktoberfest and enjoyed the view. We didn't really get what all the fuss was about, or why Ludwig's 1810 wedding celebration was a big enough hit to keep doing it for almost two centuries now. Whatev. So we went and explored Munich for awhile (separate post—Munich; the Interim).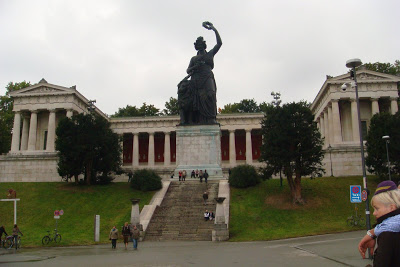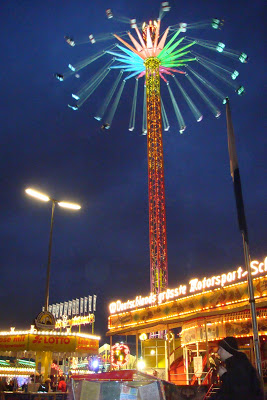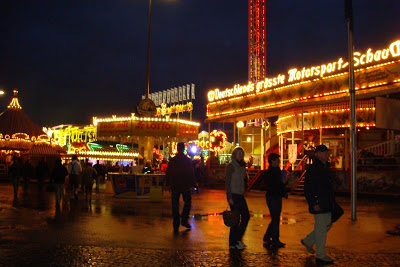 When we came back for dinner (Chris in his Oktoberfest 2008 sweatshirt), all the hauses were closed. Paulener is Chris' new favorite beer, so we waited outside the doors in a nice, orderly line. Until a guard/bouncer opened up.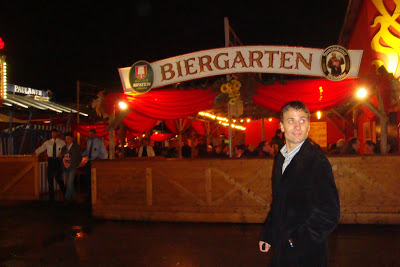 A crowd rushed for the opening and the guards grabbed and threw people back into the crowd/former line. Chris and I were holding hands, but when the they let me through we got separated and the crowd pressed in around him. Inside I narrowly avoided a guy falling down half a flight of stairs. He landed on his shoulder, rolled to his back and somehow did not spill a drop of beer from his one-liter pitcher/stein. Everyone was moving and shouting. What the heck kind of festival is this?! Finally Chris got through. I gave him a minute to be bewildered too. Then we made our way upstairs to try to order some beer and food.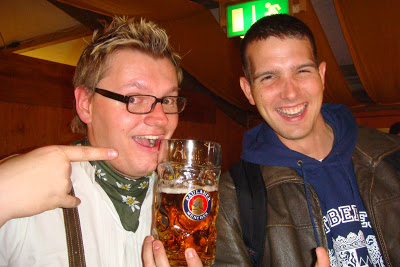 The place was going crazy. Everyone—all ages—standing on benches and tables bouncing and singing in lederhosen and those German dresses. "I am floored!" Chris and I said a lot for the first 20 minutes or so. Then we met Dieter! "You're not drinking beer?" he asked when I asked him how we could get some. "Here, drink mine while I get you some!" He handed Chris his pitcher. When he came back he explained you could only order from a table (all beyond packed), but that he'd found an American and some English-speakers for us to sit with!

We got some beers, we sat down, we talked to the guy from New Hampshire and his German coworkers, who giggled when they met Chris and complimented his teeth. The entire crowd sang "American Pie," "Summer of '60" and songs from "Dirty Dancing" in addition to the German drinking songs (definitely watch that video clip, above). Chris guessed there were 10,000 people in the tent which I didn't believe until I researched it and discovered large bierhaus capacity is 7,000 – 10,000 (that's a lot of pairs of lederhosen). Six million people come to this every year! And this was only a Thursday night!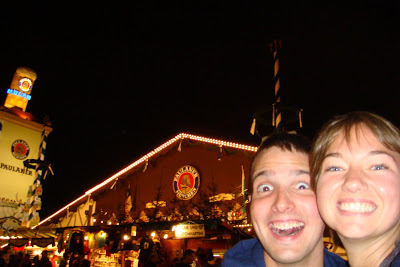 Just like the rest of our trip, Germans were so nice to us (just like in Spain, where the only friendly people were American, German or Belgian) and we felt completely included—and we totally get what all the fuss is about!! Dieter said in his best year he came to Oktoberfest 12 nights out of its two weeks running, but "Now I am 31 so I only come five nights. I have to work!" He also pointed out that Chris and I were not appropriately dressed. "Where are your lederhosen? Where is your dress? You must get some for next time!" And we just might.