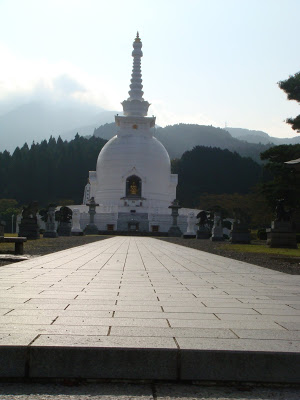 It is difficult for me to blog about the fun things Chris and I did this weekend once he's deployed. Consequently, I never posted any pictures from our fun outing to Mt. Takao in June. Chris was scheduled to deploy Thursday, then Wednesday night, then Tuesday night, then yesterday (Monday) around noon he called to say he'd be deploying at 8am this morning.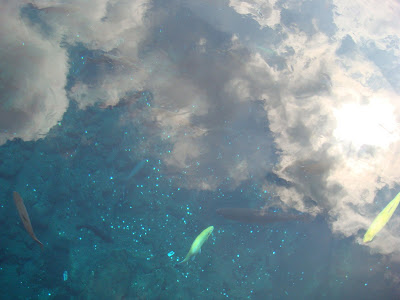 So now the pretty pictures and the fun memories from Sunday are bittersweet and posting about it just reminds me how Chris is not here and of the long flight alone I have tomorrow. What a stressful couple of days it's been…but that's a different post. Anywho, the top picture is from the Fuji Peace Park. On a clear day this monument–donated by a prime minister of India–has a spectacular view of Fuji-san. It was cloudy. Still gorgeous.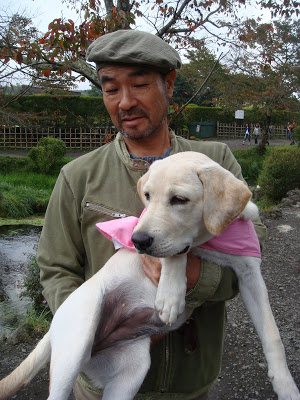 The sun began to peak out as we explored Oshino Village, where natural springs full of fat koi and lucky coins sparkled up at us. We walked along a spring-fed river where the above man was carrying this seeing eye dog because another dog was barking at it. That is so Japan. And this man pictured below was coating skewered fish with salt and roasting them over some low coals. We didn't try it, but you are welcome to when you come visit.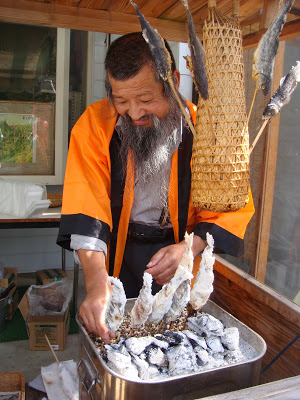 From there it was on to the Fuji Sengen Shrine on the lower slopes of Fuji-san, built in the 1300s to appease the volcano gods so the mountain wouldn't erupt anymore. It was partially destroyed by the eruption in the 1600s but many original stone lanterns stand unmoved.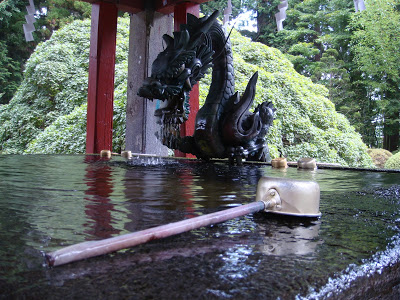 This torii gate marks the very beginning of the climb to the top. The mountain is only open for a brief summer climbing season, and most people start about halfway up the mountain as it's still pretty flat down here. Our guide, Mickey–the cutest Japanese lady you've ever met–said she, like many Japanese, will never climb the mountain because it would take away from their enjoyment in viewing it. It's also generally thought to be a sacred symbol of Japan.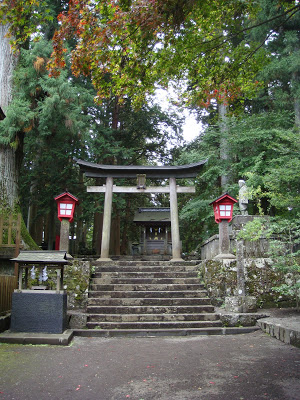 I was never quite sure of the names of the lakes we drove around, but I think this was Lake Kawaguchiko. Chris and I agreed the mountains here completely reminded us of our Bavaria adventure and the lake especially resembled that lake in Austria near the border. Lovely!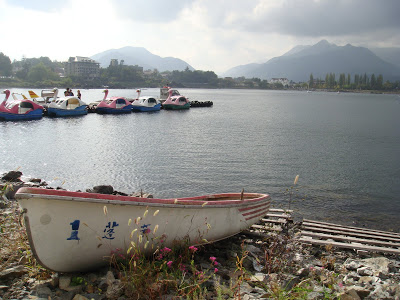 We enjoyed the sunshine while rain clouds hung low and misty over the mountains on the far shore and a girl in camouflage stiletto boots, miniskirt and leather jacket waved a paddle boat with her sunny daughter and husband back to the dock.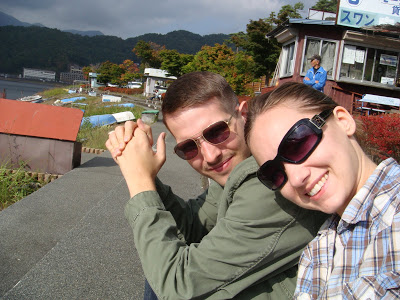 Ringing the water on our way to the lava caves at the foot of Mt. Fuji (a chilly 40 degrees inside! brrr!), we finally saw the mountain briefly through the clouds.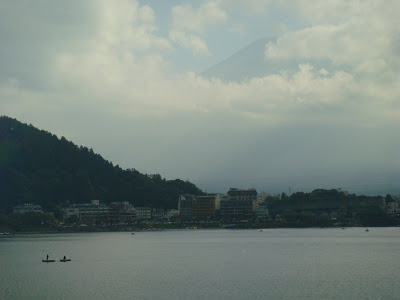 By the time we're back, it'll be covered in snow!