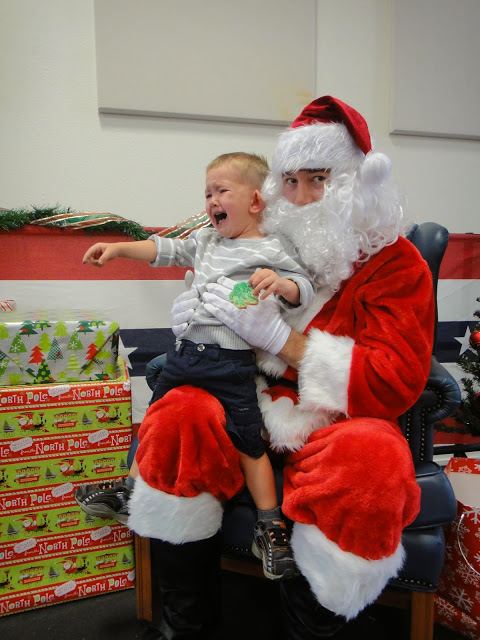 Santa's not so sure about Isaac, either.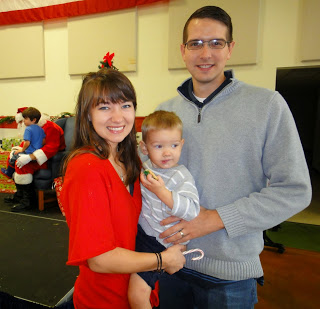 Whiting Kid's Christmas Party, Dec 13
Here in northwest Florida we waffle between 80 and 40 degrees. I love Florida at Christmas! We began the season by getting a Christmastree OF COURSE. Isaac loved that. Mid-purchase, we noticed a massive plastic Christmas train on sale. Isaac was enthralled. Chris, moved with love for his son, bought it immediately and set it up to chug around the tree. DELIGHT. Now that we've tripped over it, put it back together five million times, and watched the track snap to pieces, I am more than ready for that sucker to be packed up in the Christmas bin. Isaac still loves it so much he cried tonight when I made him leave it for bedtime. Sigh.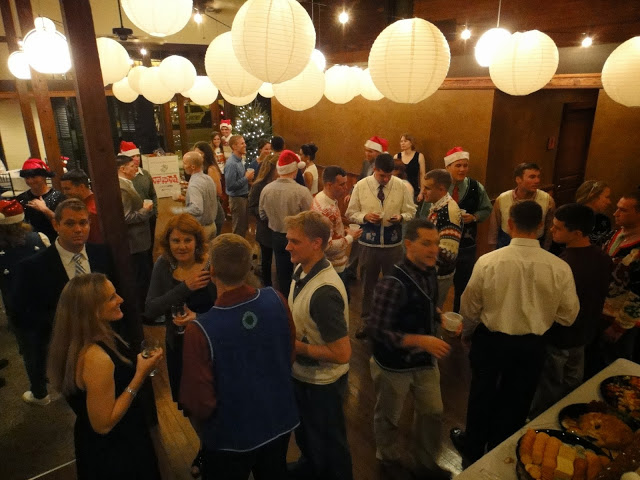 HT-28 Christmas Party at Palafox Wharf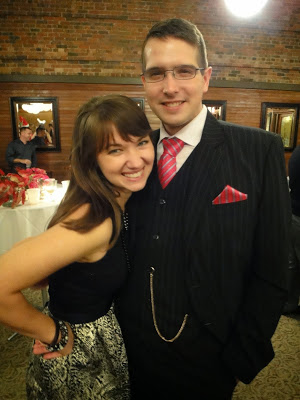 my dashing date
Shortly after that, my friend Julie and I collaborated on decor for the squadron Christmas party. This resulted in us bossing around flight students the day of, and (accidentally?) spray-painting our hair with gold glitter as the evening commenced. We finished setting out lanterns and golden pine boughs in time to walk up Palafox and get coffee. The street was bustling, all the lights were on, the coffee was perfect. Our party venue was on the water, and the evening was thick with that southern winter humidity that makes lights dance and twinkle, and means you can wear a normal cocktail dress without so much as a jacket. The deck lights glistened off the water, and five pelicans roosted nearby, unbothered by the celebration (or the guy's ugly sweater contest). By the time we got home, a cold front had blown in and it was freezing!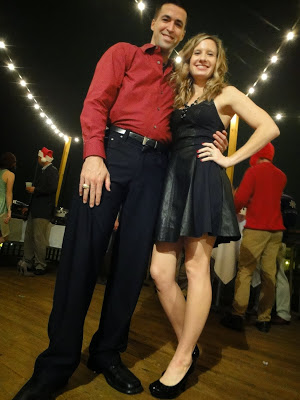 The Sharps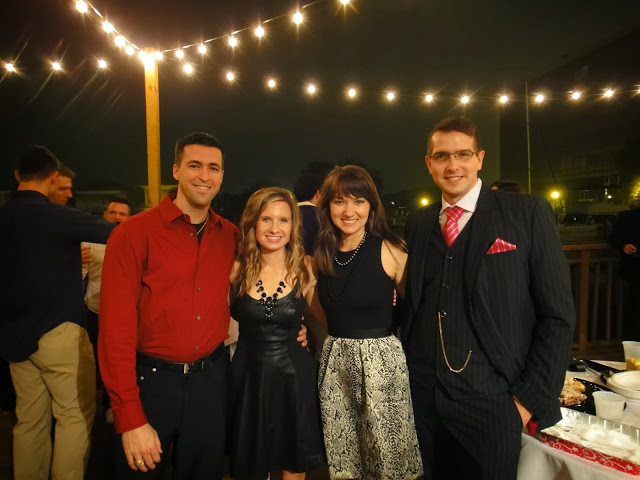 The Sharps and the Kruegers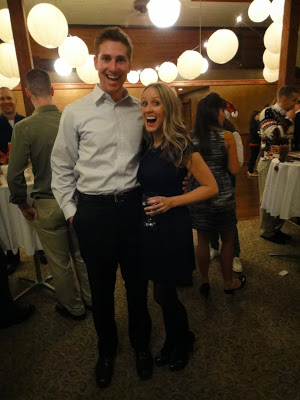 The Edwards
The next morning we picked up Hannah, Justin, Ezekiel and Jane from the airport. I like that you can park right in front of PNS and run upstairs to the gate, collect and load baggage and great your guests, all without having to worry about cranky guards yelling at you to keep moving (IAH, take note). We drank hot chocolate, played cars with the tots, made cookies, had tea, exchanged presents (the only time the boys fought…oops), watched bulldozers nearby, and did something totally out of character: a craft. We made Grandma awesome macaroni-encrusted hand-printed paper plates.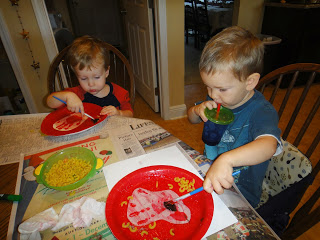 This is why crafts are a waste of time: nobody wants that crap! Oh wait, this is why people do crafts: the tots eagerly climbed up to the table, followed directions, did not make messes, painted with glitter glue and paint, and were happy. We've had a breakthrough! We were very sad to drop them back off at the airport. Isaac usually loved having Jane crawl all over him. We observed the boys communicating: "babbedy bab ba da?" "Yeah!" [Tear around the house in a circle, chasing each other. Stop.] Repeat conversation. Repeat running. SO CUTE! "Ezekiel?" was Isaac's first word every morning and after naptime. After they left, Isaac would tell me long sentences intersperced with Ezekiel's name. Sweetie buddies.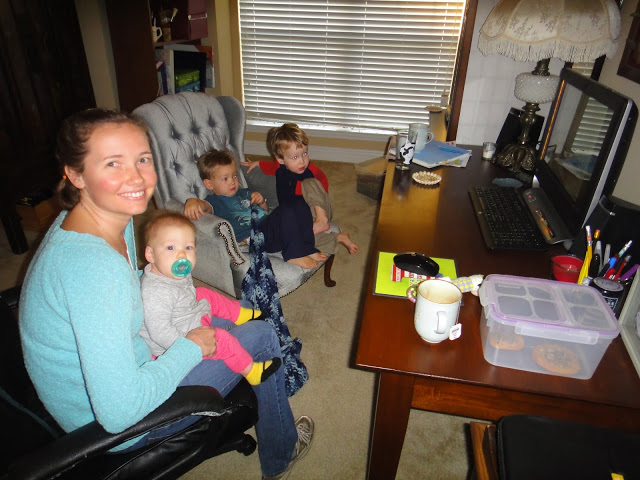 The tots shared a chair to watch Mighty Machines. Aren't Jane and Hannah CUTE?
The next day, I went to the squadron spouse club's ornament exchange. I was going to wear my Japanese furry boot covers along with my sparkly sweater. I noticed Isaac eyeing my footwear. "Do you like my furry boots?" I asked him. He looked askance. "Uh…no." He answered. "Hey! Funny baby!" I said. I removed the boot covers. "Yay!" he threw his arms up in the air. Everyone's a critic!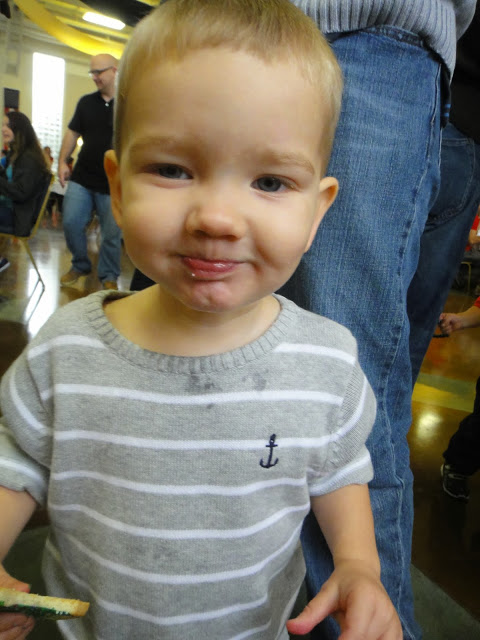 He has recently started saying, "Love you, Mama," "Tank U," "You're Welcome," and "Coffee Bear, where are you?"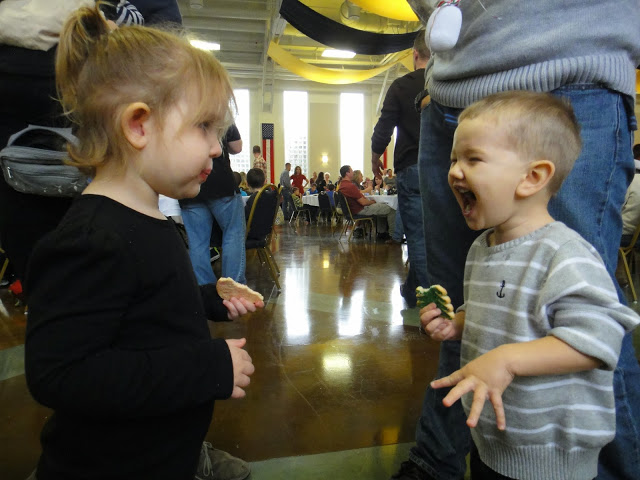 Chris got me a pink cookie. Isaac gave it to his girlfriend, Madeleine.
This weekend was the children's Christmas party on base. We missed Santa landing in a helicopter, but made it in time to visit with him (see first picture). It was awesome. We made some more crafts, reminding us why we don't like them. Isaac's favorite part was dancing with Madeleine and waving goodbye to Santa as he rode off on a FIRE TRUCK.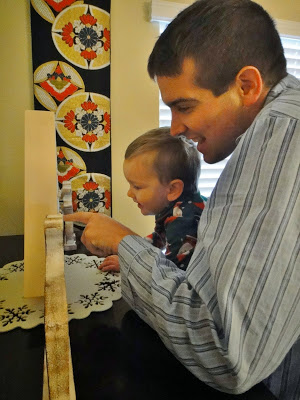 The Advent tree = CHOCOLATE!
We're having a cozy December so far. Much less exciting than last December, praise God. Earlier this month I felt this heavy, cloudy sadness that I couldn't explain, until I realized we were approaching the date we first heard the words, "Aortic corarctation." I can't believe it was a year ago, and at the same time I can't believe it was only a year ago. It feels like a real victory, getting an entire year's distance safely between then and now. Now we thank God for Isaac's health and his life-saving doctors, and it begins to join the past.
Last year, I wanted to know the future. From the future, I can tell the past not to worry. Isaac is perfect. He is safely past the point when the doctors said that—without the surgery—he would have had irreparable, life-threatening damage.
Once I identified that cloud hanging overhead, I sang a prayer, "Praise to The Lord, the Almighty, the King of Creation, Oh my soul Praise Him for He is thy help and salvation. Let the Amen sound from His people again. Gladly for aye, we adore Him!" And bit by bit, the cloud dissipated and blew away.