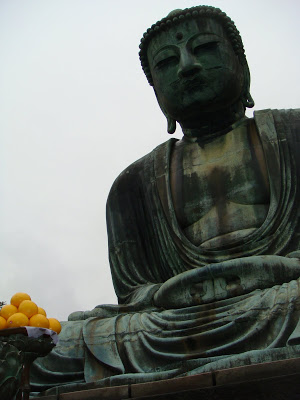 Today's forecast: rain rain rain. No problem—now that it's warm and not raining continuously, rain can evoke Japan's peaceful, atmospheric charm. We began our day with a quick visit to the Daibutsu (Kamakura's Big Buddha), then continued on to Enoshima Island.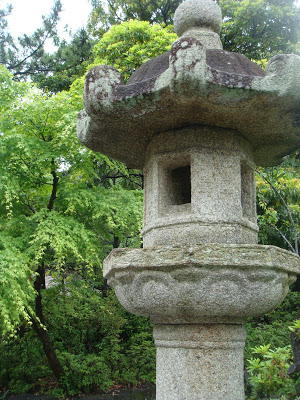 It was getting toward afternoon and we hadn't yet stopped for lunch. I had a couple places in mind on the top of the island with broad views of the Pacific and—when it's clear—Mt. Fuji. Even in the rain we would still see the waves crashing across the cliffs. We tromped along passing closed restaurant after closed restaurant and I began to get nervous. "Wait here," I said. "I'll run down and see if this restaurant is open so we don't have to climb all the way back up to get to option #2." The place I was thinking of was closed, so I continued down the steps almost to the bottom. Finally! Something was open!! But would they have food?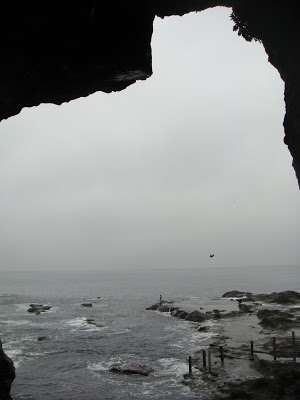 I know about five phrases; fortunately one of them covers this situation: "Udon wo arimasuka?" Do you have fat noodles in soup? "Hai! Arimasu!" the lady chirped, smiling. "Just a minute, please!" I said, dashing back up the stairs…and up…and up…and up…220 stairs later (literally) I was gasping and wheezing in answer to Luke's, "So…was it open?" I didn't realize how far down I'd gone! I gave them the option: we could eat at that nicer option #2 or take a chance on the king of all dive joints down by the cliffs. To my delight, we unanimously choose the dive.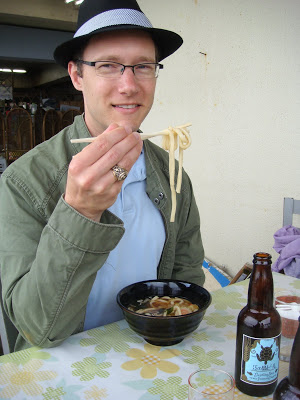 Waves crashed against the rocks, fishermen cast their lines into the surf, the salted sea breeze wafted across our steaming bowls of udon noodles topped with veggie tempura. Luke and I enjoyed the local Enoshima beer. So peaceful!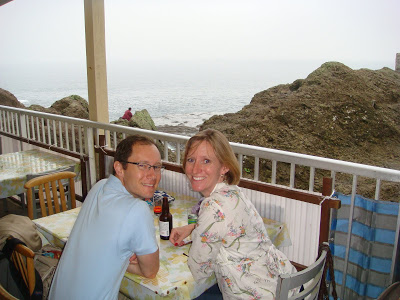 We especially appreciated the fact that there was a dive bar/cafe right on the water instead of some over-commercialized expensive hotel/convention center or something. On family vacation Daddy would drive us around saying, "Let's go to a dive for dinner! Let's find a real dive!" Mid-meal a cat wandered into the restaurant for some cat chow—that must be the definition of a dive. Daddy would be so proud!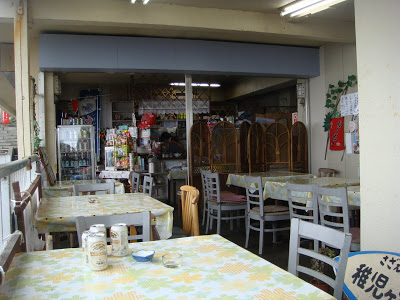 The Iwaya Caves on Enoshima's wilder ocean-side cliffs included walkways jutting over the water for beautiful views of the tide pools, especially as the tide began to sweep in. Three men were in charge of handing out and collecting candles as we entered and exited the diamond and womb caves. Not sure what the point of that was since the caves were lit, but it made it more exciting anyway!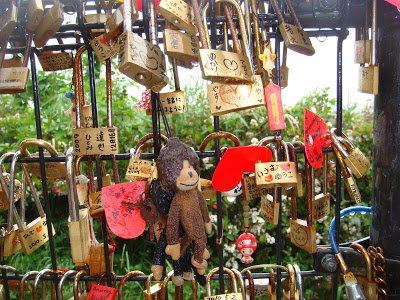 From there it was back up all 220 stairs (not sprinting this time) and on to the
romantic Dragon Bell
, where there's an inscription of the love story between the goddess Benzaiten and the tyrannical dragon who gave up his evil ways to win her love. All the locks along the fences are to…lock yourselves together forever? That was a little unclear, but probably romantic. So what were the handcuffs doing there?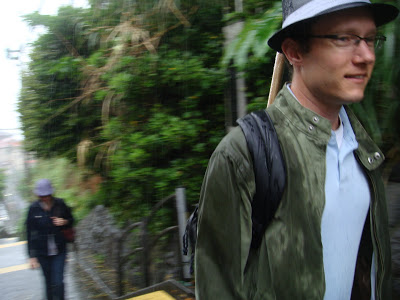 Then it started to rain.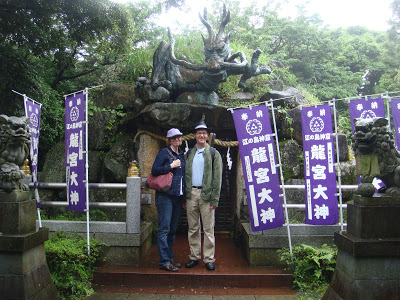 We were making good time getting Luke's calligraphy book signed at each temple when I was distracted by a shrill yowling. I looked up and around. "Lower," Luke suggested. I found a tiny black cat rubbing against my rain boots and meowing. I went, "yaaaa!" and the cat went, "yooooow!" I bent down to look at it and it came running over and jumped up on my knees. Cute…but…ew, wet kitty. Enoshima notoriously has a large population of well-cared for, healthy-looking stray cats. This one was very cute and received an ear scratching, followed by hand sanitizer (for me).
It continued to drizzle as we wound our way down the island. Crossing the bridge to shore, a flood of music lifted up from the city as the "go home" music charmingly chimed us along our way.