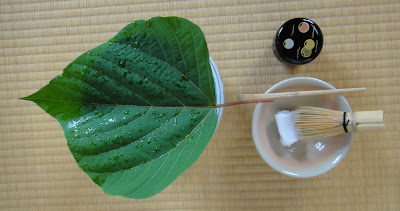 It took two weeks but I am officially happy to be back in Japan. I was resigned to coming back but I had some reservations. I'm sure everything's fine and safe enough…still. Chris and I thought it smart to take some easy precautions just in case. It's drained my inspiration to blog because I'm sure everyone else is as tired of hearing about radiation as I am. Boooooring.
So to conclude all posts about radiation I will simply reference this excellent, readings-based report in this weekend's
Japan Times
, which reads in part,
"Living in central Tokyo, more than 200 km southwest of the stricken plant in Fukushima Prefecture, does little to mitigate the anxiety people feel about exposure, as radiation-tainted produce and radioactive hot spots have been found far beyond the boundaries of Fukushima Prefecture. Experts say it is desirable to reduce unnecessary exposure as much as possible…given the uncertainty over whether the radiation could cause cancer years later.
But they also say that given the official figures about radiation-contaminated air, water, vegetables, tea and other food products, the current exposure level in Tokyo is not something residents should get stressed over."
It goes on to acknowledge that at current food exposure levels (about 5 millisieverts per year), the average adult's cancer rate would increase a small percent, but that increase becomes almost negligible when compared to cancer risks from, say, second-hand smoke, bad eating habits, sun exposure, etc.
This article validates what I'd hoped to be true: I'm sure everything's fine, but will err on the side of caution when convenient. Now! I am so tired of thinking about radiation I will not worry about it anymore!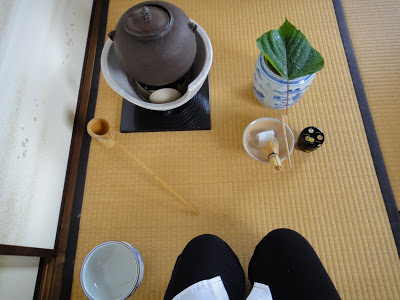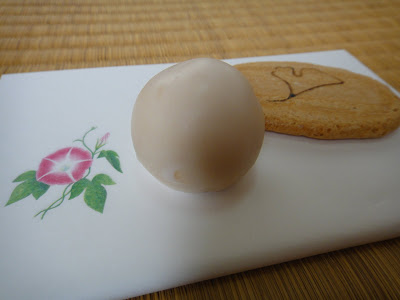 Old news: still shaking with aftershocks. So what's new in Japan? It's HOT! I had the good fortune to be in Houston to kick off June with a record-breaking 100 degree scorcher. And after a month of that, I'm back in Japan just in time for rainy season—which usually keeps Japan somewhat cool-ish until mid-July—to officially end 12 days early, ushering in a three-month heat wave that's supposed to top any summer on record. What a great time to be pregnant, enormous, and conserving power!
That's right, this area is operating at about 85% of its former power capacity, so the government is forcing businesses and urging residents to take one for the team and raise that thermostat. The good citizens of Japan have responded so enthusiastically that there have already been twice as many heatstroke deaths as there were all of last summer. I am not at liberty to state my AC power consumption. Give me a break; I'm carrying a tiny furnace.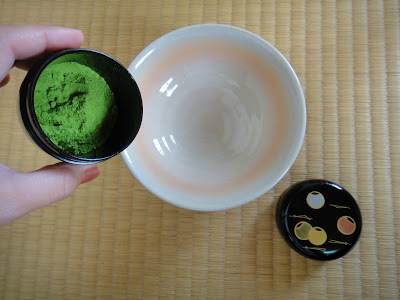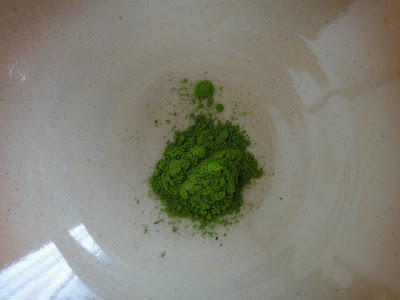 Heat notwithstanding, the five best reasons to be back in Japan have made themselves readily apparent: 1. It's fun to be with Chris again! It's nice to be in our own place on our own schedules, teasing each other with our own silly jokes. 2. Bon odori practice! This is the easy dance where you walk slowly and wave your arms around. So fun! 3. I love having one more month to work at Ichiban Collectibles. There's always something going on, someone new to meet, an event coming up, an interesting topic to discuss, or at the very least, money to make for our scholarship recipients. 4. Seeing friends again! I really missed them!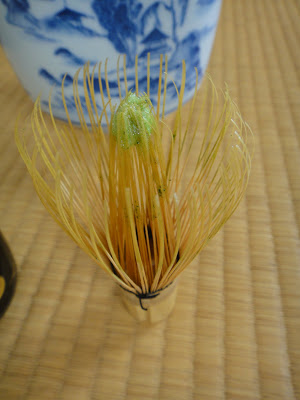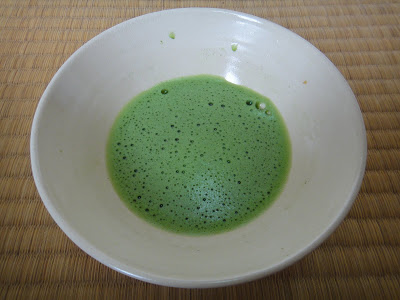 5. Tea ceremony lessons—I am way out of practice, but I love seeing the new elements we've introduced for summertime: the cold water container lid is replaced by a lush potato leaf sprinkled with droplets of water. This provides a cooling sensation for the esteemed guest. Or enter the ceremony with the tea bowl filled with cold water and squeeze the tea cloth for a cool-sounding splash. These aesthetic techniques may not reduce the sweltering temperatures of the Kanto Plain, but they are going a long way toward reminding me of all the reasons I'm happy to be back!