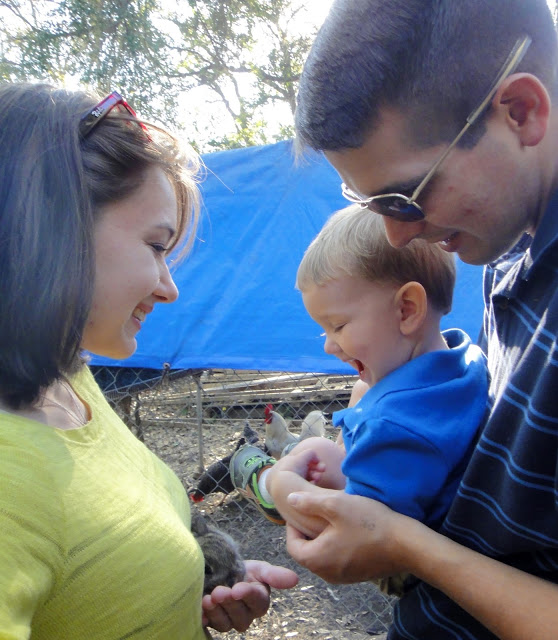 Easter bunny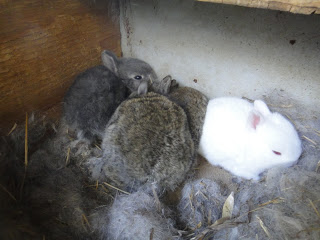 Three weeks old!
Three weeks ago I pulled over to investigate a hand-stenciled sign that says, "RABBITS." A kind old man and his granddaughter showed Captain Goodbaby and me a BUNCH of healthy rabbits, chickens, a cute puppy, etc.
"It's about time to knock that one over the head," the old man said about one of the males who was annoying the other bunnies.
"Then what do you do with him?" I asked.
"Eat him," he said.
"Oh really? How do you prepare rabbit?" I asked.
He looked at me sideways to see if I was being serious (yes).
"Well, after you skin him, you can fry him up in a frying pan, boil him with vegetables—lotsa ways to cook a rabbit."
A few days old
Here I refrained from making a joke about skinning a cat. I think my elementary school served up rabbit one time at one of those pioneer days they did. I remember watching one roast on a spit anyway.
So three weeks ago, cold weather had killed two fresh litters of bunnies, but a third litter survived. The old man pulled out a couple hairless rabbits to show us and said they'd be really cute in three weeks. So yesterday we went back, and you tell me: are those bunnies CUTE, or are they CUTE?!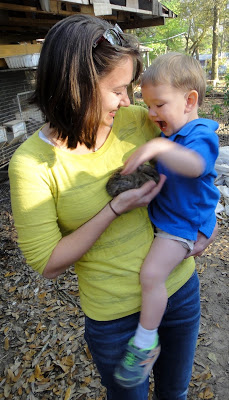 delighted!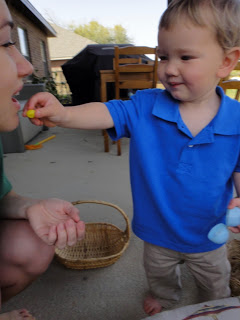 The Goodbaby would LOVE a good egg hunt, I've been thinking lately. But what if he doesn't get it? How could he get it, since he's never done one before? Maybe we should practice.
We showed the little Captain some jellybeans. We broke open an egg and gave him the jellybeans. Then we hid some eggs around the patio and asked him to find them. He didn't get it. I shook the eggs and put them back. The Goodbaby toddled over to the egg, cracked it open, then looked at me like he wasn't sure eating all the jellybeans/chocolate was allowed. Now it's become a new after dinner activity—let's go out back and find the eggs full of dessert! One M&M per egg. He even shares.