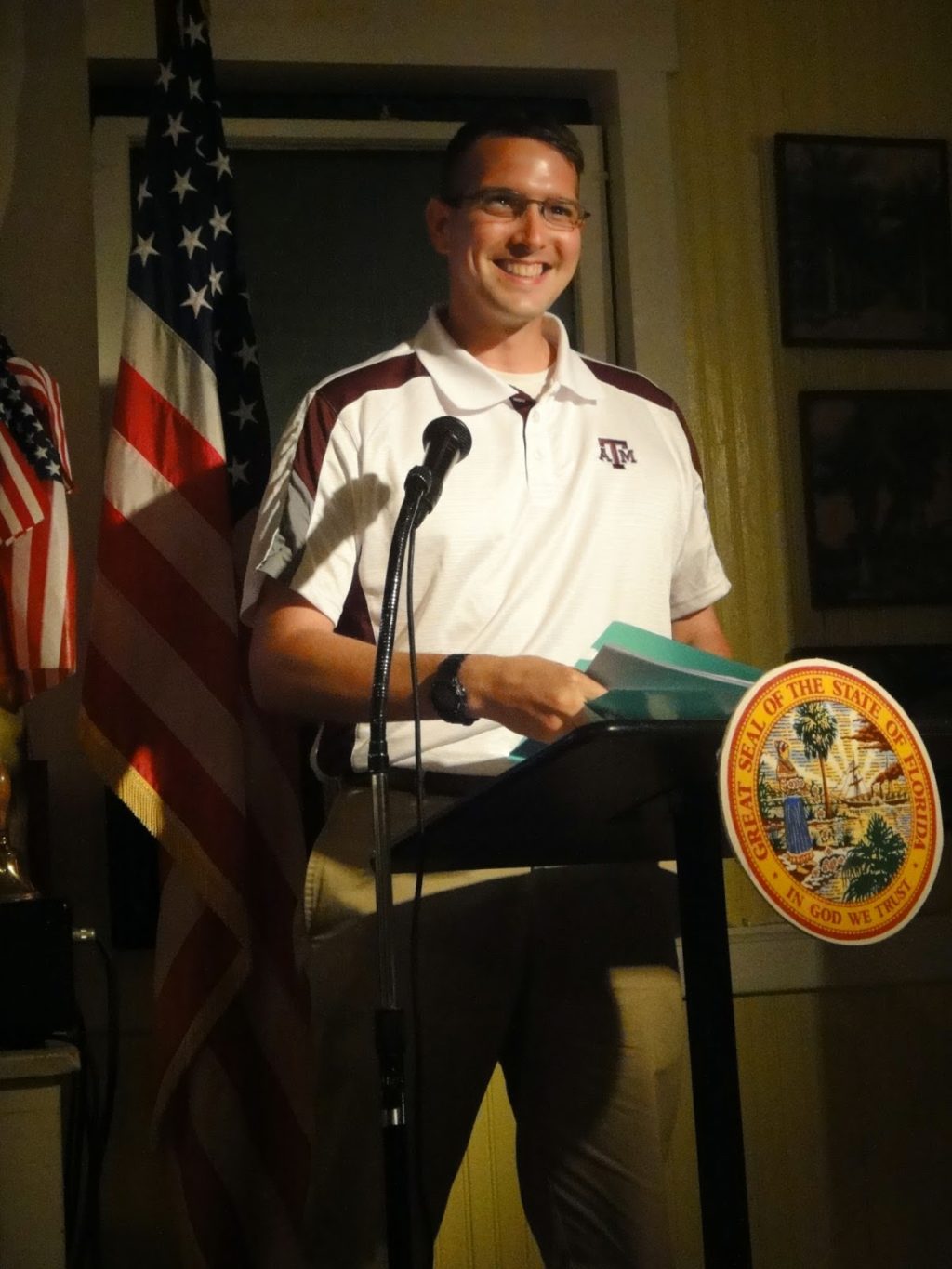 Emerald Coast A&M Club 2014 Muster Speaker!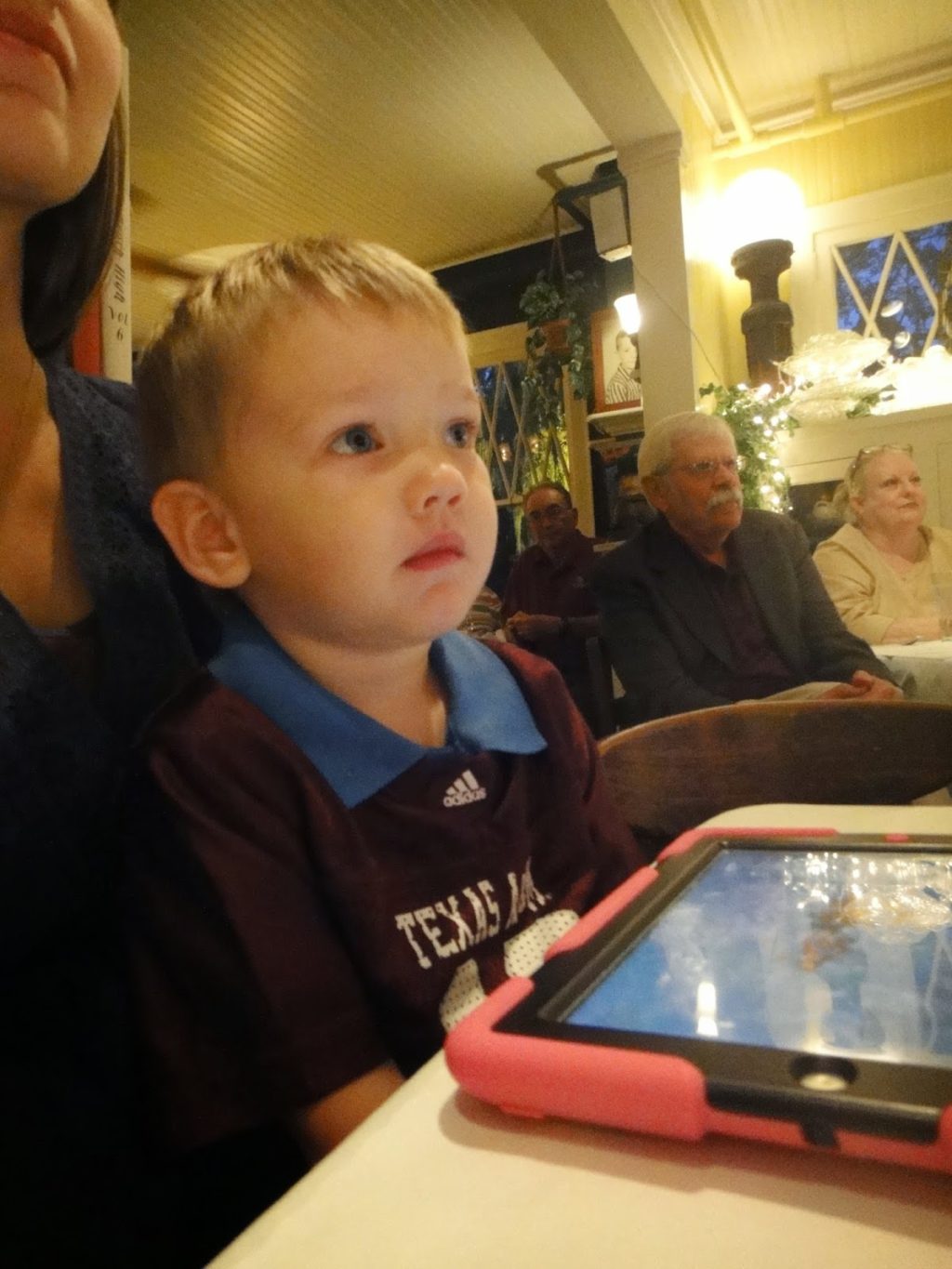 Captain Goodbaby listening to Dad
"You know, you see things on the news, and it just doesn't have the same impact as hearing about it from someone who was there," an 'Old Ag' said to me after Chris' talk last night at the 2014 Emerald Coast A&M Club Aggie Muster. "Tell your husband 'thank you' for what he did there, and for speaking tonight."
Chris talked about his squadron's work in Operation Tomodachi as an extension of the Aggie Spirit. He'd been asked to speak shortly after the January edition of Texas Aggie magazine came out featuring this year's 12 Under 12 Young Alumni. Muster was at Fort Walton Beach's Magnolia Grill. Everyone was so nice, and the food was delicious! For any non-Aggies reading this, TAMU students and former students are supposed to meet every April 21 for a 'family reunion' type event called Muster, to discuss days at A&M and have a roll call for absent Aggies (who have passed away since the last muster).
Chris' speech and some pictures he shared will be posted on our local TAMU club's page soon, but I also wanted to quote my favorite part here. Isaac was astonishingly well-behaved during the entire event; we only lost him a couple times when he bee-lined for the gumball machine while Chris and I were otherwise engaged. I'd brought the electronic babysitter so Isaac would play Endless Numbers if he got fidgety, but during this part of Chris' talk Isaac paid rapt attention. When Chris sat down again, Isaac slid from my lap to his own chair and put his head on Chris' shoulder while patting his arm.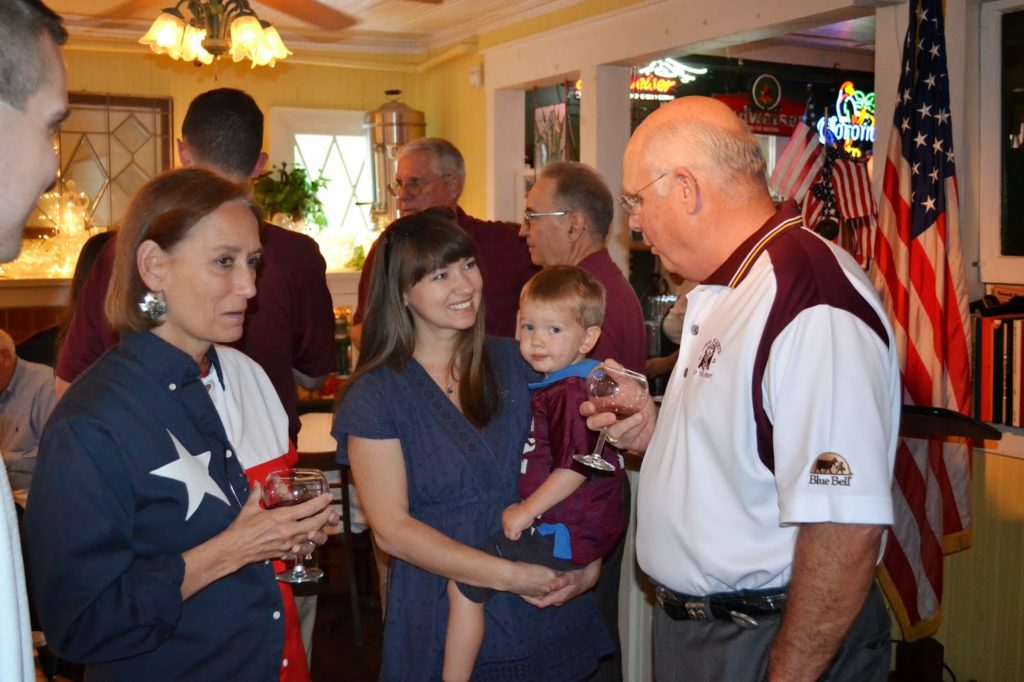 Part of Chris' speech: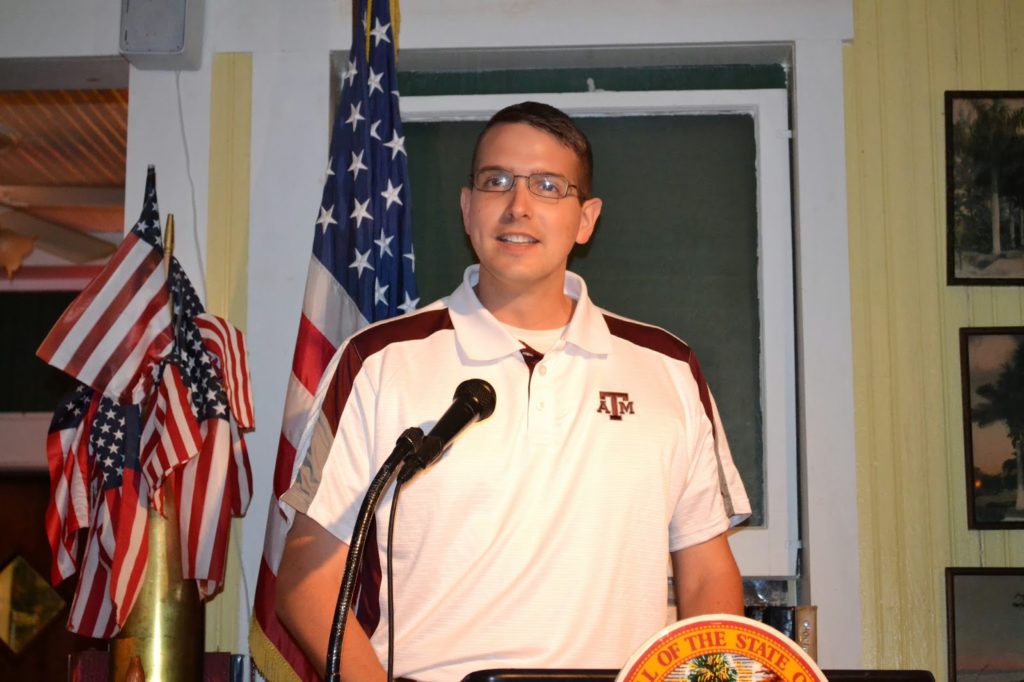 Possibly the best example of exhibiting the Aggie Spirit to
me while we were there was more on an international level than anything
else. On March 11, 2011, a 9.0 earthquake
struck 70 kilometers east of the main island of Honshu, lasting nearly 6
minutes. It was the most powerful
earthquake to have ever hit Japan, and the fifth most powerful on the
planet in recorded history. It moved
Honshu eight feet east and shifted Earth's axis by four to 10 inches. The tsunami it triggered is estimated to have
hit 133 feet high at its highest point—Albritton Bell tower on campus is only five feet higher than that—destroyed the northeastern coast of Japan and killed about
20,000 people. Additionally, the
earthquake and tsunami caused the reactors at the Fukushima Daiichi nuclear
plant to explode and melt down, causing the worst nuclear disaster since
Chernobyl in the only country to have experienced the use of nuclear
weapons.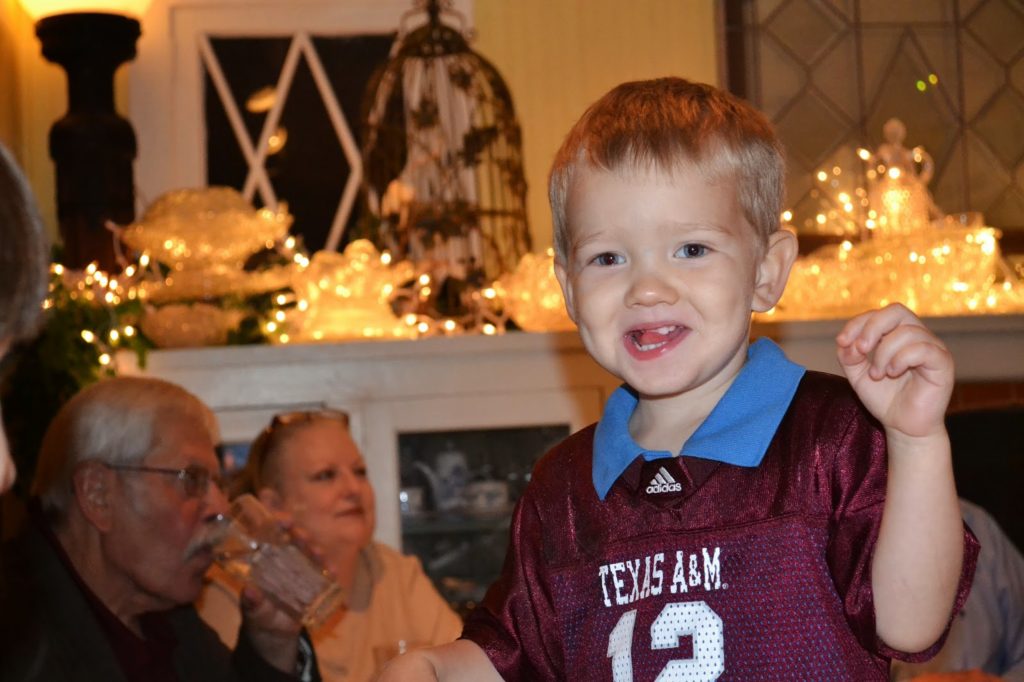 Our Tiny 12th Man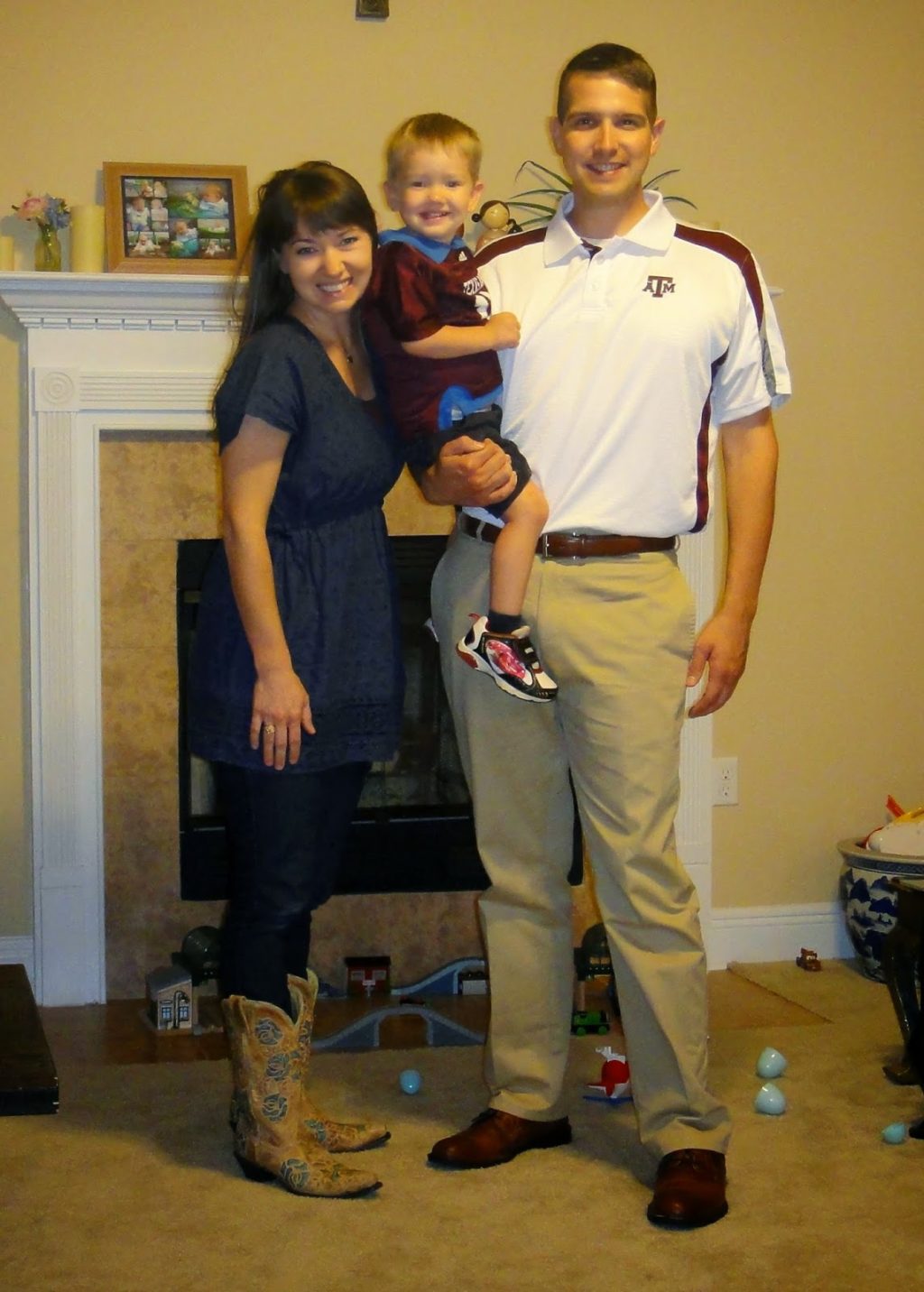 Without hesitation, all US
forces in the Western Pacific turned immediately to Japan for the next 3 months
of humanitarian assistance and disaster relief. We immediately deployed aircraft and squadrons north from the Tokyo area
and Okinawa thinking we would be hoisting people from rooftops and saving
people out of the water. We quickly
realized how total the destruction was; everything above the waterline was virtually
untouched, everything below it was utterly destroyed, like the hand of God had
swept across the land and took everything back into the sea. No one needed to be "saved"; they were either
safe on dry land with no food, water, or medical supplies and no way to get
them, or they were simply gone. We flew
every day back and forth from ships at sea to any location that needed supplies
– parking lots, soccer fields, parks, etc., all the while learning more about
the radiation we were being exposed to. I
was grieved for a country that had become a second home to me, and its people,
but I was eager to help and do everything I could, as was everyone
involved. We wanted to do more than we
were allowed.
Slowly, Japan and its
people began recovering, but even now it's not recovered. The US gave a name to our efforts in helping
Japan, and called it Operation Tomodachi. It was a fitting name, as Tomodachi means "friend" in Japanese. Months later I was at our Japanese church,
and a new couple was there who had lived in the Sendai region prior to the
earthquake, the area worst hit, and had lost everything in the tsunami and were
nearly dragged into the sea with their house, but had escaped and eventually
made it south to the Tokyo area. They
had been directly helped by one of our helicopters delivering food, water, and
other supplies in the weeks after the disaster. It's impossible to say if it had been my helicopter, but the experience
of meeting and befriending these people was so gratifying and meaningful to me,
these people who I could have directly helped without ever having known them.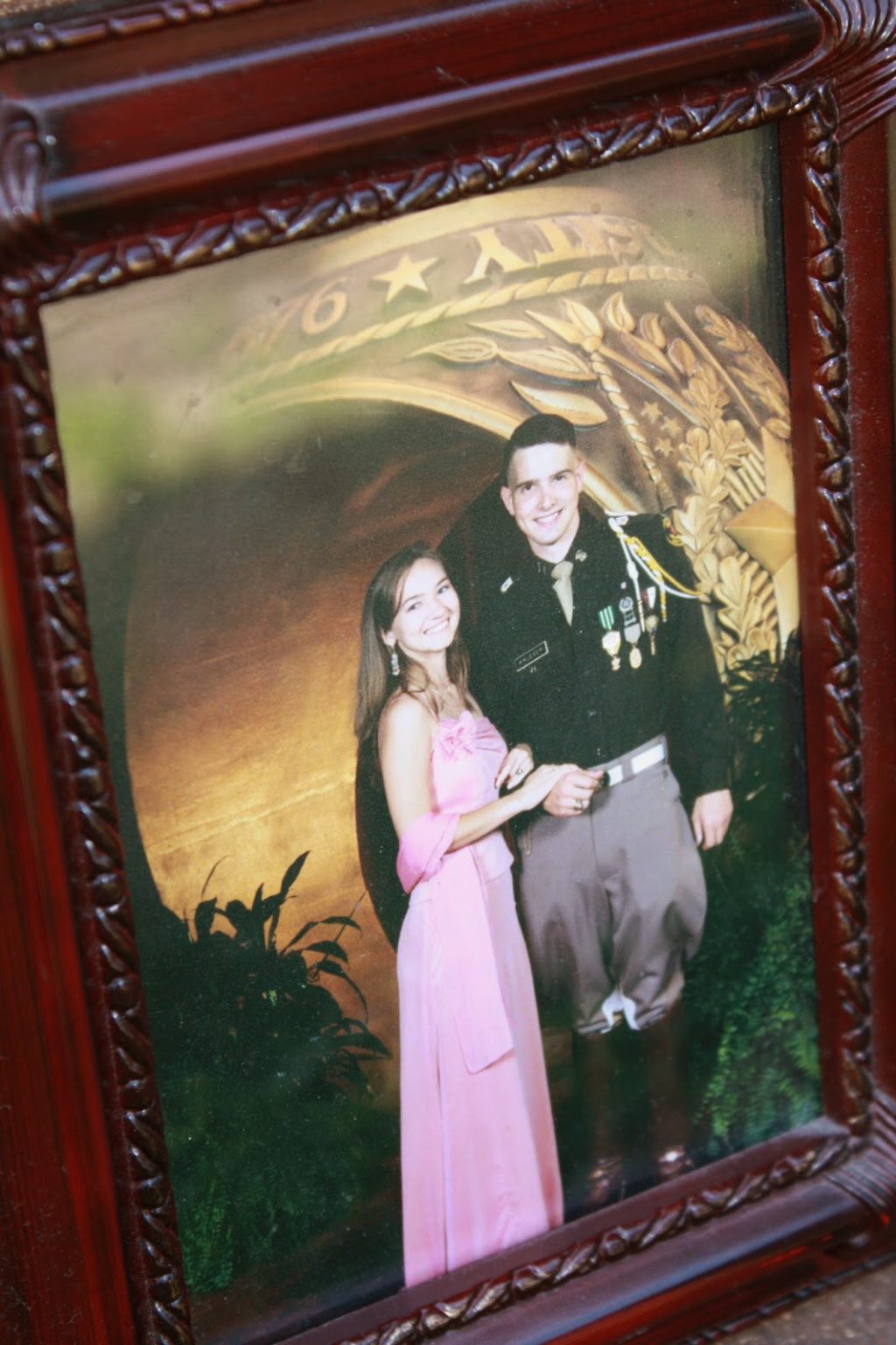 Ring Dance, April 2004
While everyone involved in this situation was not an Aggie
(though a fair number were), this is an example of what the Aggie Spirit means
to me, not just in our personal lives, but with our families, our communities,
and from one nation to another. Again,
our core A&M values of excellence, integrity, leadership, loyalty, respect
and selfless service help to describe the Aggie Spirit, but I'd like to add one
more descriptive word to it; friendship. (END of quoted part)
In the middle of Chris' speech I had a funny thought. Chris and I met a decade ago, give or take a few weeks. He invited me to the Ross Volunteer Ball, then to Ring Dance a few weeks later. What if I'd seen a picture of last night's Muster that spring, with no explanation at all? Hey, that's Chris speaking—I know that guy. Is that me? I'm sitting next to a two year old. Is he mine? Am I at Muster by myself with a toddler? Where is this? Ha ha. Chris and I laughed about that on the drive home.
Nice work, Chris! Congrats on a speech well spoken!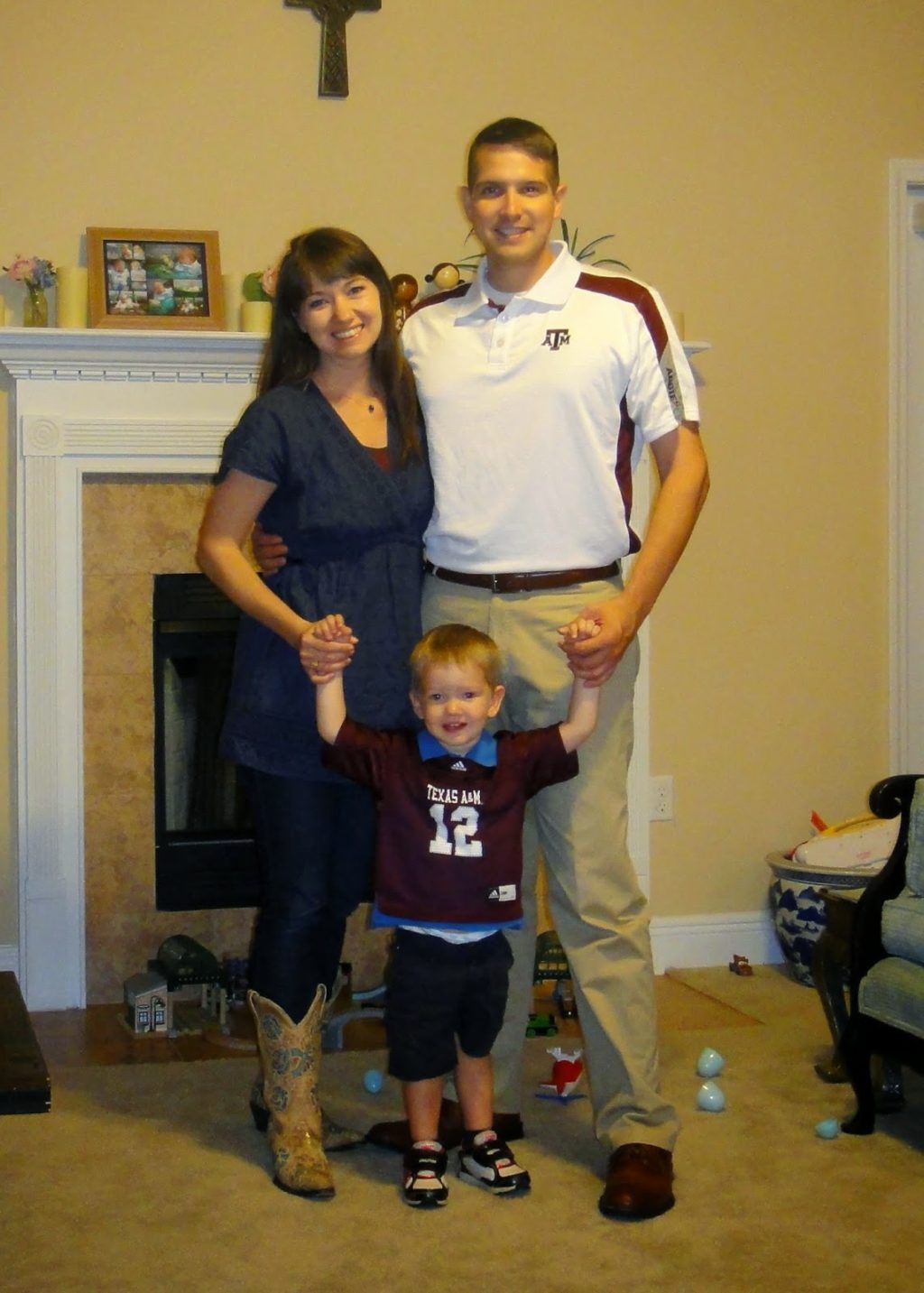 Kruegers—April 2014