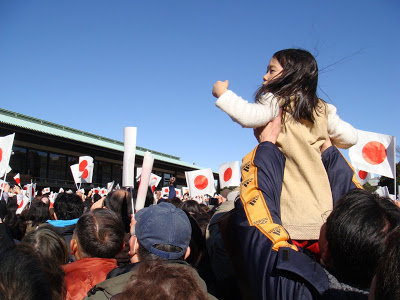 Anticipation (and security) ran high for Japanese Emperor Akihito's annual New Year's greeting, one of two times annually the public is allowed inside the Imperial Palace grounds. I recommended this New Year activity in this article I wrote for the local paper.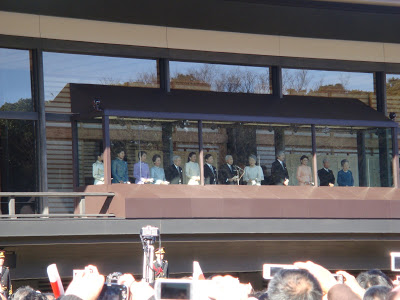 Apparently his speech included a wish for the financial situation of his country to improve, but we couldn't really understand anything, it being in Japanese and all. Listen for yourself:
We thought it would take hours of waiting before we got to see the Emperor, so we left early-ish, picked up our friends the Sharps on base, then trained to Tokyo Station and walked to the Imperial Palace. Where to go, where to go? I adopted my tourist mentality: look for a swarm of people and follow. And it worked! A quick scan pinpointed masses of people a block down, so we melted into the crowd, accepted a paper Japanese flag offered with a smile and, "Happy New Year!" then got searched, patted down, and directed to a big corral marked Number 5. It didn't feel as crowded as I thought it would because the corrals on either side of ours were empty. But looking around I noticed steady streams of fast-moving people flooding in from all directions. The current never let up. The crowd was quiet and organized—I think that's why it didn't feel crowded.
"Wow, it's so quiet," Chris remarked. "Nobody's talking…except me…so I guess I'll stop."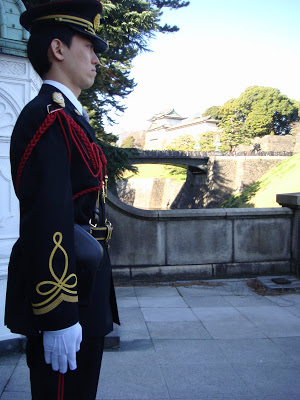 The bridge beyond that guard is full of people filing up toward the greeting area. Below is us, later, about to cross that bridge showing the steam extending behind. Such organization!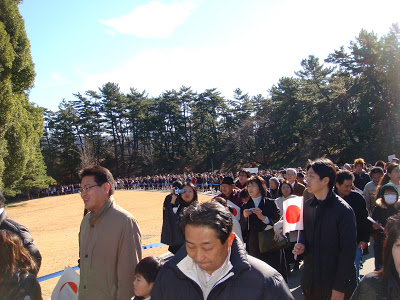 He came, he talked, he waved, we waved, we left. Before we knew it, the whole thing was over…and it was only 10:45 a.m.! I really liked standing there shoulder to shoulder packed in with Japanese people of all ages. This article said it was mostly elderly people, but I didn't think so—I saw kids, lots of teenagers, and plenty of young American and European tourists (myself included!). Chris said he feels like he really lives in Japan now. It doesn't get much Japanese-ier than this. 🙂
Now, why waste a free afternoon downtown? So we headed to nearby Ginza for shopping and a FANTASTIC South Pacific lunch buffet at Bali Hai. It was wonderful. I love Thai food and this was similar: spicy curry and coconut milk soup, curry chicken and potatoes, make your own spring rolls, tapioca and red bean dessert…ah, it was heaven. Bonus: Blueberry-acai juice, green tea milk, iced jasmine tea and other drinks were all included!