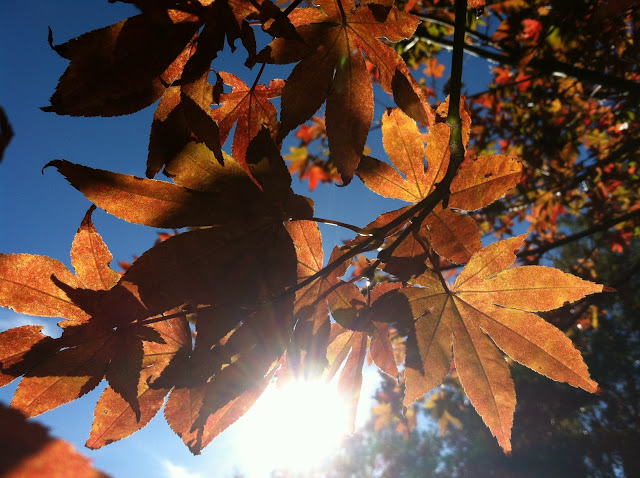 Around the neighborhood, lining the supermarket parking lot, and nestled between live oaks, crimson and yellow leaves—way more than I remember seeing here before—have attained their richest shades and are now curling up, brown and crunchy, underfoot.
We've had several days of cloudy, breezy, exciting, Christmasy weather, despite the fact that we were wearing short sleeves on Thanksgiving and the next day getting our Christmas tree.


Our own maple (not pictured) in the front yard has proved itself with beautiful, deep crimson leaves. I love it! Wait, maple? I thought you had a cherry tree? Yeah, funny story about that…sadly, that tree withered and died in June. Chris found some type of Southern Red Maple that will do well in our crappy sandy soil to replace it. We searched our envelope of gardening receipts so we could get our money back, to no avail. What the heck?! All the receipts were right here. Here are all three receipts from the weekend we bought that tree and the citrus trees. Here's the mulch, here's some gravel, here are the herbs, where is the tree?! That was expensive! …or was it?? After verifying the receipts we did have against our credit card statement, we were forced to conclude WE STOLE THE CHERRY TREE!! It was sitting in front of the store and we'd asked the checkout lady twice to be sure to ring it up, but I think Chris left me to pay while he brought the car around, and we made two separate purchases for some reason, so we accidentally stole it! "Well, no wonder it died!" Chris said. Whoops. Anyway, since we paid for this maple, it's still alive. Money may not grow on trees, but thievery apparently kills them.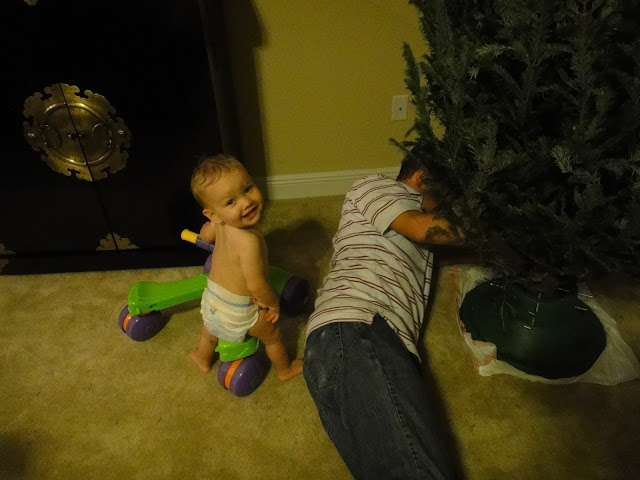 Captain Goodbaby, fresh from a bath, helped dad set up the Christmas tree. We paid for this tree, too.
Captain Goodbaby's favorite activities lately include wrestling, pushing things around instead of crawling or walking, climbing on top of the dining room table/couch/halfway up the bed, getting into EVERYTHING, putting his toys in funny places, 'reading' to himself or with me, putting his big trucks on top of shelves or tables, and holding things up over his head like he's Heman presenting Grayskull or whatever. Also climbing under the beverage cart or laundry basket with his trucks. And he put a teapot in the dump truck and pushed it around. You might say he's mischievous. And delightful. And hilarious. We kind of have the exact same sense of humor. He growls and makes lots of weird boy noises, and he figured out he can do this to scare Pounce, then caught my eye and cracked up. This is a funny baby! You might guess I like him, even though today he napped for a scant 30 minutes and was crazy all afternoon.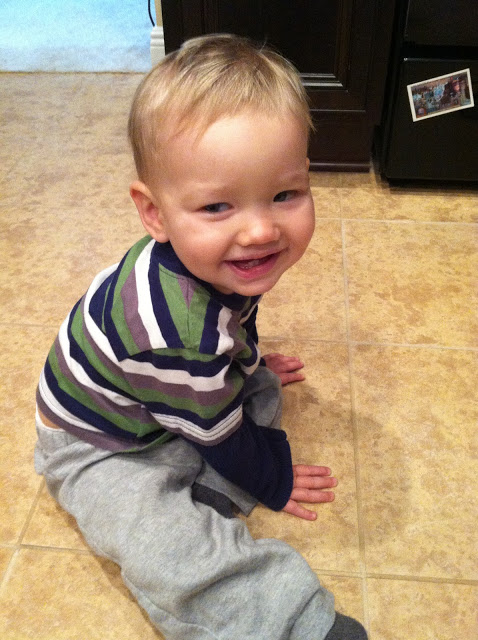 What's going on in that head?!
It's Christmastime at our house! How about those footie pajamas?!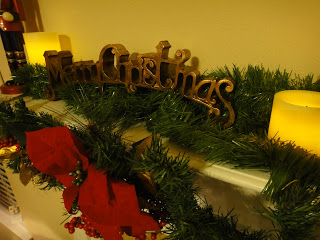 the mantle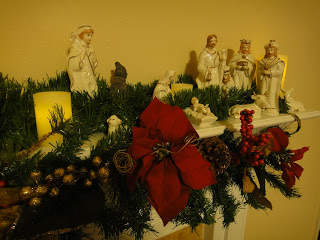 the mantle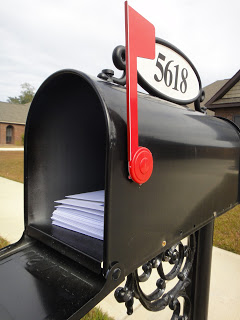 the first send-out of Christmas cards!
Lately, we've been going on bike rides and walks to see the Christmas lights, decorating for Christmas (YAY!! our kokeshi nativity et al was on the ocean last year at Christmas!), baby wrestling, going to the park, and working on stupid Christmas projects that seem like a thoughtful, fun idea until you get started, and then they're a big headache, cost way more than you think they will, and look stupid. Oh well, what's done is done. Hey, big brothers and families!! Your presents are on their way!! I hope you like them more than I do right now!